by Arpita Mehta
His hair is big, his style is quirky and his personality speaks volumes. Planet Parle, the upcoming YouTube sensation from England is a star in the making. His videos have made him famous amongst the South Asian community and he has much bigger plans. One of the most hysterical interviews I have done, his personality and passion for life is explosive and infectious. His pseudonym Parle means to talk in French and it is more than fitting for his edgy personality.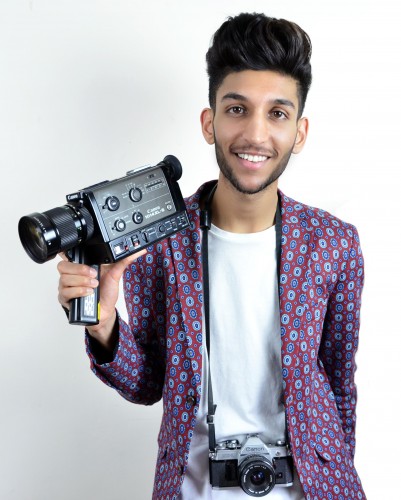 His passion for making videos came from his dad who loved film making and photography.
"I wanted to video blog because as a kid I was always better at communicating through music and acting. I was taught in school to always express yourself on paper, but I stayed away from that because I was always interested in making people laugh and doing what I loved."
His videos shine light on South Asians in a comical way, by parodying the way South Asian immigrants live and talk. These videos are not made to criticize but, in fact, to bring awareness to a growing culture that is no longer restricted to an isolated geographical location. He makes videos about his experiences with other people and growing up as a British Indian. Being Gujurati himself, he feels:
"Gujaratis are extremely underrepresented in the media. I wanted to try and bring an element of comedy and represent them in the media."
Besides bringing awareness through his video channel, Parle is also an avid garba (a Gujurati folk dance) fanatic and in the midst of creating a traveling garba dance troupe. His brand is called "The United States of Parle," and his video channel is only one of the projects that falls under this brand.
Coming up is, Parlesque, a style blog that he is starting to express his love for fashion and hopefully inspire other South Asian men to be bolder when it comes to dressing up. He is also starting another video show called, Pani Puri with Parle, which will feature unique talent from all across the United Kingdom.
His ultimate goal through his online media exposure is to,
"promote equality amongst men and women in our culture. I want to push campaigns through my comedic efforts that show what is really going on in India in regards to gender equality and try and change the way we look at gender roles."
In addition to all the projects he is working on he can also play the keyboard and writes, edits and produces all the music and graphics for his videos – which he taught himself to do through watching videos.

"I feel like I live on my own planet most of the time but I am okay with that. The world is what you make of it, if you're going to be positive, you can find the positive in anything."
If you haven't seen his videos, check them out here. Keep a look out for Parle in the future, he is moving on to bigger and better things and we wish him the very best!
Images Source: Facebook.com/PlanetParle