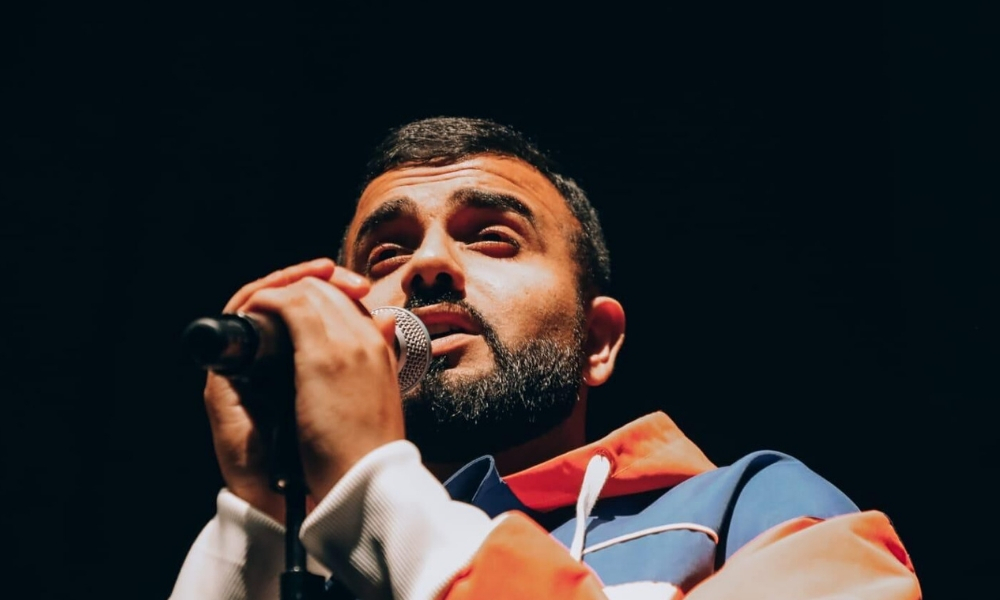 "I'm sorry for the inconvenience, but I'm trying to change the world."
Poet and activist, Hussain Manawer, the internationally recognised poet and singer recently released his recent work "Mamma's Kitchen" which challenges the confines of traditional masculinity, often tied with misogyny, by centring the feminine. With three sold-out London headline shows under his belt, Manawer is now set to perform at London's iconic King Cross venue, Scala, promising the audience an emotional experience they will not forget.
After being encouraged by a school teacher to enter a poetry competition, Manawer now travels the world performing his original and emotionally charged shows to anyone and everyone that'll listen. Listen you must!
Manawer delves deeply into his own experiences with mental health, loss, and grief in a bid to encourage more discussion and challenging cultural barriers on these taboo subjects. He has now worked with a long list of stars such as supporting Ellie Goulding and Cher and contributing on discussion panels with Professor Green and Maya Jama. Even the likes of Prince Charles are inviting him to Clarence House for tea. 
Manawer was also requested to curate a one-off poem by London Mayor Sadiq Khan, entitled "London's Legacy" to celebrate the launch of the first night tube. 
Infiltrating the worlds of entertainment, finance, and business, to name a few, through his campaign work and poetry, the Ilford-based wordsmith is challenging the stigma that exists around the topic of mental health. Most recently, he set a Guinness World Record for the "World's Largest Mental Health Lesson" and appeared in the Samaritan's "Brew Monday" campaign alongside comedian Ross Noble, Years & Years' front-man Olly Alexander and BBC's presenter Yasmin Evans.
Manawer takes time out of his ridiculously busy schedule to talk to Brown Girl Magazine on what to expect from his headline gig this Thursday. 
What can audiences expect from your Scala show on Thursday 29th November and what do you want the audience to take from the experience?
Pain, passion poetry and purpose. I want them to see that the emotions that can sometimes consume us, can be the exact same things to make us who we are. 
Why is mental health so important to you and how did your experiences lead you to poetry?
I couldn't find an artist that represented the pain I felt, so I had to create one! I think people when they ask me why mental health is so important, I find my answer to be really underwhelming it's just a simple fact that it affects too many people in my life and I want to change something around it. 
Why do you think people listen to you and how do you deal with negativity?
Because I speak from the heart and I represent the pain and struggle a lot of people go through. Negativity? What's that? 
What's next in store for Hussain Manawer?
I'm mentally ready to embrace my naturally fading hairline and I'm looking forward to going bald gracefully!
Tickets are on sale now and are available to buy at here.