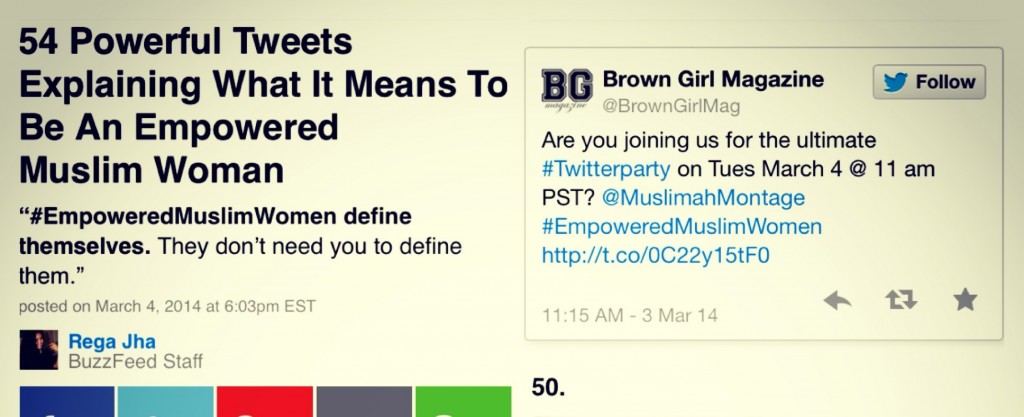 After much planning, Sabina Khan-Ibarra, founder of the blog Muslimah Montage, and Brown Girl Magazine brought their forces together to hold a Twitter Party focusing on #EmpoweredMuslimWomen.
You may ask, what is a twitter party? It's a virtual party, using the power of Twitter, but minus the drunken-mess! Most twitter parties last between 1-2 hours, but the conversation continues throughout the day and sometimes weeks, depending on the popularity of the hashtag. Twitter chats are an innovative way for people to network and discuss a topic of choice.
We are so proud of Sabina, the brainchild of the new trend on Twitter, who started the party with one goal and that was to shed light on empowered Muslim women. To generate more buzz and validate our chat, Sabina requested Huffington Post Blogger, Laila Alawa and Pakistani-American author, Aisha Saeed to help moderate the conversation!
Sabina began the conversation with questions about what it means to be empowered and what does it mean to different women. The responses were overwhelming, many were eager to join and this caused #EmpoweredMuslimWomen to trend in U.S.! The chat saw more than 1,000 retweets and 500 original tweets, and counting! We were excited to see our chat trending on Twitter, but then to be featured on Buzzfeed, was an enthralling experience overall. The response has been absolutely astounding and has sparked many debates, and some hateful Tweets as well!
Check out some of the powerful and critical tweets below:
#EmpoweredMuslimWomen Amplify voices, support each other, create safe spaces to speak, are heard and help others be heard, and stand strong

— Sabina Khan-Ibarra (@MuslimahMontage) March 4, 2014
Whether you wear a burqa, niqab, hijab or are uncovered – #EmpoweredMuslimWomen come in all shades, sizes and levels of religiosity

— Linda Sarsour (@lsarsour) March 4, 2014
Creating an open and accepting environment for young girls to be themselves, not being told what to do #EmpoweredMuslimWomen

— Sarah (@buonasahra) March 4, 2014
@MuslimahMontage #EmpoweredMuslimWomen do not all look the same, we are diverse & proud of it!

— Brown Girl Magazine (@BrownGirlMag) March 4, 2014
Black Muslims exist. LGBTQ Muslims exist. Gender non-conforming Muslims exist. Their voices cannot be ignored #EmpoweredMuslimWomen

— Zahraa (@loredsaviour) March 4, 2014
Transgendered sisters are ignored, shunned, denied resources and sometimes even basic human dignity. Let's fix that. #EmpoweredMuslimWomen

— Eman. (@emaaanc) March 4, 2014
Empowerment begins when we stop criticizing fellow sisters for their clothing choices+start focusing on their voices #Empoweredmuslimwomen

— Maureen (@maureen_ahmed) March 4, 2014
#EmpoweredMuslimWomen not just about successful careers but on those who can speak their mind on social justice despite society's stigmas

— Nazneen Khan (@Naazzk) March 4, 2014