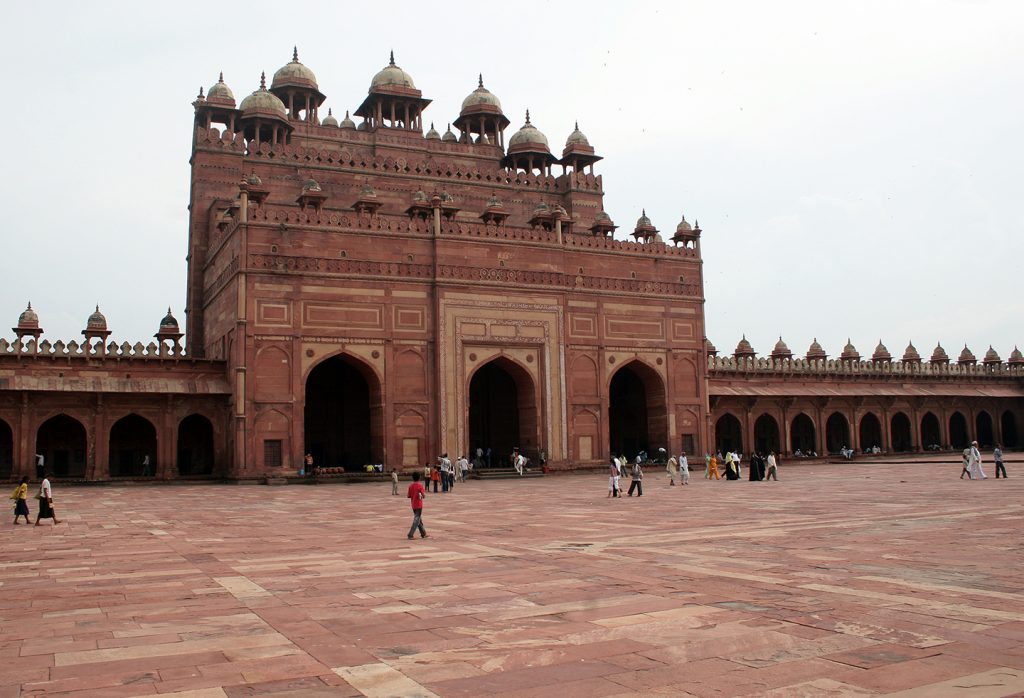 by Aradhana Gupta – Follow @browngirlmag
*This piece is an excerpt from the author's memoir Beeba, The Good Girl
Buaji, her colleagues from school and I planned a day trip to the Taj Mahal, and then from there to Fatehpur Sikri: a heritage site located about forty kilometers from Agra.  We rented a bus, sang Hindi movie songs, and giggled, teasing one another all through the two-hour drive, only stopping for tea on the way.  It was actually quite fun— untamed, free, and adventurous.
Mughal Emperor Akbar had no male heir, though he had multiple wives from different religions. According to legend, the emperor embarked on a pilgrimage, barefoot, from Delhi to seek the blessings of Sheikh Salim Chisti, a Sufi Saint on the outskirts of Agra, with unflagging faith and sheer humility.
Soon after, he was blessed with the birth of a son. In appreciation for this Saint, the emperor had a monument built, hence Fatehpur Sikri, a synthesis of Islamic and Hindu architecture, exemplifying emperor's regard for different religions. Emperor Akbar's legend birthed a notion that, if asked with a pure heart, all wishes at Fatehpur Sikri are granted. People from far and wide come here to have their prayers answered.  
As part of a group of 13 women, I climbed a long succession of steps up to the Buland Darwaaza, the Gate of Magnificence, built in 1601AD. Looking down from the height of these steps, the entire city of Fatehpur Sikri, built by Emperor Akbar, was visible. Sweat-drenched and parched, we relished the occasional breeze as we walked through this high arched door. This door, the Buland Darwaaza, is the highest gateway in the world, reaching a height of 176 feet tall.  It's an exquisite example of Moghul architecture, showcasing emperor Akbar's empire. Persian script is carved into the red sandstone, and white and black marble, along the doorway's arch.  The inscription, ascribed to Jesus Christ,  reads "The world is but a bridge, pass over, but build no houses on it." I borrowed Buaji's pen, and jotted down the phrase on the back of my hand. The inscription had a profound effect on me as, for days, its words kept appearing before me.  Perhaps they were trying to tell me something.    
Heading deeper into the monument, there is the mausoleum of Salim Chisti, the sole location to wish for answers. While making an earnest wish, one ties a holy cotton string to the Jali, filigree carvings intrinsic to the wall, surrounding the Saint's crypt. Being intrigued by this mystical belief, I decided to tie a string with a feverish yearning for my heart's deepest desire. Shutting my eyes tightly, I inhaled a long breath, as I folded my hands and prayed with all my might and faith, dismissing the existence of the entire world. This time I prayed harder than ever before and hoped my aradhana, or prayer, would be heard.
"Please…Wahe Guru, Jesus, and all the supreme powers beyond the realm of this world, listen to my prayer. Give me someone that'll love me, accept me, and always want me. Get me away from Ellena. I want a family to whom I can belong … I want love. Please grant me love and family,"  
I prayed with every lamp of hope and faith lit within me.
According to belief, the string is supposed to be untied once the wish is fulfilled. I wondered if I would ever return to untie the string.
---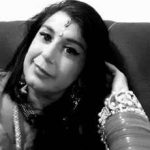 Aradhana Gupta is a Sikh Anglo-Indian born and raised in India  She pursued her education at Rutgers University. She currently resides in the United States where she is raising her two sons. Writing is a cathartic release for Aradhana.  She has examined her life of abuse and survival in her multi-cultural memoir, Beeba: The Good Girl, which she is aspiring to get published.  Aradhana is also a certified Yoga instructor and maintains her own multi-lingual poetry blog.  She is passionate about sharing her stories of life growing up in India, as well as the adversities she has faced in America while raising two brown boys.