This post was originally published on our partner website India.com. 
The following profile is part of the Urban Desi conference/concert series. Produced by Desi in NYC and presented byIndia.com, Urban Desi is a one-of-a-kind, two-day event in New York City featuring 20 global South Asian artists for an exclusive conference and a state-of-the-art concert in Times Square on March 24th and March 25th, 2016. For more information and advance tickets, visit UrbanDesi.org. And be sure to use promo code BG2016 for 10% off. #UDC0216
The island of Manhattan, New York City, is no stranger to good, fast, no-frill Indian food. One trip to Murray Hill, also affectionately referred to as Curry Hill due to the numerous Indian establishments monopolizing its two blocks, is enough for a satisfying fill of chaat, tikka, and kebabs.
It's easy for a restaurant to get lost in the shuffle. However, there is one particular restaurant that has garnered attention, numerous accolades and press mentions. This little gem is called Desi Galli.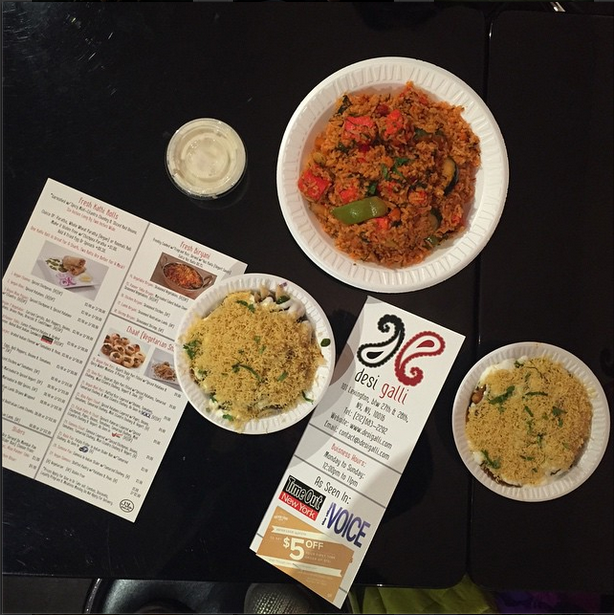 [Photo Courtesy of Desi Galli]
Time Out New York chose its aloo and paneer tikki to be the best Indian sandwich in New York. Eater has Desi Galli as one of its favorite restaurants on the Curry Hill block, and both, The Village Voice and Serious Eats, recommends numerous menu items as being NYC must-haves.
So what gives? Clearly the buzz and accolades must point to a seasoned chef and restaurateur working at its helm, right?
Wrong.
PriaVanda Chouhan, the mastermind, and chef of Desi Galli isn't necessarily a seasoned chef. Her culinary prowess is self-taught, "a hidden talent" that, luckily, is no longer dormant. Chouhan's story is particularly interesting in that she never worked in a restaurant prior to Desi Galli. Furthermore, she never really had a natural penchant for cooking. So, how does one go from cooking meals that had the mouthfeel of rocks to cooking food that, well, rocks?
Chouhan often jokes that her father felt compelled to warn her husband prior to their wedding that she did not know a lick of cooking. Her father is probably eating his words (and her food!) now that she's a chef.
"My father is very proud of what we have accomplished. He still does not believe I am involved in the cooking and that I am a confident chef. When I visit my family at home, I am still the dishwasher and not allowed to touch the stove!" she said.
How does a person go from not knowing how to cook, to learning how to cook, and then opening and running a successful restaurant? What stimulated Chouhan's passion and now full on love affair with cooking?
Chouhan reminisces of getting married and moving to New York from Montreal. Being uprooted as such, she found herself with a lot of time on her hands.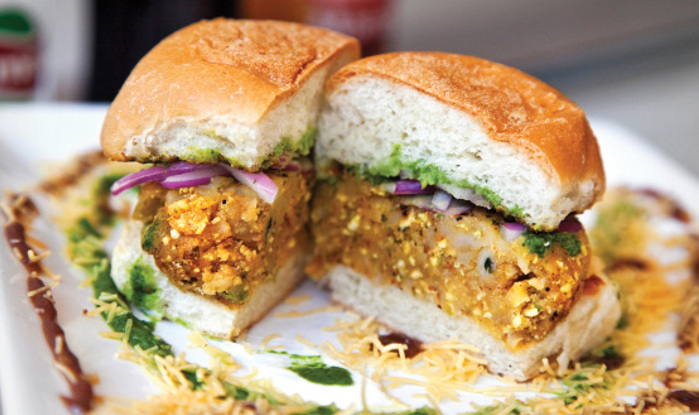 [Photo Courtesy of Desi Galli]
"My husband and I ate out quite a bit and started craving home cooked meals, especially Indian meals. Since neither of our families lived in the U.S., I attempted to recreate family recipes. I started cooking three fresh meals a day, breakfast, lunch, and dinner. All the dishes started tasting like home and the more I cooked, the flavor kept getting better and better," she said. "That is when we realized I had a hidden talented and I enjoyed cooking all day. My husband suggested we open Desi Galli to share our favorite dishes with everyone."
Chouhan 's home kitchen thus morphed into a test kitchen, where she cooked and tested both her and her husband's family recipes. Her goal was to recreate the tastes and foods they both grew up with and add some modifications "to cut out as much fat as possible without compromising the flavor."
Chouhan has made quite a name for herself for serving flavorful Indian food which is not comprised, rather elevated, due to her use of fresh ingredients and masalas for her version of "Indian street eats."
But Chouhan's alchemy with ingredients and cooking wasn't immediate. It was a skill she honed by methods of trial and error.
"The first recipe was a very easy 30-minute meal by Rachael Ray," she said. "I had watched her talk show earlier that day and decided to try it for dinner. The recipe called for black beans. Perfect, I thought, I had a bag of black beans that I wanted to use/finish. Little did I know that you had to let the dry beans soak overnight or pressure cook them. We ended up eating rocks for dinner."
Clearly, Chouhan has come a long way from those rocky days in the kitchen. Now she is more confident and inventive in her kitchen as she tests and tweaks recipes for her restaurant.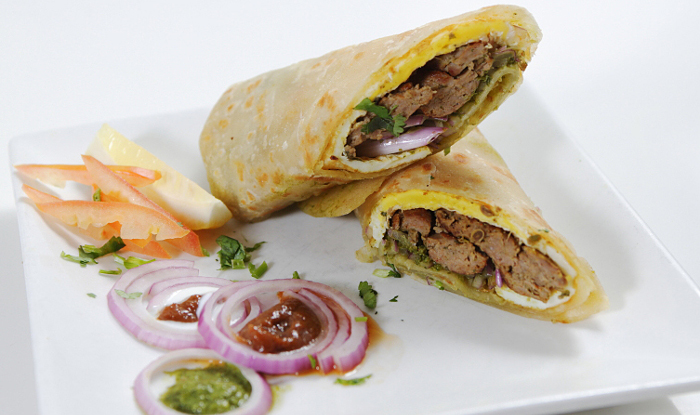 [Photo Courtesy of Desi Galli]
"I am constantly testing new recipes. I would love to create a gluten free samosa and am working on a healthy tikki filled with broccoli, cauliflower, peas, and carrots," she said. "Traditional tikkis are made with potatoes."

"My dream would be to have four Desi Galli's in the city. North, South, East and West. We already have the East now. Three more to go!" she said.
Desi Galli is located on 101 Lexington Avenue, New York City.
---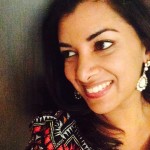 Soni Satpathy-Singh is a recipe writer and developer who resides in Manhattan. She is either always cooking or eating be it for work or simply because she loves to! She is working on her own cookbook and also recently created "Sketchy Desi" which provides daily humor, greeting cards, and apparel that celebrate brown culture. To see more of Sketchy Desi's work, visit SketchyDesi.com or stay tuned to upcoming posts on Brown Girl Magazine.