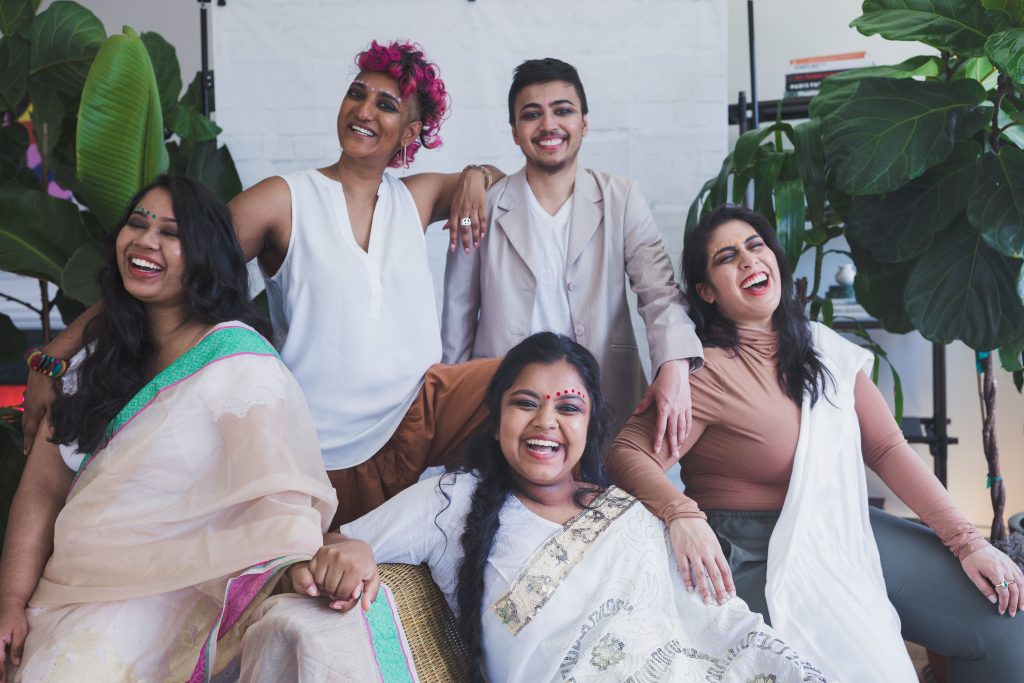 For this Pride Month, we collaborated with our friend and photographer Anuj Goyal, makeup artist Emaan Khawaja, hair extraordinaire Afaf Zahira, and six South Asian creatives who each represented a color of the pride flag with a bindi. They've questioned their sexuality, hid who they truly are, and were ostracized or seen as different for many years but not no more. Each of them bravely recounted their coming out story for the world to read, described what pride means to them in three words, and shared how they bring awareness to their community. We'll be featuring each one — including Fabliha Anbar, Arti Gollapudi, YaliniDream, and Farhat Rahman — in the hopes that their journeys will empower and engage all those who have a coming out story to tell this month and beyond.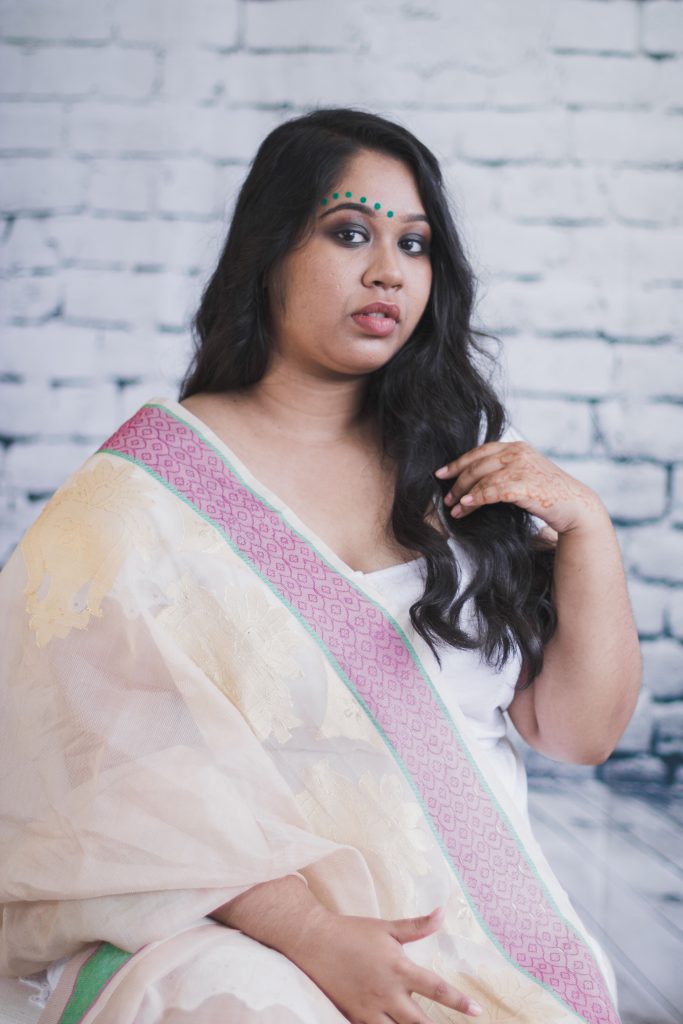 Describe what pride means to you in three words.
Liberation, revolution, and authenticity.
Tell us your coming out story.
I've always known I was "different" since my adolescence. In middle school, when everyone was having crushes on boys and passing notes to each other, I started to notice how I didn't look at boys the same way my friends did. I started to question my sexuality and immediately felt dirty and disgusting as I was taught growing up in a Muslim household that homosexuality is sinful. I also associated queerness with being white so I felt as though I couldn't possibly be gay which resulted in a decade of internalized homophobia.
In high school, I started to learn the vernacular of the LGBTQ+ community and what queerness meant. Once I realized that it's okay to be both brown AND queer, I decided to come out to my close friends and eventually on social media. However, I am not out to my family as I feel like my safety would be at risk.
How do you bring awareness to youth and elders in your community?
I bring awareness by utilizing social media as a tool to express myself and my identity as being both Bangladeshi and queer. I write about experiences as well as allow other lgbtq+ folks to share their stories in my magazine, Sorjo Magazine, for and by the unconventional.
I am also the co-founder of the South Asian Queer & Trans Collective. It is a community support group that amplifies the voices of the South Asian LGBTQ+ diaspora. I hope that by being my authentic self, it makes other folks regardless of their age, to be themselves too.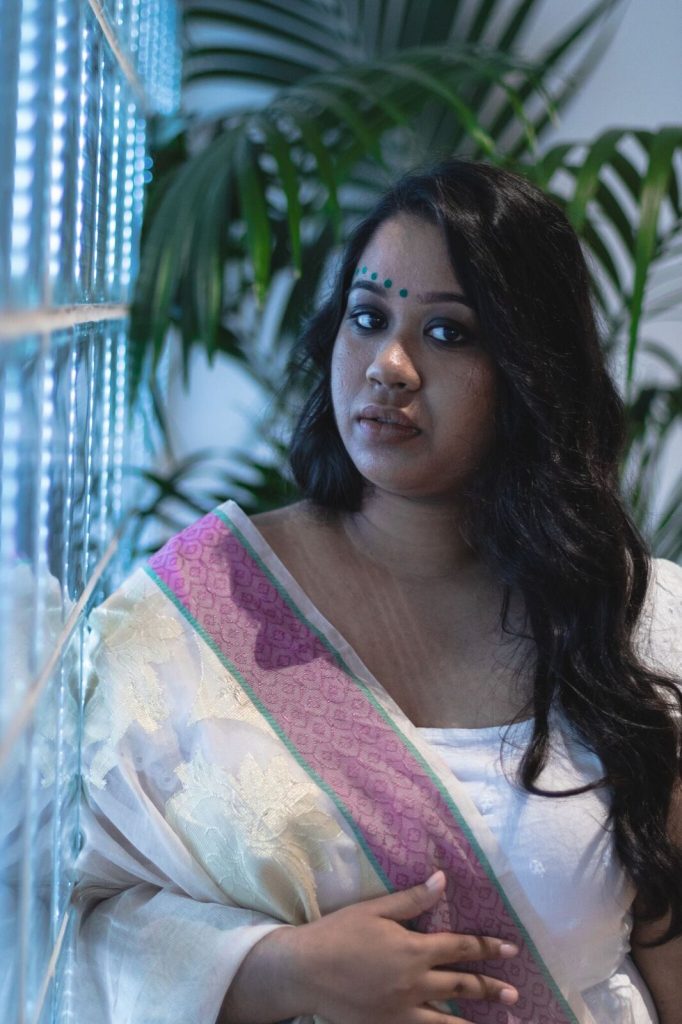 Tell us about the pride color you represented.
The color I am representing is green, which means nature. To me, all my life I always felt like I was "unusual" or "out of place" in the world. I felt disconnected from my white peers because of my brownness but also disconnected from the South Asian community because of my queerness. But I have realized that I am perfect just the way I am. Being Bangladeshi and queer is NOT a contradiction, but a beautiful harmony. I deserve to exist, take up place and be who I am, just like nature.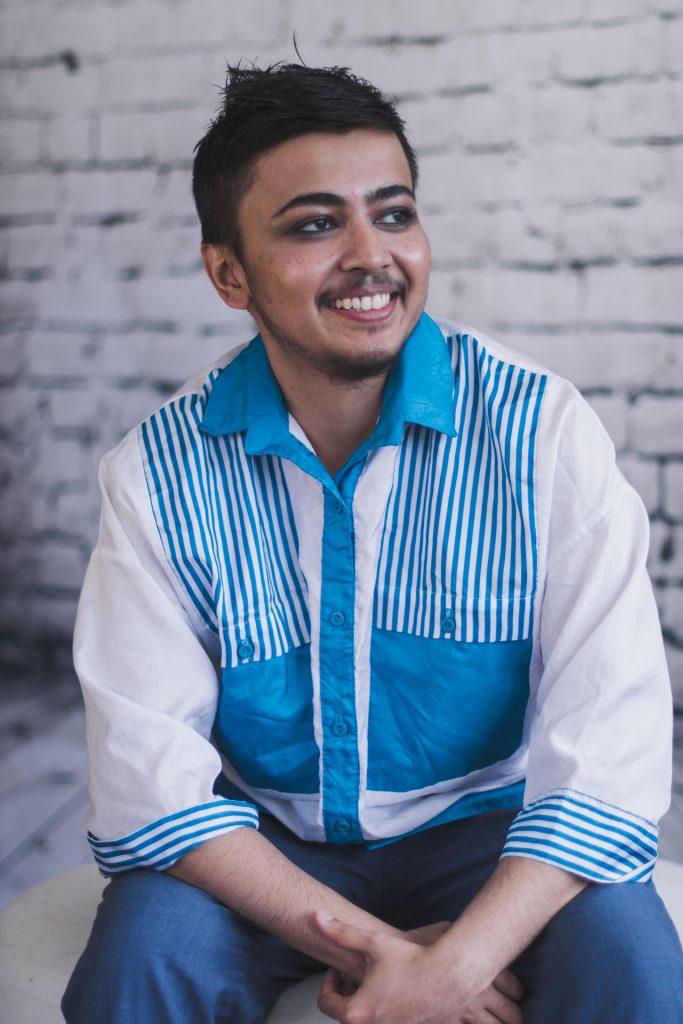 Describe what pride means to you in three words.
Defiance, liberation, solidarity.
Tell us your coming out story.
I grew up in Dhaka, Bangladesh for the first 19 years of my life. I remember from a young age, I was attracted to feminine presenting people. I was also what people popularly referred to as a tomboy, even though that was my correct presentation — a gender-nonconforming child. During my time in Bangladesh where I had no support, I pathologized myself, thinking I was the problem, and that my desires to like people who were not male and to be masculine/non-binary presenting, were unacceptable. 
Once I started attending a queer-friendly college in America and left my family home, I came out to myself as a queer and transgender Muslim. I don't think I looked back after that.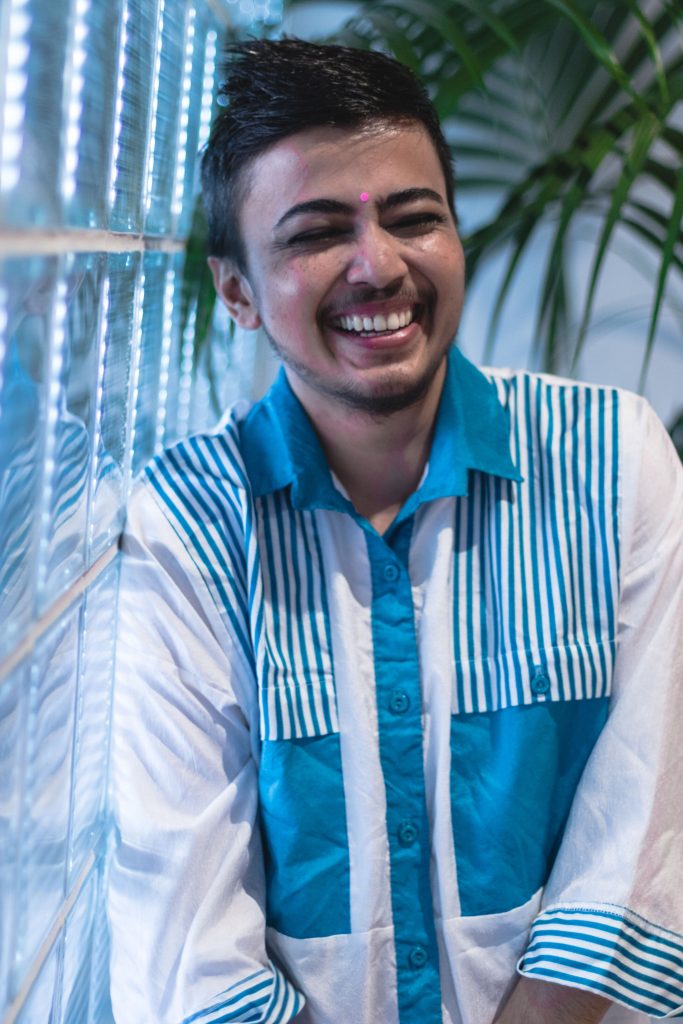 How do you bring awareness to youth and elders in your community?
Since coming closer to my sense of self, I have been politically active in numerous agendas over the last seven years. I have aided the Bangladesh LGBTQGNC movement on some projects within the homeland, but am currently unable to be active there, due to state repression of LGBTQ people. I am a core member of the South Asian Diaspora Artists Collective and South Asia Solidarity Initiative, which utilizes arts and politics to fuel movements for social justice. I direct short films that focus on LGBT characters and started CineDiaspora NYC, a queer and trans people of color and South Asian centered film festival. In addition, I work at the Gender & Family Project, which provides life-affirming services to transgender youth and their families.
Tell us about the pride color you represented.
The color(s) I am representing are pink, blue and white which are the colors of the transgender pride flag. One of the most difficult journeys in my life has been in finding intimacy with my transgender identity. While I was navigating with being a migrant queer Muslim who was new to America, I found that my journey to be trans proved to be the biggest barrier to me. As a result, I now consistently work to make any space I enter into, to be more trans-affirming so that transgender people (especially those of color) can be believed for who they say they are, can be comfortable to be themselves, take up space, and to shine in whatever goals we want to pursue. My hope is that we all start having those difficult conversations, to root out oppression and to work towards loving one another and relating despite our differences.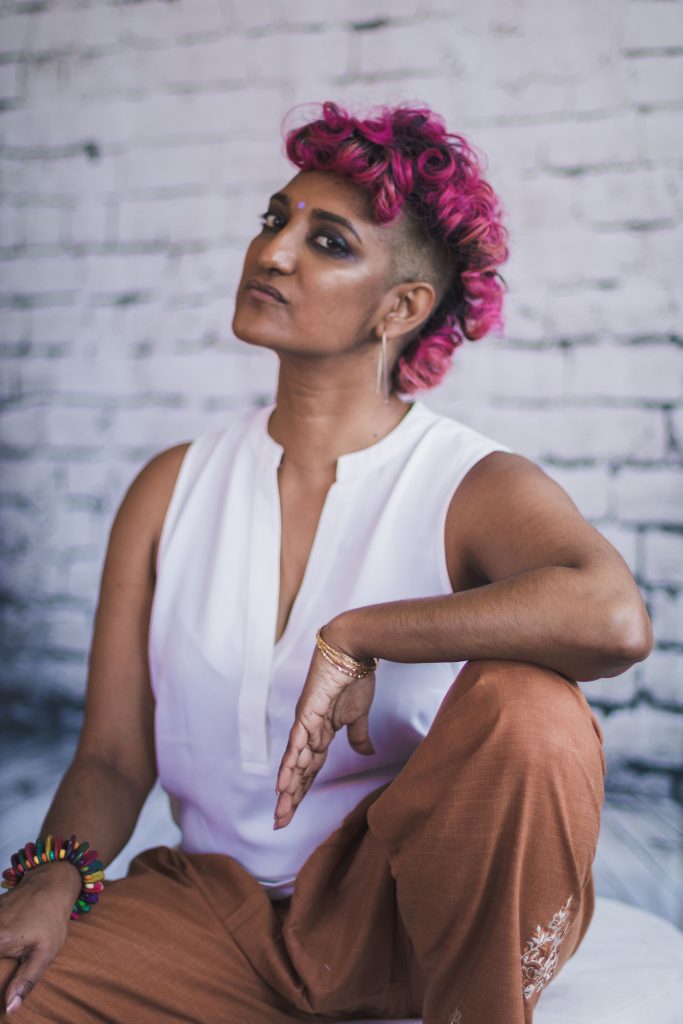 Describe what pride means to you in 3 words.
Riot, liberation, love.
Tell us your coming out story.
I am a Periya Acca (eldest cousin) and early on got used to breaking barriers. Around the same time, I learned that being a darker skin kid from an immigrant family in America meant being ostracized. When I was young, Amma reared me in the village ways she was raised by with a dose of romanticized imaginations of 19th century England. Amma lovingly dressed me in itchy frocks while forbidding me to wear makeup, shave my legs, or wear skirts above the knee. In a world of designer clothes and lipstick, I didn't know what deodorant or a training bra was.
When I was taunted and called a lesbian in the seventh grade for having hairy legs, I had no idea what a lesbian was. My first experience of "coming out" — or as I think of it "tackling homophobia & transphobia" entailed being honest and present with my own reality, sorrow, and desires despite an absence of images or stories that reflected my experience.
Over the last 20 years, I have been one of the few visible openly queer women of Ilankai Tamil descent. We exist and are all over the world, but there are conditions that heighten the degrees of homophobia and transphobia we face. The triple colonization by the Portuguese, Dutch and British, the Sri Lankan Civil War, exploitative economic policies and casteism's impact on Tamil communities narrowed the space for dialogue and social movements addressing gender oppression—even in the diaspora. 
Often under militarism and exploitation, the forces that cultivate plurality, awareness, and wisdom are undermined, targeted, and persecuted; while the forces that dull wisdom and encourage conformity are spread. 
I am very open in many spaces. I have been open with my parents since 2002 when to my dismay they discovered google (I came out to myself, thamby, and friends before Google existed, so I didn't anticipate that anyone would be able to look me up on the internet!).  Even though there are people in my family including my parents who don't believe in the validity of a queer relationship, my partner and I have been attending family gatherings together including weddings, anniversaries, birthdays, and funerals for the last eight years. 
There are also family members who have journeyed with me and are supportive. I travel and perform with my partner across the world. We are sometimes the first openly queer couple that people have met and we are both skilled at participating in and facilitating dialogue around gender and sexuality with people who haven't been exposed to these conversations. Yet, I still encounter situations where I need to limit how much I disclose out of valid concerns of backlash or violence against myself or loved ones.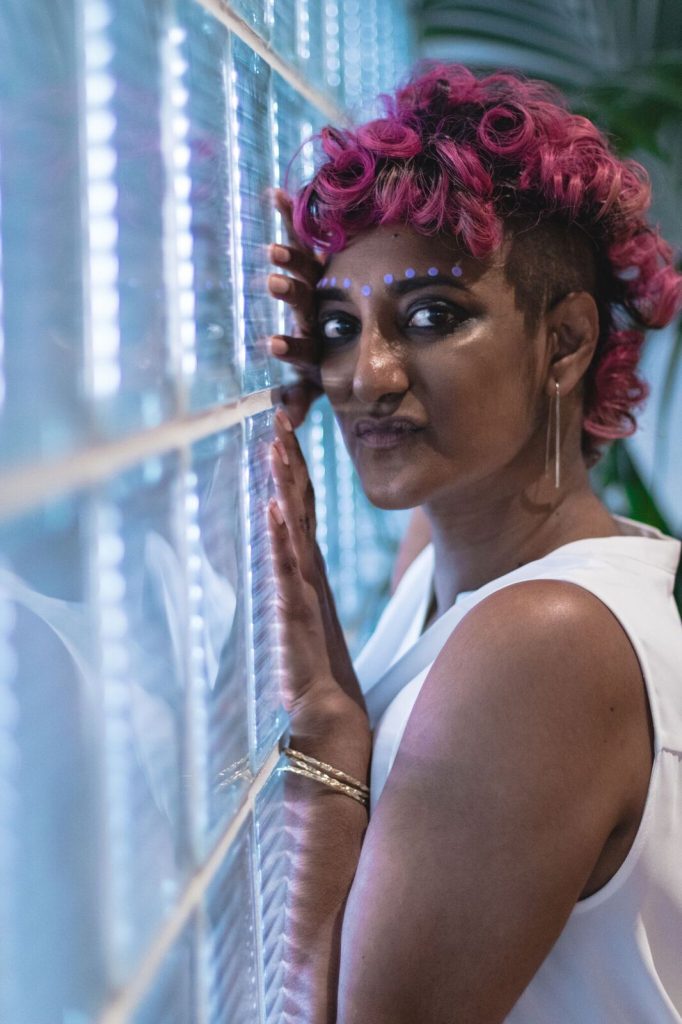 How do you bring awareness to youth and elders in your community?
Storytelling, performance, ritual, divine truth, facilitation, coaching, organizing, and consulting are some of the ways I bring awareness to people of all ages within and outside of the communities I'm a part of. I came out in an era before social media and thus, learned the power and skill of in-person connections. Within Ilankai Tamil community, it is important to me that I support people in accessing information, understanding their bodies, navigating relationships, and reflecting on their beliefs whether they have multiple partners or need/want an arranged/proposed marriage. 
I create and participate in queer and trans art. I represented queer and trans voices in front of hundreds of thousands of people speaking at the mobilization against the Iraq War in 2003 in New York City, and through marching, chanting, coordinating and speaking at many other rallies, press conferences, and protests.
From 2005- 2010, I organized with Audre Lorde Project's Safe Outside the System collective which used community-based responses to address homophobic and transphobic violence in Central Brooklyn. I perform and facilitate for pre-schoolers to great grandmothers, performing multiple times with my partner at gatherings for South Asian elders. 
I tour with my partner as part of the Hip Hop duo Brooklyn Dreamwolf.  Currently, through consulting team Vision Change Win, I also coach fifteen TLGBQI (Trans, Lesbian, Gay, Bisexual, Queer and Intersex) Black, Indigenous, Latinx and Asian community organizers throughout the U.S. 
Tell us about the pride color you represented.
My journey of being a Tamil Gender Rebel has required deep spiritual work and integrity.  When I shared with my family that I was Vithyasam (different)—that I didn't want to get married, and later, that I had romantic desires for women, they were shocked. Educated by Irish nuns and priests during an era heavily influenced by colonial gender norms, my parents and other elders in my family had never heard of an Illankai Tamil person being gay despite a long history of gender diversity in our culture. 
It can also be dangerous to be openly Queer in Sri Lanka. My parents did all they could to change and shift me. The internal spiritual work I have done, to be honest, heal and love myself has given me the grounding and strength to remain in my truth despite family pressures and security concerns. It has also led me to a powerful journey towards liberation for all.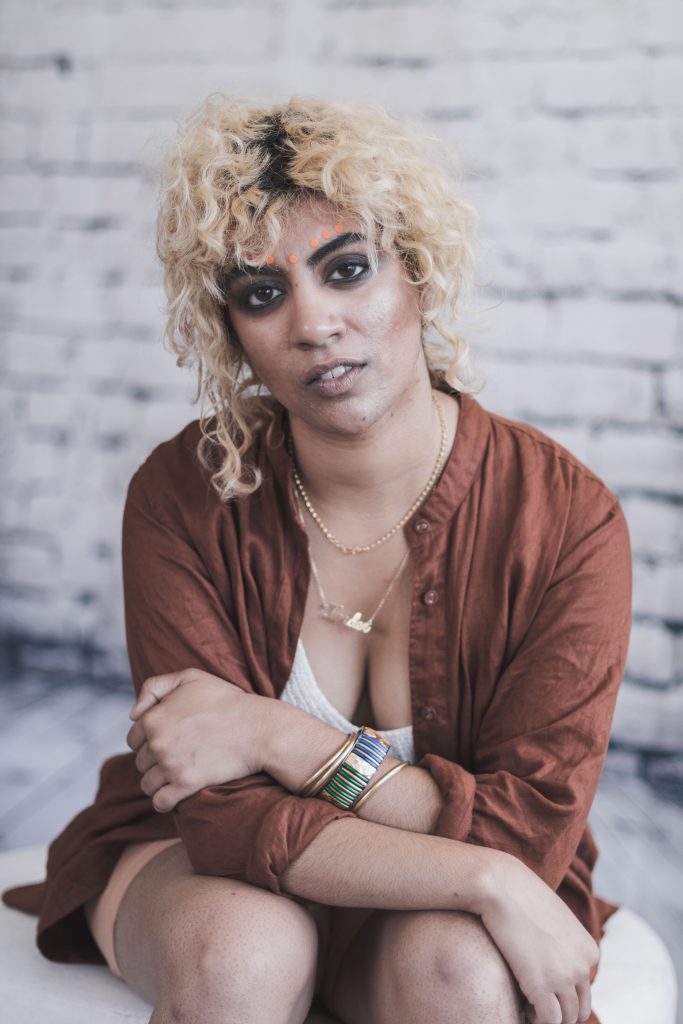 Describe what pride means to you in three words.
Community, celebration, and strength. 
Tell us your coming out story.
I came out to my best friend years ago when we were living together. To close friends I always identified as queer and never publicly came out until this past fall. My best friend who I confided in about my gender and sexuality passed away—he was someone who inspired me to always be myself and to be confident in my identity. He celebrated me as I am so I came out to my peers to live my truth without shame. I casually began writing jokes about being a queer woman and identifying through my writing as queer so I guess strangely enough through my comedy and grieving, I slowly came out to my community. 
How do you bring awareness to youth and elders in your community?
I bring awareness by discussing queerness on stage, through my writing, and curating shows comprised primarily of queer people. The more people see us on stage, in books, in media, and just in person—the more people know we exist.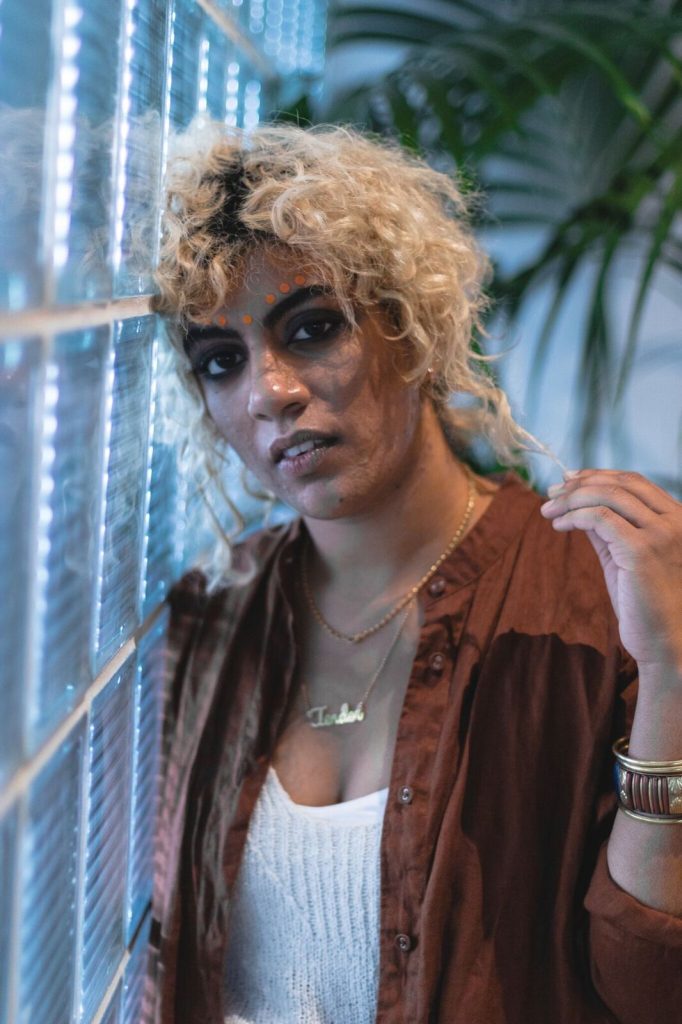 Tell us about the pride color you represented.
Orange represents healing. To me, healing has been a major theme in the past year and the journey in my queerness. Healing from sexual trauma, from body dysmorphia, and from grief has been a path I have been actively on and while it is a difficult and painful one, I am proud to be celebrating my identity this pride month and my journey to healing.