4
min read
After a whirlwind weekend of wedding festivities, Priyanka Chopra and Nick Jonas are officially man and wife. The couple was married in two ceremonies, one Christian and the other Hindu, to honor both of their familial traditions and faiths. The Christian ceremony took place on Saturday, Dec. 1, followed by the Hindu ceremony on Sunday, Dec. 2. The weekend's events, also including a mehndi and sangeet, were held at the Umaid Bhawan Palace in Jodhpur, Rajasthan.
Chopra and Jonas released one picture from each ceremony on social media, selling the rights of their wedding photos and video clips to People Magazine. Those pictures will be available with the pages of People Magazine this Friday, Dec. 7.
The couple, their families and their bridal parties were dressed by Ralph Lauren for the Christian ceremony. While this gesture was special because Chopra and Jonas were seen publicly for the first time together as guests of Lauren at the 2017 Met Gala, it was also unique because Ralph Lauren has only designed customized wedding dresses for family members in the past.
Chopra wore a long-sleeve, high-neck gown, with scallop sleeves and 2,380,000 mother of pearl sequins, according to People Magazine. The beading and embroidery were done by hand, and Lauren completed the look with a 75-foot long veil.
People also reported that there were a number of personal messages and sentimental additions woven into Chopra's intricate dress and Jonas' Purple Label black tuxedo. Jonas' full name, their wedding date, the first name of her parents, the Hindu mantra "Om Namah Shivay" and the words family, hope, compassion and love were hidden within the embroidery of Chopra's gown. A lace piece from Jonas' mother's wedding dress was also added to the elaborate design. Jonas honored his bride by having a lace piece from Chopra's dress, threaded with the words "My Jaan," sewn into the inside of his lapel.
Chopra and Jonas had their nearest and dearest play various parts in their wedding. The couple's bridal party was made up of 12 bridesmaids and 12 groomsmen. Chopra's bridesmaids included Joe Jonas' fiancée, "Game of Thrones" actress Sophie Turner; Kevin Jonas' wife, Danielle Jonas; Chopra's cousin, actress Parineeti Chopra; Chopra's friend Arpita Khan Sharma and Chopra's manager, Anjula Acharia. Jonas' brothers, Joe, Kevin and Frankie, and Chopra's brother, Siddharth, served as groomsmen, along with "Kingdom" co-star Jonathan Tucker, former manager Phil McIntyre and former bandmates Greg Garbowsky and John Lloyd Taylor, among others. They also had four flower girls and one ring bearer, according to People Magazine. The Christian ceremony was officiated by Jonas' father, Kevin Jonas Sr, and Chopra's mother, Madhu, walked her down the aisle.
For the Hindu ceremony, the couple emulated Indian royalty in Sabyasachi designs, with Chopra donning a traditional red bridal lehenga and Jonas clothed in a gold hand-quilted sherwani.
"Priyanka Chopra @priyankachopra makes for a stunning bride in a custom red Sabyasachi lehenga," Chopra's outfit is described in an Instagram post on the official Sabyasachi profile. Hand-embroidered and hand-cut organza flowers, French knots in silk floss, delicate Siam-red crystals and layer upon layer of threadwork embroidery creates this piece of impossible couture. 110 embroiderers from Calcutta, India took 3720 hours to create this modern masterpiece."
This time, Chopra had Jonas and her parents' names stitched into the waistband of her lehenga in Hindi.
Jonas also sported a hand-embroidered chikan dupatta, a chanderi tissue safa and Louboutin shoes, according to the post. Priyanka's wedding jewelry was created with uncut diamonds, emeralds and Japanese cultured pearls in 22 karat gold. People reported that her wedding tikka was a 16-carat oval-shaped diamond drop created by Chopard. Jonas' jewelry, a rose cut kalgi and diamond necklace, are part of the Sabyasachi Heritage Jewelry collection.
In an exclusive interview for her cover story with People Magazine, Chopra said, "I always knew I wanted a red traditional silhouette for my wedding but Sabya brought in incredible French embroidery to the mix and with incredible jewelry and Western-inspired veil it was just such an amalgamation of who I am."
Chopra was styled by Ami Patel, and makeup and hair were done by Mickey Contractor and Priyanka Borkar, respectively.
Actresses Alia Bhatt and Sonam Kapoor were among the first from Bollywood to congratulate the couple.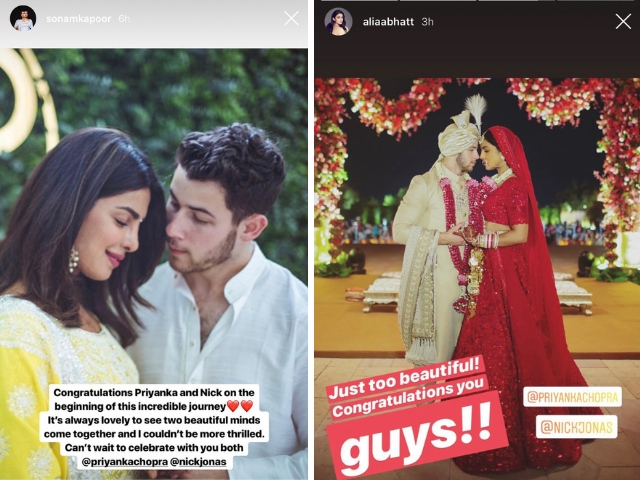 Today, the newlyweds and their families continued the celebrations with a reception at the Taj Palace hotel in New Delhi, which was attended by high-profile politicians like India's prime minister Narendra Modi, powerful business figures and fashion designers.
Though a date has not been announced publicly, it has been confirmed that Chopra and Jonas will host another reception in Mumbai in the coming weeks, where they will party with Chopra's Bollywood pals and other friends and family based in the city.
If we take away anything from these photos, it is that Chopra and Jonas seem truly overjoyed, and their fairytale East-meets-West wedding casts them into a whole new category of #CoupleGoals. Here's to a lifetime of love and happiness!