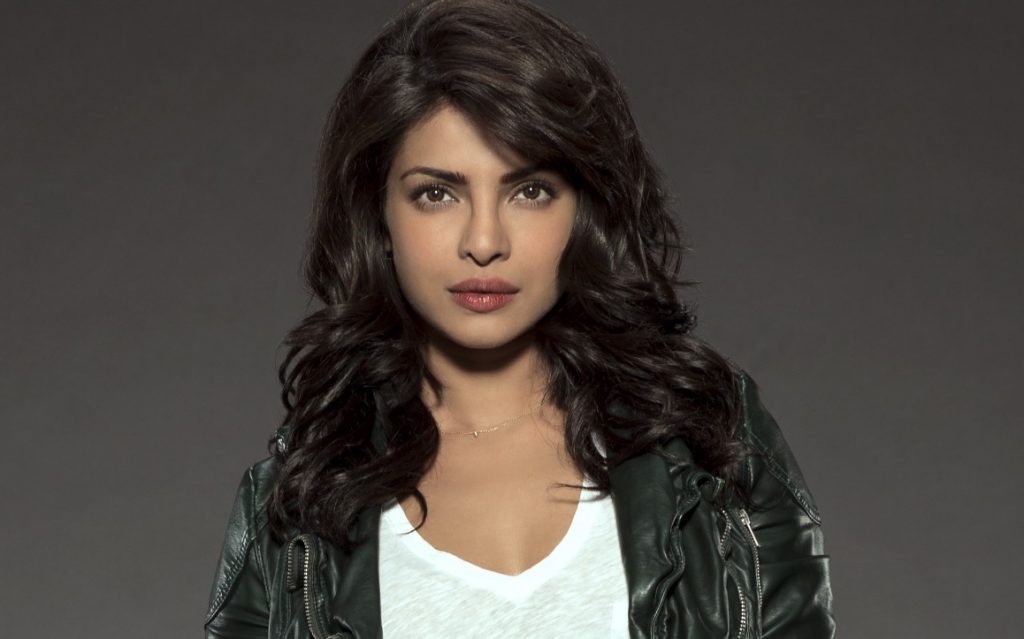 I hope we're all on the same page about the "I don't even see color" nonsense because yes, yes you do see color. And it applies to everyone, Priyanka Chopra.
That phrase is a misinformed attempt at being inclusive at best or dismissive of actual experiences that people of color live at its worst. See, the thing is when you say you don't see color you are in effect saying you don't see me because there is a part of me that is different and you'd rather avoid addressing it for your own comfort. So please stop with this silliness.
Anywho, Priyanka Chopra just discovered that while she might not "like the phrase woman of color" it doesn't matter because that's what she is in America. She's a brown woman. Not a "green, blue, or pink – whatever" because human skin doesn't come in those colors (oh this part especially, pisses me off when people add it like they're so funny…STOP!), and as a smart woman she should've known better.
Priyanka sat down with Instyle Magazine and shared how last year she discovered that she was passed over for a role in a film due to her skin color.
Oh really? You don't say? "Color us surprised!" (pun intended) Said no one else.
Once more for the people in the back, and you too PeeCee, just because it hasn't been your personal experience, it doesn't mean it doesn't exist.
https://www.youtube.com/watch?v=NryFUZyzvbQ&t=422s
From the #OscarsSoWhite to the white-washing of role after role, from #MeToo and Time's Up movements, the pay disparity between men and women (not to mention women of color), it has been pretty clear since forever that Hollywood has a diversity problem. The lack of diversity across the board – in boardrooms where the casting decisions are made, in front of the screen, behind the screen – has caused the ugliness in the industry to fester. The reason we're seeing a change now is because so many with power in Hollywood are shining a huge spotlight on it.
I've spoken about power and privilege in Bollywood many, many, many times before. The power imbalances that are caused by inequities entrenched in traditional and or colonial systems and institutions, exist throughout the world. Understanding this by recognizing and acknowledging your own power and privilege is crucial for true change to happen. That's what has happened in Hollywood with Time's Up and #Metoo.
https://www.youtube.com/watch?v=kiQJScRLSAA
Many women with considerable power in Hollywood stood up and said 'no more'. They joined their voices with the less powerful women who had been saying 'no more' for years without being heard and used their power to ensure their collective voices weren't silenced. They recognized their own power and privilege and used to bring about positive change.
I love Priyanka Chopra, I do. She's a badass hustler. A smart business woman who has leveraged her privileged upbringing (the daughter of two well-to-do doctors from whom she gained her business acumen), her undeniable beauty (another privilege) to become a model. From there it was Miss India, then Miss World, and then the bright lights of Bollywood, which does open its doors and offer starring roles to beauty contestants when star kids are running sparse (please see Aishwarya Rai Bachchan, Sushmita Sen, Juhi Chawla, Zeenat Aman, et al).
She leveraged all of this, worked hard as heck and rose up to become a full-fledged star commanding top dollar, and then segued into Hollywood with a role on ABC's "Quantico." She's even an UNICEF Goodwill Ambassador. That's pretty badass.
When I say Priyanka Chopra is privileged, I' m not detracting from her work or her hustle. What I mean is that she has unearned benefits by virtue of her birth – her caste and class in a country where this matters, and her Bollywood superstardom again in a country where this matters – have given her tremendous power and privilege. What irks me is that until recently, she hadn't acknowledged it.
Her power and privilege had protected her from recognizing inequities within her own industry in Bollywood and she carried it with her to Hollywood. Priyanka Chopra has said that she didn't want to be pigeonholed in the exotic roles (despite releasing a song called "Exotic" where she was literally trumpeting her exoticism for the North American audience, but that's neither here nor there) and enjoyed mainstream success with "Quantico" and then "Baywatch" (even if it wasn't quite a hit).
Since she had never experienced it first hand, it didn't exist for her, but now it does because it's a part of her experience. This experience has shifted her understanding of what it means to be a woman of color in America. She finally understands what women in the diaspora have been saying to her for the past two years.
Representation matters. I love seeing South Asian women on screen, women who look like me, who have had similar experiences. Priyanka Chopra got flack for it because her comments were dismissive of the lived experiences of women of color in general and South Asian women in America in particular. She recognizes this now. Being a woman of color in America means "something very culturally different" in America than outside of America. I like that she's amended her original statement.
There is always room for growth, for checking your privilege and recognizing your power, as long as you can shake free from the sense of entitlement and really see yourself. I like this new, more aware Priyanka Chopra, and I hope she continues to kill it.