It has been a little over a month since it was announced that the pilot of the new ABC series "Quantico" starring Priyanka Chopra was picked up. The trailer looked promising upon its released and received positive feedback.
Last week, however, a new teaser of "Quantico" was revealed, and many are upset or saddened of its depiction of Chopra's character.
The photo shows Chopra wrapped in only an FBI flag, showing her bare arms and legs, with handcuffs around her wrists and ankles.
In her recent films, whether it be "Mary Kom" or "Dil Dhadakne Do," Chopra has portrayed strong women on screen. The characters are independent and empowered. FBI trainee Alex Parrish, Chopra's character in "Quantico," seems like another vivacious, intelligent and strong female character, but the new teaser cannot be seen as empowering from any angle.
During the trailer, it is shown that when a terrorist attack occurs, Chopra's character is believed to have committed the act of treason.
This could be the thinking behind the handcuffs around her wrists in the picture. But then, she is also handcuffed around her ankles. Chopra's facial expression, her lack of clothing, and the handcuffs, which look like shackles depict Chopra more like a slave whose rights have been violated, than an American FBI trainee who wants to serve her country and enforce its laws.
"From the moment I started my international sojourn, with music and everything else that came after, my experiences and interactions with various people (especially those of Indian descent) created a burning desire to want to represent my country," Chopra wrote in a diary entry for The Hollywood Reporter. "To show the world that we are so much more than we are given credit for."
While many desis will agree that it is due time for Indians to be accurately represented on American television, is this the way we want to be depicted?
Hopefully, this is an image that has been taken out of context, considering that the show has yet to premiere. But we will have to wait until September 27 at 10 p.m. EST to find out if we are correct about this promotion or not.
---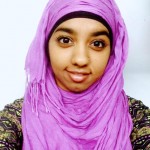 Gabrielle Deonath is a full-time college student. She is a contributor to the teen column, "At The Crossroads," in SISTERS Magazine and the author of the "Hijab Diaries" series on virtualmosque.com. Her dream is to be a journalist and novelist one day. One of her biggest obsessions is Bollywood movies and music. When she's not in class or following her dream of becoming a writer, she most likely is choreographing a dance to the latest song or watching a new Bollywood movie. To read more, visit her blog at hijabdiaries.com.