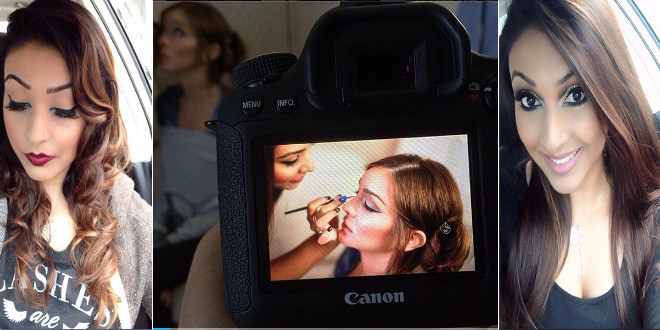 Jasmin Rahman stumbled upon her future career of professional make up artist during a job interview at Macy's. She was just looking for a job to cover her expenses, like any other college-aged girl. During the interview, she was asked about her interests and what her likes are, "I mentioned makeup and before I knew it was working in the cosmetics department," Rahman said.
This small and seemingly insignificant department placing of a newly hired Macy's employee was actually the prompt that would change the course and projection of Rahman's future career.
I never, ever thought I could do makeup as a job or eventually a career," she said. "But once I was there, I realized there was so much more I could be doing with my love for makeup. In 2011, I decided to branch out and create FacePlay by Jasmin, and started freelancing for myself."
Rahman is mostly self-taught on the subject of make-up, but she receives continuous training from top cosmetic brands, celebrity make up artists and models. Her knowledge about make-up can not be wound in a single thread, it's a quilt of ideas and styles learned from her experiences in the field and classes she's taken to further improve her skills.
It's not just about liking make-up, knowing what products are good and following all the heavy-hitting beauty bloggers and make-up artists," Rahman said. "It's about knowing about skin, how it works, [learning] about skin tones, facial features and shapes, and how to best enhance them to make the client look and feel their best."
Through her wealth of experience she's exhibited her talents by working with television shows such as "DID Super Mom's," on Zee TV and through the RAWArtist showcase in Philadelphia.
Money was not a factor for Rahman when she first ventured into the art of make-up. She had a passion and wanted to build on it, because it was fun.
Currently, Rahman is working on adding to her portfolio, which shows an array of fashion models and photographers, but is also full of women simply getting ready for their special day, whether it be a wedding or Sweet 16, Rahman is ready to adapt her techniques to various clients based on their needs.
Before a special occasion I always suggest a few things prior, to make sure their skin is as close to perfect and healthy as possible," she said. "It's always important to maintain a regular skin care regimen that includes removing makeup whenever you wear it, washing your face and moisturizing twice a day, using a good eye cream and exfoliating with a scrub such as Clinique's 7 Day Scrub a few times a week."

Make sure you're using a good facial cleanser that removes makeup and deep cleans your pores every day, moisturize the skin both day and night with a good oil-free moisturizer with SPF, and arrive to your [make up] appointment with no makeup and clean moisturized skin," Rahman added.
For more beauty tips by Rahman, read below:
Beauty Tips:
MAC Charged Water Spray: Use this spray to add moisture to the skin for a more natural look. It does not set makeup, but it is refreshing on a hot day and helps products blend and settle onto the skin.
Try to avoid heavy liquid foundations for everyday use. Use concealer to fix any blemishes and dust powder over your face lightly.
Always set your liquid products with a powder.
Tricks to conceal uneven skin tones:
Rule of thumb for correcting darkness is to use an orange based concealer. MAC and NARS sell great concealers with orange-base tones.
For girls with scarring or patches of discoloration, before you put on foundation, take an orange-toned concealer that is one to two shades darker than your natural skin tone, and use your fingers to pat it on gently until it's blended in. This takes time, but by patting it on, less product is absorbed and you get better coverage.
For women with darker skin on their foreheads than cheeks, Rahman suggests using two different colors of foundation on your skin. The best thing to do is apply foundation that matches the lighter parts of your face to those parts and the center of your face, then use a wet beauty blender to blend it outwards towards your forehead, but not all the way up to your hair line. Next, take your favorite bronzer and a fluffy brush to blend sharp edges up towards the hair line. You can also use two different foundations, and instead of using bronzer to blend out the uneven forehead, use a foundation that matches your forehead's darker parts, and blend out towards your hairline. Use the beauty blender to blend any edges. This method gives you that glowy Kim Kardashian or Lilly Ghalichi look.
Top 5 Beauty Must Haves!
Eye cream: It's not makeup, but it is important to have a solid skin care routine to ensure that makeup is smoothly applied. All About Eyes by Clinique comes in two formulas to accommodate oily and dry skin, and everything in between.
Setting Spray: Not only does setting spray help keep makeup in place for hours, but it also makes makeup look more natural and prevents it from looking cakey, especially when using powder products. Rahman loves Urban Decay's de-slick Makeup Setting Spray for women who find that their skin gets shiny over time, Urban Decay's All Nighter Makeup Setting Spray is great for women who are on-the-go with no time for touch-ups!
Urban Decay's Original Eye shadow Primer Potion: Rahman swears by this stuff; apply a tiny bit all over your eye lid before putting on eye shadow and your eye shadow will not only look brighter and apply smoother, but it will last all day and night!
Black Eyeliner: Kat Von D's Ink Liner in Trooper is a matte black liquid eyeliner, similar to a pen, it is easy to apply and will not smudge. Smashbox Always Sharp Waterproof Kohl Liner in Raven is a pencil eyeliner that self sharpens; is super dark and will not budge!
Creamy Concealer: Rahman recommends NARS Radiant Creamy Concealer, but if you cannot find a match there, Sonia Kashuk's Liquid Light Concealer, Revlon Photoready Concealer and Smashbox have great concealers sell good products too. It is important you have different shades of concealer; have an orange toned concealer to cover up darkness, but also have one that matches your actual skin color.
Keep up with Rahman's latest updates and favorite make up looks through her Twitter, Instagram and Website.
---
Mahrukh Zaidi, a native Long Islander and a serious coffee addict, is a healthcare administrative fellow by profession. When she isn't busy trying to solve the latest issues in healthcare, she is shopping her life away. She is a serial shopper with an addiction for the latest beauty trends. During her down-time, you can find her at the nearest Starbucks, enjoying a nice book or catching up on the latest current events and politics.