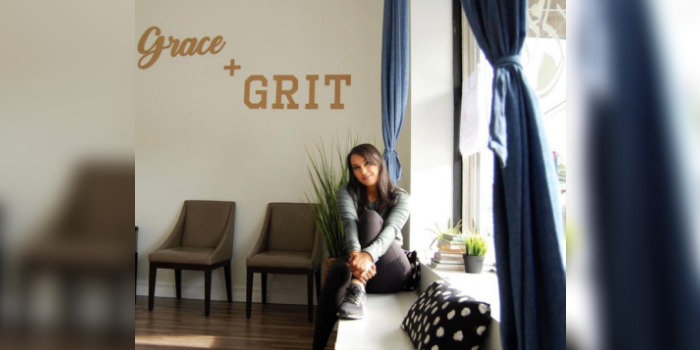 Among Indo-Caribbeans, it's not uncommon to hear of the prevalence of heart disease and diabetes, and the subsequent blame placed on a heavy-carb diet with some of our staples being roti and rice. As is the case in many cultures, we sure do love our food, but there's something markedly different about our modern-day lives as compared to those of our ancestors. Most of us—especially those of us with desk jobs—spend our waking hours in sedentary ways. Gone are the days when we were out in the hot fields burning the calories we've taken in. How do we stay healthy, both in body and in mind?  
There is a new zeitgeist brewing in parts of Queens where Gen Y Indo Caribbean leaders continually seek to empower community residents in meaningful ways. This includes the way we treat our bodies, and one such person is Tishiannae Singh.
Tishiannae Singh (pronounced tish-e-ana) or Tish, is a 29-year-old entrepreneur who embodies the Gandhi quote "Be the change you wish to see in the world." Born in Guyana, and a migrant to the United States at the age of five, Tish is a graduate of York College with a degree in Business Administration. She grew up in Ozone Park, New York and moved to Queens Village, New York at the beginning of high school, where another large Indo-Caribbean enclave resides.
Tish created The Figure Studio (TFS), a chic physical fitness center that is truly unique to the neighborhood it sits in. TFS features empowering branding with a tagline of "Grace + Grit," encouraging women and girls, through a combination of dance and weight training, to be soft and strong simultaneously. TFS offers a roster of fun and Caribbean-centric classes given its location in the heart of the South Ozone Park, Ozone Park, Richmond Hill, New York area including "Soca & Strength," "Socacize" and Vinyasa Yoga.
I had the chance to ask Tish a few questions about her journey towards creating TFS and her dreams for the future. Here's our Q&A!
Why did you create TFS?
To explain why I created TFS, I would need to go back to when I went through my own fitness and weight loss journey six years ago. I grew up on the heavier side and my weight always fluctuated up and down, Singh said. 'I decided to do something about it as my sister's wedding was approaching. I joined Lucille Roberts, a women only gym with aerobic dance classes, weight training, as well as workout equipment & machines so you can work out on your own. Through classes and eating well, I was able to drop 25 pounds in one year. Once I dropped that weight, I was inspired by the fitness leaders I saw on Instagram and was advised to start lifting weights to sculpt my muscles. That's when I saw major changes in the shape of my body. At that time, I was lifting weights with my guy friends & rarely saw women at the gym. I wanted to mimic my own weight loss journey without having a client moving between two gyms to get what they needed. I wanted to service women who wanted to lose fat through dance cardio and women who wanted to sculpt their body through weight lifting. I realized that there was a need that wasn't being met. I wanted to fill that gap, and that is how TFS was born.'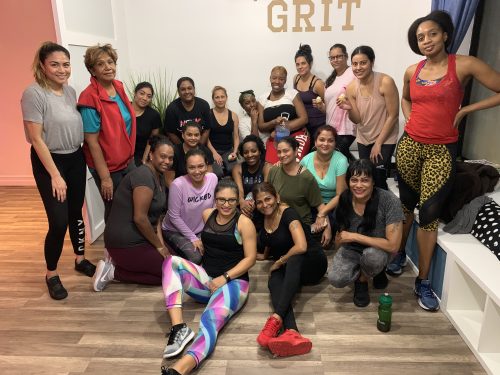 How has your Caribbean heritage influenced your creation of The Figure Studio?
My parents are Guyanese and I was also born in Guyana. We came to the United States in 1995, so I've lived most of my life in New York, and our culture and heritage is part of everything we do. Being Guyanese has influenced the creation of TFS a lot. We come from a culture where women who are prudent and conservative are admired and praised. On the other hand, something, like dancing at family get-togethers, parties, or even going to a club, is sorely frowned upon," Singh said. "I should also note that I am Christian, so this expectation is twofold. Since my sister and I weren't really allowed to express ourselves through dance outside of the house, we would dance and sing in front of the mirror all the time. It made me think that there are many other girls who aren't able to do this either, so it was a major point in creating TFS, to create a judgment-free space where we can dance, provocatively or not, and make it feel as though you were dancing with your sister, and working out while you did it. Since our location is in the heart of Ozone Park, we have a lot of Caribbean clients. It helps that I know exactly what kind of music they would love. We cater most of classes to music Caribbean people love, like Soca, Reggae, and Afrobeats.
How long have you been into fitness and dance? What calls you to this?
I've been into fitness and dance for six years. I wanted to create a space for women to feel safe, free, confident and loved while they went through their own fitness journey," she said. "I knew that when I created TFS, it would be unlike anything anyone has experienced before, I wanted to create a community of caring clients who turned into friends and that's exactly what we're doing. 
What sorts of programs and classes are offered at The Figure Studio? 
We offer various dance and aerobic classes such as Zumba, Afroheat, Socacize, Vixen, and Cardio Kickboxing. We also offer strength training/sculpting classes such as sculpt and tone, soca and strength, abs and glutes, and boot camp, low impact and flow classes include pilates and yoga, personal training and specialty classes with themes like Bollywood. We also offer community events such as hiking, paint nights, vision board making in order to encourage socialization and togetherness.
Why choose South Ozone Park as a location?
The truth is I was looking at spaces around the neighborhood I lived in, Queens Village, for a long time. I came close to leasing a space there but God had a different plan, and I put off my search for two years. When I began to look again, none of the commercial agents were willing to show me spaces," Singh said. "I speculate that it was because I was a female looking for a gym space. To my good fortune, however, I saw the post for our current location the day it went up and called the agent. He was so kind and showed me the property the very next day, and it was perfect. We were in the heart of South Ozone Park, blocks away from the busy Lefferts and Liberty intersection with many transportation options. I couldn't have picked this location myself, it must have been divine intervention.
How do you hope to engage the Indo-Caribbean community in your work?
The biggest way we engage Indo-Caribbeans is by offering classes to music that they already enjoy listening to. 

In partnership with Tamarind Bredren, we also started a conversation series called 'Figuring It Out' at The Figure Studio. We interview Indo-Caribbean business owners, creatives, and professionals who talk about their career paths and identities as Indo-Caribbeans.

We also have community classes like self-defense that engage the community and hopefully brings confidence to those are domestically abused, which is a problem within our community.
Any words of inspiration for young women who are looking into non-traditional careers?
WRITE IT DOWN, right now! Start to build out the plan for your life and leave room for the dynamics of life which can alter your plans. Keep going back to your biggest plans and goals as a reminder," she said. "Create small and achievable goals. Know that it will be hard and you'll probably want to quit a few times but you have the strength & power to do anything you envision for yourself. 
What are your long term goals, whether personal or professional?
My long term goals for TFS is to expand the business model into a full-scale gym, not just a studio. Think Lucille Roberts on love steroids! I plan to have TFS in every borough in New York City and on Long Island. 

Also, I would personally love to help others realize their dreams of starting a business.
For more information on TFS including class schedule and pricing, visit thefigurestudio.com. TFS can be found on social media on Instagram @thefigure.studio or Facebook by searching The Figure Studio.