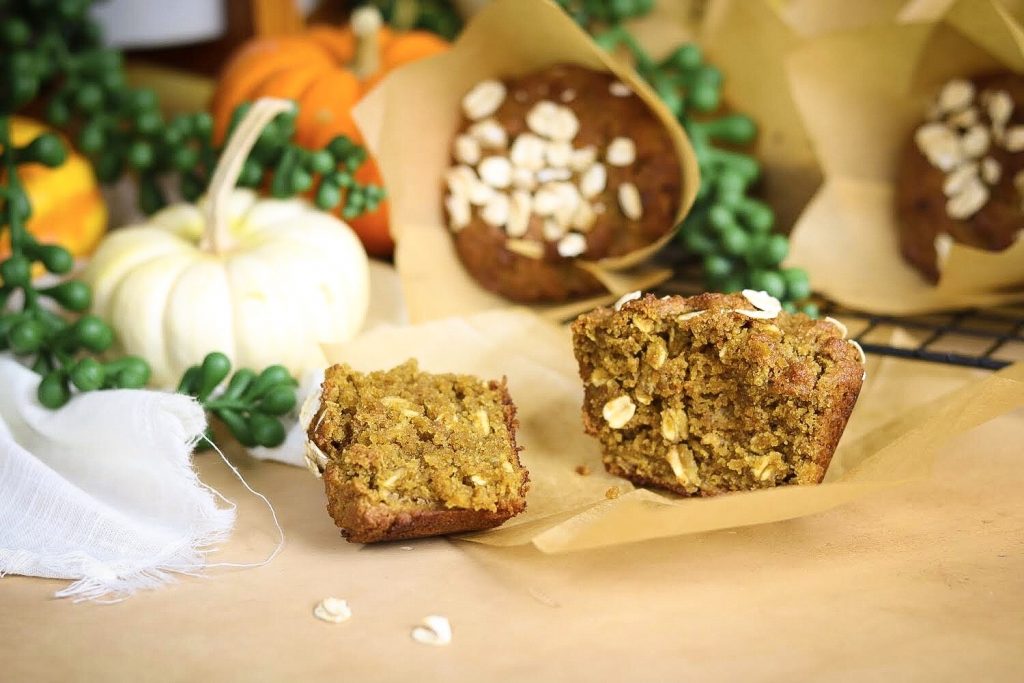 It's pumpkin season, y'all! Normally I join the crowd of those who are sick of seeing pumpkin infused into everything from Spotify playlists to laundry detergent. But, how could I resist making these Pumpkin Brown Sugar Oat Muffins?
If pumpkin wasn't so overused, I think we'd love it more. It's such a versatile ingredient and be made both sweet and savory. I personally LOVE a good pumpkin erissery (any South Indians in the house?!) When I made the first batch of these soft and fluffy Pumpkin Brown Sugar Oat Muffins, they only lasted in our house about half a day. I'll admit, they don't look like much. Usually when I hear "oat muffins" I think it will be dry and bland. But, I promise, these are anything but that!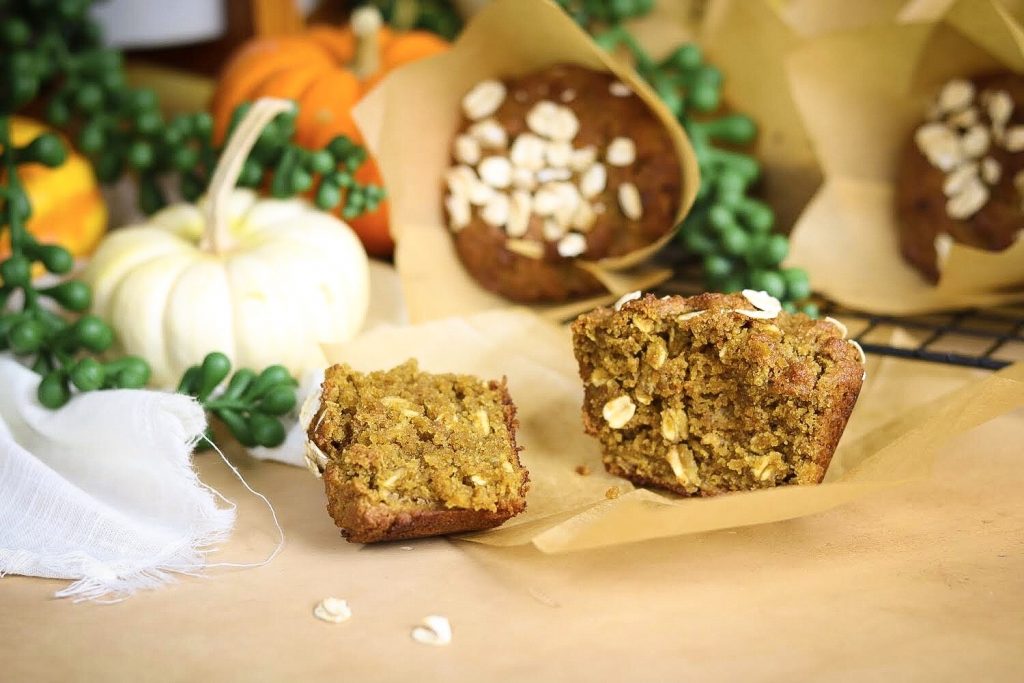 This recipe uses simple spices to make it extra warm and cozy. I've included some notes in the recipe if you want to add even more flavor, too. I personally think cardamom and ginger powder would be excellent in this. Also, some chopped up pecans and drizzle of maple syrup? Better yet, a maple pecan frosting! Ok, I'm getting carried away.
Anyway, I hope you love this Pumpkin Brown Sugar Oat Muffins recipe! It's so easy to make. It's literally just mixing a few ingredients in a bowl and baking. Easy as…muffins!
If you end up making my Pumpkin Brown Sugar Oat Muffins, tag me @thefamiliarkitchen on instagram. I'd LOVE to see how it turns out for you and answer any questions you might have!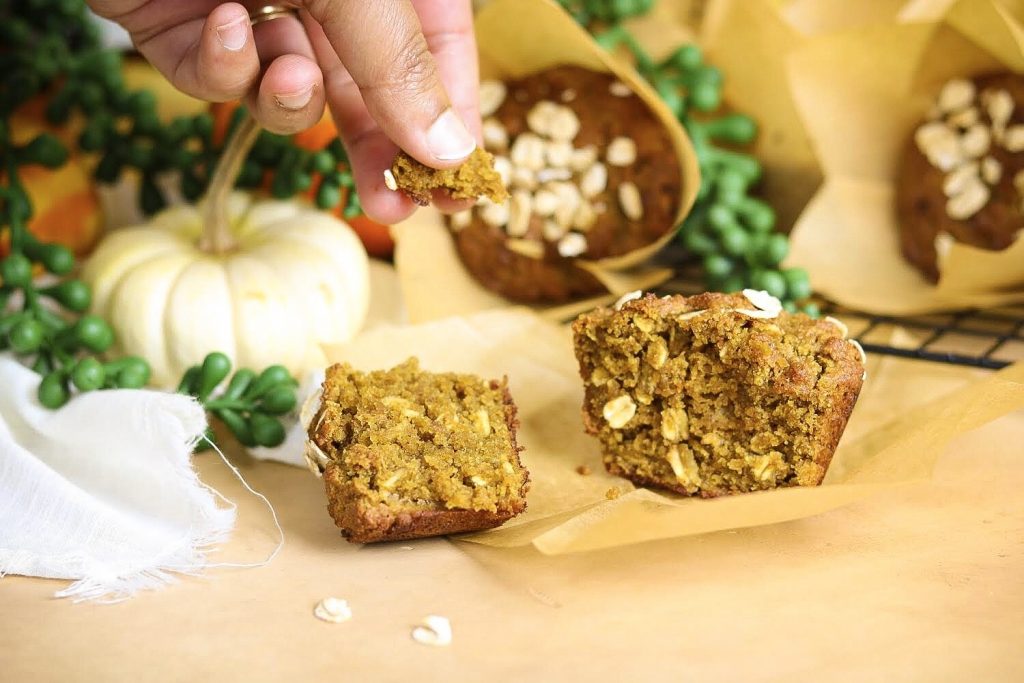 Prep Time: 10 mins
Cook Time: 25 mins
Total Time: 35 mins
Ingredients
Wet Ingredients
Jaggery/Brown Sugar, 1 cup
Eggs, 2
Vanilla Extract/Paste, 1 tbsp
Pumpkin Puree, 1 cup
Just Pom (Pomegranate) Syrup, 1/4 cup (substitute with honey or maple syrup)
Coconut Oil, 1/4 cup
Dry Ingredients
Rolled Oats, 1 cup + some for topping
Almond Flour, 2 cups
AP Flour, 1/2 cup
Baking Powder, 2 tsp
Baking Soda, 1 tsp
Cinnamon, 1/2 tsp Add in green cardamom and ginger powder for additional warmth and flavor
Salt, 1/2 tsp
Optional Garnishes
Chopped nuts like pecans or walnuts
Pepitas
Chocolate Shavings
Instructions
Mix wet ingredients.
Use a spatula or whisk to combine the brown sugar and eggs. Once creamy and the sugar dissolves, and in the remaining ingredients and mix. Sert aside.
Add in dry ingredients.
In another mixing bowl, whisk together all the dry ingredients. Little by little, add the dry ingredients to the wet ingredients. Mix until combined to form a thick batter. Let batter rest for about 5 minutes before baking.
*Optionally, you can skip step 1 and just add all ingredients to a bowl at once and mix together until combined.
Prep and Bake.
Preheat oven to 400 degrees. Prep your muffin pan with liners. Scoop in enough batter so the cup is about three-fourths full. Sprinkle rolled oats on top. Once the oven is at 400 degrees, bake for 20-25 minutes or until the muffins are lightly golden on top.
Let cool completely. Enjoy!
Notes
I used Just Pom (Date & Pomegranate) Syrup, but you can substitute with honey or maple syrup. I personally like the tanginess that comes from this flavor. 
Because the pumpkin puree makes this batter slightly wetter and softer, it's best to let the muffins completely cool before enjoying. They can break apart easily if they don't fully cool.