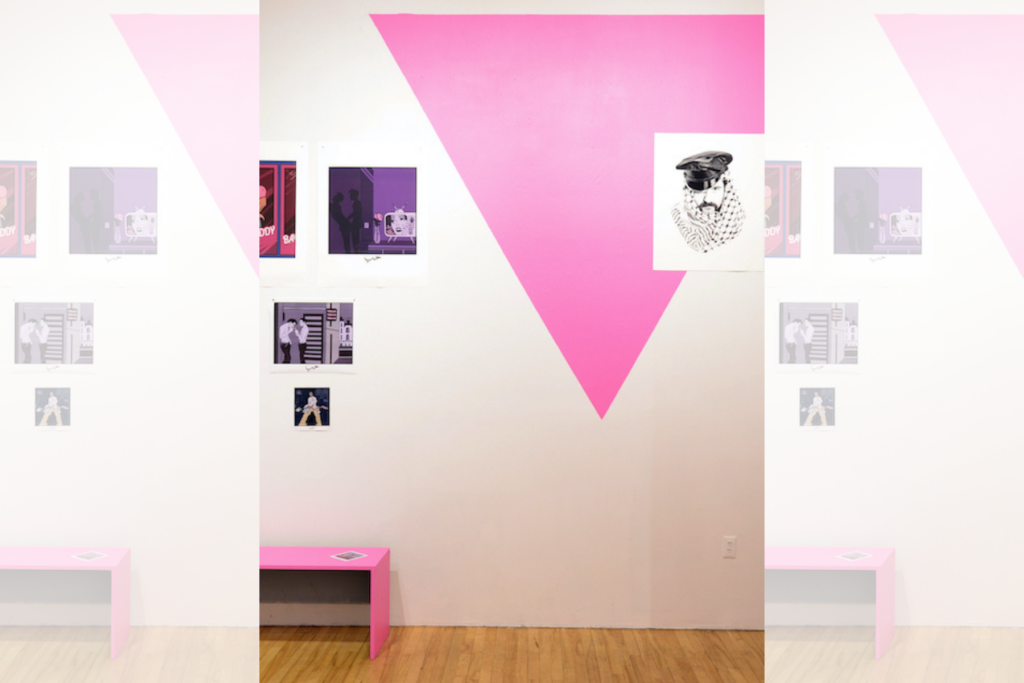 This past spring, I had the fortune of visiting "Queer-y-ing the Arab," a creative and imaginative art exhibition in New York City. As I made my way around the exhibit, I noticed it beautifully examining queer-ness, Arab-ness and all the hyphenated identities in between.
View this post on Instagram
Curator The Earl of Bushwick explained to me that the exhibit "queries and then queers interpretations of queer, Arab and art, pushing the boundaries of assumption to explore unfamiliar meanings." As we conversed, I learned that at its essence, queerness is about disruption —which is exactly the goal of the exhibit. It obliges spectators, like myself, to re-examine what "queer," "Arab," and "art" can even mean today, and in past and future realms.
Arab LGBTQ+ identities are often viewed through a Western queer lens, which imposes a narrow definition on bodies existing within another cultural context. And "Queer-y-ing the Arab" played on these misaligned frameworks, inviting spectators to engage directly with such misconceptions.
View this post on Instagram
"Be my guest" by Brazilian-Syrian artist Jamil Hellu (@jamil.hellu), has a collection of rugs used in the exhibit that exemplifies the Orientalist gaze of the effeminate and hairy Arab man. One rug used in the exhibit illustrated an Arab man serenading another with a lute, both showing skin while wearing garments of Arab culture. In "An Ifrit and Incubus," Aghiles Mana (@aghilesxon) uses a digital illustration technique to render the Arab man in a different colonialist stereotype — a savage attacker coercing a white man into submission. Mana, a Germany-based Algerian immigrant, calls upon the routine fetishization of his Arab identity in the domination fantasies of European men.
View this post on Instagram
"Queer" as a term has a long history in the English language, originally referencing strangeness or peculiarity. Many historians contend that this meaning is tied to Orientalist practices, as the term was often used to describe perceived effeminate cultural practices of Arab and Asian men. Ironically, the word, which has since been reclaimed by several members of the LGBTQ+ community in modern usage, has no equivalent in Arabic. As someone South Asian-identifying, it was fascinating for me to ponder what this could mean for "our" culture and cultures.
Queer-y-ing the Arab was housed between mid-March to mid-May of 2021 at apexart, a non-profit organization in Lower Manhattan that provides space to emerging artists to explore and showcase their work. The Earl was a winner of the organization's "open call" for exhibitions, chosen among several proposals to receive funding, support and space to bring a curatorial idea to life.
During their day job, The Earl is normally found in the surgical operating room, a highly structured space governed by rigidity and protocol. The norms of this space seem almost antithetical to their artistic mode, one which questions and disrupts conventional practices. Their artistic approach is queer in and of itself: in a 2011 piece of performing art entitled "Rent a Burqa," they examined roles the burqa plays and the meanings it acquires from being worn by men instead of women. The Earl distills their enigmatic artist-surgeon into abstract — yet striking — art forms that explore identity and themes of displacement, other-ing and who belongs in which spaces.
View this post on Instagram
The Earl mentioned to me that they bring a similar practice to "Queer–y-ing the Arab," meant to disrupt traditions of Western curation that value orderliness, minimalism, even subverting the conventional role of the audience as a passive observer. In the exhibit, spectators are encouraged — or expected, rather — to engage with the art by stepping on rugs, sitting on chairs and laying on a bed. Each piece's meaning becomes shaped by each person's interaction with it. Both the exhibit and its curator are suspicious of the idea of curatorial sterility, best embodied by expansive white gallery walls, which has historically maintained the exclusion of art forms created by people other than white men.
As a non-binary, queer, Arab immigrant, The Earl's artistic identity is shrouded in anonymity, a theme that resonates with many of the artists whose work is featured in the exhibit. For both The Earl and artists like Queer Habibi (@artqueerhabibi), a Beirut-based art collective that continues to elude communication, anonymity can provide safety and protection from harassment or danger for their artwork and their identities. Many of these artists produce and disseminate work that is contrarian, maybe even subversive of normative beliefs. Queer Habibi's work, for example, illustrates the simple, routine queer intimacies in an unassuming Beiruti society, asserting its existence in the fabric of daily life. 
View this post on Instagram
For artists who are examining the complexities of their own identities, creating provocative art forms can be cathartic and revelatory. But what was unique about "Queer–y-ing the Arab" is that the exhibit is richly heterogenous — just like the Arab, queer and queer Arab identities. It brings the sometimes disparate experiences of the artists to life, in community with each other. Whether the exhibit offers a definitive answer as to what exactly the queer Arab identity is, or if its meaning(s) remain unclear, the exhibit certainly guides viewers to examine their own relationships with these identities. If anything, it offers a place to start. 
The "Queer-y-ing the Arab" exhibit is accessible virtually, here, through the apexart website.
View this post on Instagram
"Queerness is not yet here. Queerness is an ideality. Put another way, we are not yet queer, but we can feel it as the warm illumination of a horizon imbued with potentiality." — José Esteban Muñoz