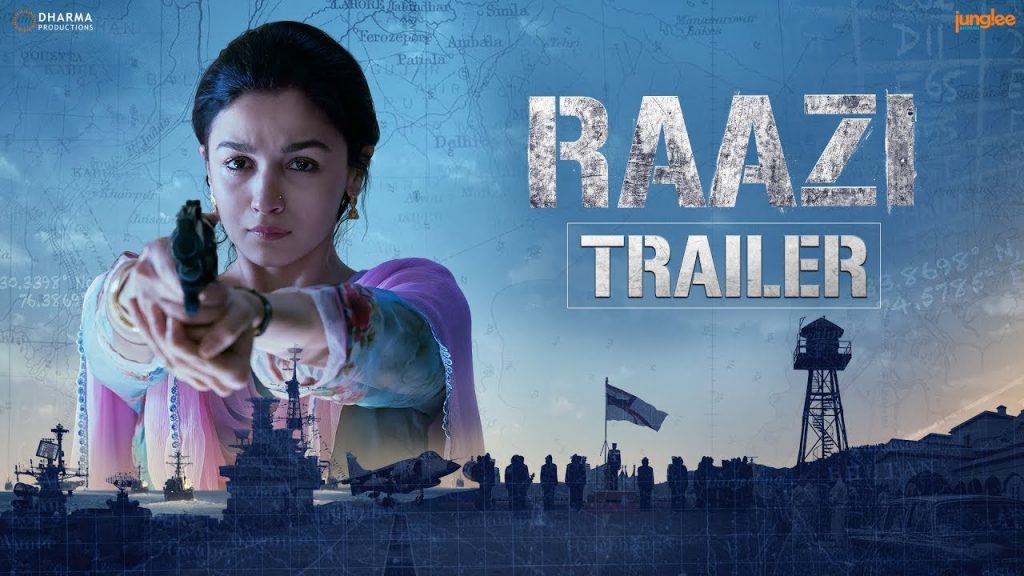 SPOILER ALERT. Beware ye who enter here. The night is dark and full of spoilers about the film "Raazi." Do NOT scroll down if you haven't seen the movie and you don't want to know what happens in the end.
One more time for the stragglers in the back, SPOILERS BELOW.
Okay? Okay.
When I saw the trailer of "Raazi," what excited me more than the story I would see is the treatment I knew said story would be given at the hands of so many amazingly talented women. And you know what? I was right. I wouldn't know how removed Meghna Gulzar and Bhavani Iyer's screenplay is from the original true story (the film is based on Harinder Sikka's "Sehmat Calling" which in itself is a fictionalized account) but "Raazi" is compelling on its own merit.
https://www.youtube.com/watch?v=Q7mMJtE1PYA
The movie starts off in the present day, with Sanjay Suri making a 10-second cameo with no dialogues. All we know about him is that he is an Indian military officer standing on the deck of a majestic aircraft carrier and his name is Samar Syed. His commanding officer is giving a speech eulogizing all the brave people who sacrificed for their country, both at the border and away, military and civilian. Sacrifice becomes an overarching theme of the movie.
The Khan family tradition is sacrifice, it turns out.
Sehmat Khan, (Alia Bhatt, perfectly cast) is a young, innocent college girl who lives in Kashmir. Her parents are Hidayat (Rajit Kapur) and Teji Khan (Alia's actual mother, Soni Razdan) who dote on their daughter. Hidayat seems like an Indian spy for Pakistan at first until it is revealed that he is a double agent, as was his father during the Independence period. His cover is as a successful businessman who frequently goes in and out of Pakistan, but he passes on carefully curated pieces of intel onto his contacts in the Pakistani army. It is assumed that he is bringing back a lot more than he takes to them, but the audience never gets to see.
The central premise of "Raazi" is this: Hidayat is dying, and he wants his daughter to take over for him. He marries his daughter into the family of his contact, the Syeds. The Syed patriarch and both his sons are high ranking officials in the Pakistani army, and Hidayat knows that Sehmat will come across valuable intel in her new home. What struck me most initially is the unquestioning feminism and alliance of every man in this movie to Sehmat.
Hidayat hesitates in asking his daughter to put her life in danger not because she's a woman, but because she's his child. She agrees to be married off because she has a higher purpose—it's almost assumed that her marriage was arranged without her permission for the sake of the country rather than to follow societal guidelines. I like to think that in different circumstances, Sehmat would have been allowed to choose her own groom.
Touches like these just reinforce the argument that stories about women are better in the hands of women. Every single player in the multi-dimensional chess game of international spy craft Is a whole person. There are no villains here. Each person has a clear motivation for the way they act. What's more, Sehmat is underestimated, but never demeaned. She is frightened, but never forced. In fact, every single member of her new family and new social circle treats her with respect. It is a cliché to portray military men as hard or callous, or violent. There is none of that here.
Sehmat's handler at the Indian intelligence agency is her father's old handler, Khalid Mir (Jaideep Ahlawat,) and while he is tough, he is not cruel. He doesn't think less of her because she's a girl, and when Sehmat turns out to have an aptitude for spy craft, is one of her loudest cheerleaders.
The Syed family are portrayed as whole people, which I found remarkable. They are good men, and their positions as antagonists of this story are almost incidental. They are the "enemy" because of circumstances, not because of their behavior or character. Brigadier Syed, Sehmat's father-in-law, is always kind to his daughters-in-law, affectionate and likeable. Mehboob Syed is his older son, and while he seems brusque and businesslike, is generally a decent human.
Which brings me to Iqbal. Vicky Kaushal shines in his role as Sehmat's husband. He doesn't out-shine Alia, mind you, but he makes a significant impact on the story. Iqbal, despite being a male military officer born in the 50s, is a certified 'woke bae.' (That's what the kids say, right?) He is dignified, soft-spoken, handsome, and kind. More importantly, he is the human embodiment of the concept that 'consent is sexy.' Watch and learn, kids! He is thoughtful, considerate, and a sensitive soul who likes jazz. (Me too! I like jazz too, Iqbal!)
Iqbal immediately acknowledges that he doesn't really know Sehmat, and he gives the reins of the relationship to her. He gradually falls deeply in love with her, but she gets to call the shots.
It's a bit sad that this is such a rare sight in Hindi cinema — the love interest of the heroine doesn't constantly pursue her, constantly demand a physical relationship. Iqbal recognizes that she is young and innocent, and he pulls an Akbar and lets her decide to initiate contact when she's comfortable. What endeared him to me the most is when, upon finding out his wife's true identity as a spy, he immediately recognizes that she did whatever she did for her country… the same as him. Instead of demonizing her, he respects her for it, and it is an outstanding moment.
"Raazi" has many more such strengths. Even though Sehmat becomes better at being a spy, she never becomes unfeeling. She's not a callous person, and she feels deep sorrow for all the casualties of her mission. The audience sees Sehmat's inner turmoil but not the other characters, which is a clever device that draws in the viewer and keeps them engaged. The close calls and high-tension moments are genuinely thrilling, and there is never a doubt that lives are risk. The stakes are always high, and the climax is absolutely earned.
"Raazi" is a veritable embarrassment of riches; every actor delivers a fantastic performance, but the twin stars of this sky are Bhatt and Gulzar. Alia Bhatt gives a career-best performance as Sehmat, and her best moments are right after the several close calls. She's an actress who can cry so believably that I found myself tearing up in sympathy. When she wails in grief, my stomach twists — her pain is 100% real. When she mourns, we mourn.
Meghna Gulzar again proved herself to be a restrained, economical director with a deft hand. Her characters in "Raazi" are superbly fleshed out, and each moment feels earned and valid. Gulzar's empathy for her characters radiates from every frame, and she sets up moment after moment that pay off brilliantly.
I'm not going to do either of them a disservice and say that they're at the peak of their abilities — Alia Bhatt is becoming more of an exceptional actress with each film, and Meghna Gulzar is an OG of the Indian film industry that I've admired for a long time. All I'm going to say is, considering how good "Raazi" is, I hope they make many many more films in the future. I'm truly excited to see what they each do next.