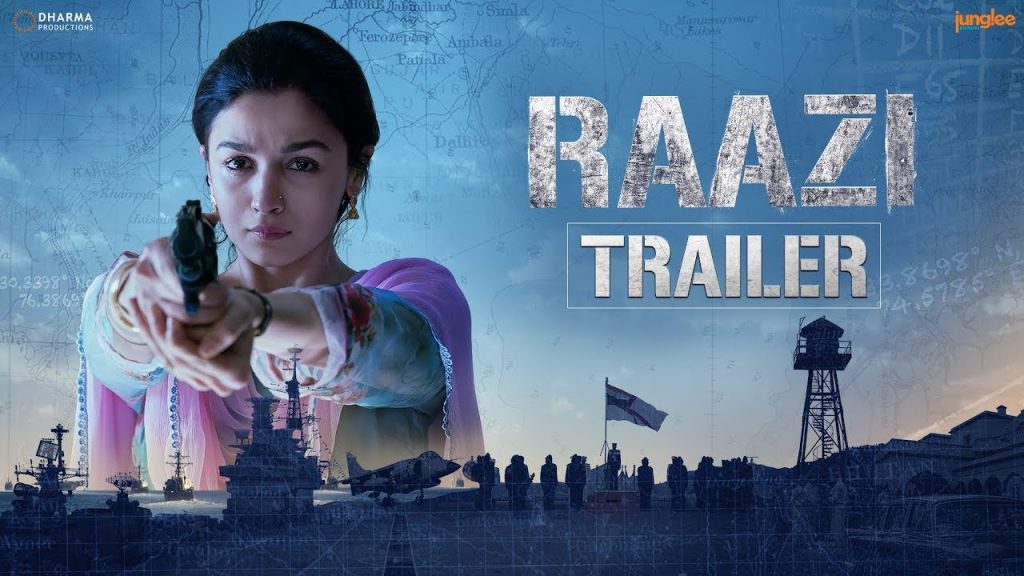 The very first seconds of the "Raazi" trailer depict a map of the India-Pakistan border overlaid with colors. It's barely enough time to register, but the one word that is I can see is Baluchistan, which tells me all I need to know.
Or so I thought.
A voice warns another to be ready:
"Times with India will get very tough. They will be looking to the skies, but we'll snatch the very ground they stand on."
We learn that the "zameen," or the ground in question, is a majestic aircraft carrier called the INS Viraat. It's sleek yet deadly in its beauty, and this ship is the center of the story of "Raazi," and of Sehmat Khan.
Alia Bhatt is introduced as Sehmat, an innocent, beautiful girl, who despite the objections of many, is being trained to be a spy. Her father tasks her with her mission: to be married off to a Pakistani military man, played by Vicky Kaushal, and to be India's eyes and ears in during the 1971 war against Pakistan. I was surprised by how different this Vicky is to the one I saw in "Love Per Square Foot" — each movement of this Vicky is laden with the gravitas befitting a distinguished officer.
The trailer shows us flashes of the plot — guns, tears, deception, tension, not to mention a portion of what promises to be a great training montage. Alia Bhatt suffers at the hands of a strict master who teaches her spy craft, and she finds various ways to transmit messages through Morse code.
I am a lover of spy movies and I cannot wait to see this one. It always fascinates me to see how spies did their work before the advent of modern technology and Mission Impossible-esque gadgetry, and this film and its lead actress seem like they will do the job full justice.
Alia is radiant, capable, determined, and has proven herself to be an excellent actress with a deft hand for playing women who are chronically underestimated. Here too, she portrays Sehmat, the name given to the unknown hero by her discoverer, Harinder S. Sikka. Sikka wrote "Calling Sehmat," the book that Meghna Gulzar and Bhavani Iyer ("Lootera," "Guzaarish") adapted into the "Raazi" screenplay.
"Raazi" is also directed by Meghna Gulzar, who is one of the few badass feminist, female directors working in mainstream Indian cinema today. She previously helmed the magnificent "Talvar" about the 2008 double murder that took place in Noida, and has generally been way ahead of her time. (Reminder: until her "Filhaal" in 2002, Indian cinema hadn't seen such a sensitive and nuanced take on surrogacy…and hasn't since.)
If I wasn't pumped about seeing "Raazi" before, I certainly am now: The combination of Gulzar, Bhatt, and the compelling subject matter have me itching to see this movie ASAP.
"Raazi" releases worldwide on May 11th, and I for one cannot wait to see it.