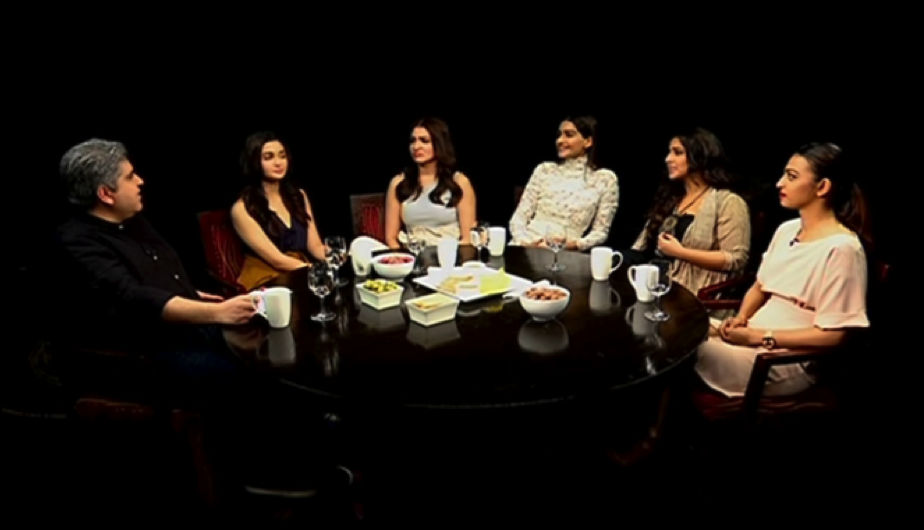 by Nila Choudhury – Follow @browngirlmag
With the increase in divisive chatter in the nation and the rise in hate crimes, some positive words of girl love are a welcome change to our ears. Rajeev Masand's annual actresss roundtable did just that!
Featuring some of the most accomplished women in Bollywood, this conversation revealed a lot dark secrets and behind the scenes jokes that moviegoers aren't normally privy to. This year Masand welcomed Alia Bhatt, Anushka Sharma, Sonam Kapoor, Vidya Balan and Radhika Apte, to the roundtable, all talented and accomplished woman who have given us some of the most amazing films of 2016 like "Sultan," "Neerja," "Udta Punjab," "Parched," and "Kahaani 2."
The actresses were all very eloquent when answering and quick to praise each other, as well as other actresses, for their work—we're loving the immense amount of girl love!
Masand's questions had them veering into the topic of molestation of young girls in India, a strong issue that needs addressing and the leading ladies agree that parents should be asking their children more questions, taking an initiative on how their children should react in case something does happen to them, and not just shove things under the rug because a girl's sexuality is taboo.
They also spoke of how emotionally draining it is to film violent scenes like assault and rape as well as how awkward kissing and love scenes are because it's so technical. Bhatt and Sharma even joked about how media annoyingly asks about their on-screen kisses, mocking the term "lip-locks," Bhatt explains that it's not romantic and it's not like the actors are enjoying the kiss, it's just technical.

The girls even shared stories of how awkward their kissing partners were during the shoot, and many of the actresses mention kissing scenes never made the films. "It was that bad," said Kapoor regarding her deleted kissing scene with Abhay Deol in "Aisha."
Apart from speaking about their work and sharing hilarious kissing stories, the most beautiful takeaway from this roundtable was the amount of girl love present in the room! It was so encouraging to see actresses build each other up as well as other women with love and support.
Here are 13 instances in which the girls spread some love towards each other and other females.
1. Kapoor praised Apte and Balan for their work in films that portray sexual abuse and women dealing with their sexuality.
Balan plays a woman who was sexually abused as a child in "Kahaani 2" and Apte was in the short film titled "Clean Shaven" made by Anurag Kashyap which deals with a woman's sexual needs. Kapoor said she was moved by "Clean Shaven" and it was a short film that was so impactful because it was relatable.
She also told Balan how she is constantly inspired by Balan and her work because stories like "Kahaani 2" are so encouraging to girls of all ages.
2. Kapoor was so inspired by her character in the film "Neerja," she said it encouraged her to become as optimistic, idealistic and positive about life as Neerja Bhanot was.
She explained how, as you grow older, things become gray—but learning about Bhanot really changed her as a person because Bhanot had been this average girl, straight from Bandra, lively, loving, so sure about what is right and what is wrong. Kapoor said Bhanot re-taught her compassion and not to compromise.
3. All the girls unanimously agreed that Balan started the trend of refusing to be just another pretty face on the screen which brought them roles of more substance.
Sharma said that more actresses are following in the footsteps of Balan and are refusing to do certain films so filmmakers are forced to create better roles for women. Kapoor went on to call Balan a trailblazer.
4. Bhatt explained how she's taken inspiration from Balan when choosing her films and saying no to films that seem like the right choice, but are ultimately not meant for her or not films she can respect.
The girls explained that sometimes you have to take that risk of not doing roles, of not working so that you can take on better roles—a risk that they have been inspired to take on thanks to actresses like Balan.
5. Balan expressed how amazed she was at Apte's work in the Tamil film "Kabali."
Balan explained how she burst out crying in the theater in a scene where Apte's character met her husband after years because it was so emotional.
"You were wonderful in the film," Balan said.
Kapoor was quick to agree that Apte had done a stunning job in the film.
6. Kapoor also talked about Apte's beauty especially considering Apte's outspoken words about body positivity and inner happiness.
"I look at her and I'm like omg this girl is so beautiful and every time I see her I go 'oh god you're so beautiful,'" Kapoor said about Apte. "You know, I was telling my sister, I was like 'Rhea this girl is so beautiful and I hope people don't ever tell her anything else' because people are such and they think you should be a certain way or look a certain way."
7. When Apte said that she was not affected by the gossip surrounding her revealing scenes in her films and that she loves herself, including her imperfections, Bhatt and Kapoor were the first to jump in and tell her how inspiring that is.
"I wish I had that confidence," Kapoor said.
8. Kapoor mentioned that due to her body image issues she's constantly using her fashion skills as an armor.
"It's so beautiful and so inspiring to see you [Apte] and Vidya and even Alia and Anushka be so uninhibited about certain things you know," Kapoor said, "and, it's very inspiring and it gives other girls so much confidence."
9. While Kapoor was busy praising all the other actresses, young Bhatt pointed out how Kapoor herself is quite inspirational for her uninhibited speech.
"You inspire us to speak, like I don't have the guts to speak about so many things and I want to but I don't because I want to be correct," Bhatt explained, "but you don't have that which I think is great. So you should self love for that."
10. Apte and Sharma praise Kapoor for her exquisite fashion sense and courage to take on such fashion challenges.
"The way you dress is so beautiful, and the way you carry yourself is so uninhibited that I don't think I can do that," Apte said.
Sharma agreed, saying,
"I don't have the courage to dress like that, it's a great thing."
11. Balan said looking at Kapoor, a gorgeous young actress, who would think she has self-esteem and body issues?
Apte agreed, as the actresses feel that Sonam— just Sonam, not the "Kapoor" name—is so amazing and she shouldn't feel this way.
12. Kapoor spoke of how much she loved meeting her favorite actresses, Julianne Moore and Helen Mirren describing both as being such beautiful, kind and elegant women and that more people should be like them.
13. Kapoor said she wants to direct movies and hopes to direct Sharma in a film one day because she loved her work since she saw Sharma in the hit film, "Band Baaja Baaraat."
After watching this video from last December, it's never been more clear a time to put the old-fashioned stereotype of actress hatred and competition to rest.
As this actress roundtable proves, what we really need in Bollywood is more love and respect of actresses, and a whole lot more opportunities for them to showcase their obvious strengths and talent.
[Photos Source: Giphy]
---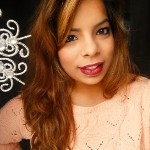 With a master's degree in developmental psychology under her belt, Nila Choudhury is avoiding rishta aunties by heading back to school for a doctoral degree in clinical psychology at Immaculata University. Currently, she is an assistant editor at India.com. A born-and-raised New Yorker, she lives on bagels and pizza. She enjoys traveling, reading, writing, watching corny Bollywood movies, wearing tiara's and singing "Let It Go" —off key, of course—during her free time. Keep up with Nila on her new blog, Recklessly Besharam.