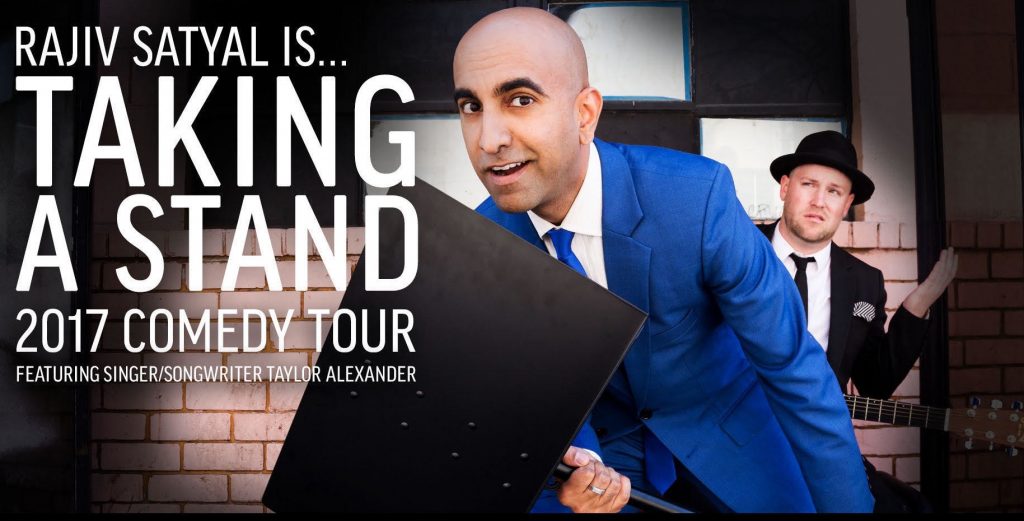 by Radhika Menon – Follow @Browngirlmag
If you've ever thought about the ways that music and social issues intersect, comedian Rajiv Satyal has the show for you. In his "Taking a Stand" tour with musician Taylor Alexander, Satyal takes a trip through the decades discussing how the evolution of pop music has intersected with America's race and class relations over time.
Fresh off of an 18-city tour, Satyal and Alexander spoke with Brown Girl Magazine about the show, which features Satyal at the mic and Alexander on guitar with their accompanying Spotify playlist within reach.
"It's a stand-up comedy show about music," explained Satyal. "We talk about how the powers that be are dividing the people."
The duo alternate between white and black music, starting in the '70s and traveling into today's hits, and intersperse each set of tracks with discussions about social justice and the overall cultural atmosphere of the decade at hand. In Satyal's words,
"It's part-TED talk, part-stand-up show, part-concert, and part-history lesson."
The show takes care to depict the different external forces or internal ailments that afflict musicians in each era — whether it's the 1990s white boy rockers battling mental illness or black rappers facing violence in their communities, Rajiv Satyal and Alexander have crafted an experience that goes far beyond the expectations of a typical comedy show or concert.
Before Satyal was a full-time comic, he worked at Procter & Gamble in marketing. After six years at P&G, he moved to LA to be the Brand Manager for FIJI Water — a position he only held for 12 weeks before quitting to pursue his passion. While that sounds shocking to the average brown kid, in 2017 more than ever, artistic pursuits are being accepted in South Asian households. But sometimes, after acceptance comes the expectation of skyrocketing success.
"On day one, my parents flipped out. But on day two, my dad was like 'ok, go be on The Tonight Show,'" Satyal remembers. "Over the years, they've jumped in and gone from supporters to believers. There's a difference — supporters are people who have to support you…but believers, that happens in people's eyes."
Satyal's parents attended six out of the 18 "Take a Stand" shows this year.
While Satyal wouldn't necessarily agree that he embodies the "desi comic" label, he certainly acknowledges that his heritage plays a role in his identity.
"I've made a list of words that describe me in order, and Indian is in the top 10 … I am an Indian comic."
As South Asian entertainers are starting to have a moment within the zeitgeist, it's great to see a wide spectrum of representations that don't always play up racial aspects of their set — representations that remind people that we're American and have similar interests and experiences as everyone else.
For Satyal, it's a balancing act.
"In the first two years of my career, I didn't do any Desi jokes at all because I was performing for white audiences. [Now] a lot of the shows I do are for the South Asian community. A lot of it is speaking about your own experiences."
And as a first-generation Indian-American, Rajiv Satyal's comedy speaks to a lot of the diaspora's experiences — including jamming to Nelly or Metallica.
Satyal and Alexander, both hailing from Cincinnati, feel like their partnership is a dream collaboration.
"We've become extremely good friends — he's so talented," Satyal said of Alexander. "I'm so lucky. I'm such a big fan of his that I'm fanboying on the stage during the show."
Alexander shared the sentiment, saying,
"I think that's why it works — because we're such big mutual fans of each other that shines through on stage."
"Taking a Stand" will tour across the U.S. again in 2018.
---
Radhika Menon is a writer, TV connoisseur and pizza enthusiast living in New York City. She is a proud Michigan native and alumna of the University of Michigan. She loves puns and is sometimes funny on Twitter: follow her @menonrad.