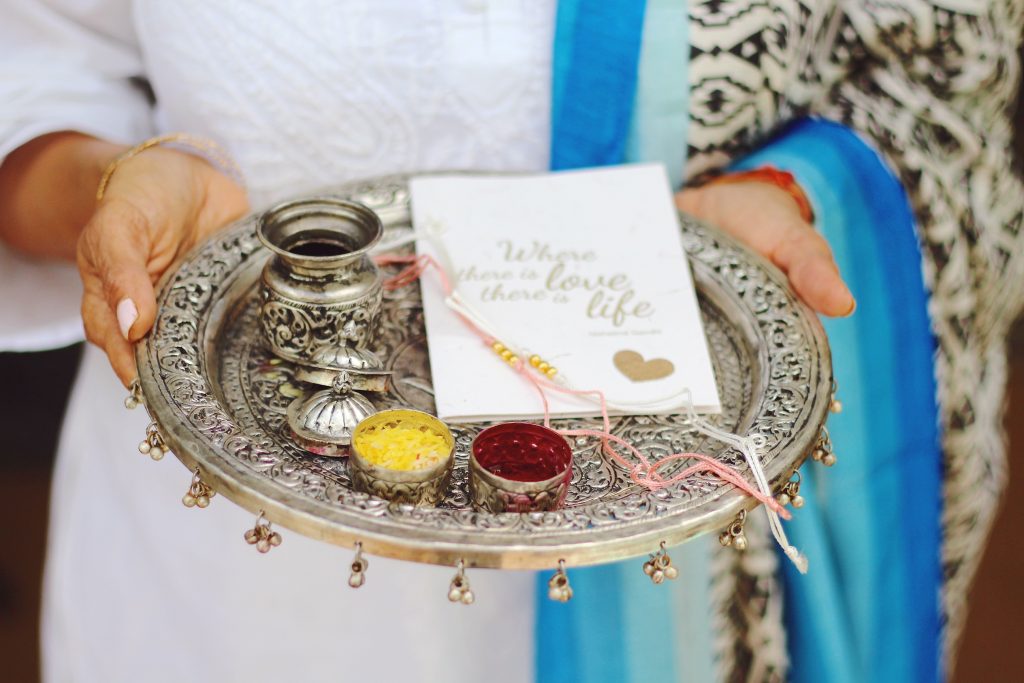 Raksha Bandhan (also known as Rakhi/Rakhri) is the Hindu festival that celebrates the love and loyalty between siblings. Historically a brother and sister only holiday, Rakhi has evolved to a sibling celebration to honor the bond between sisters, sisters-in-law and more. On this day, sisters tie a rakhi (blessed thread) on their sibling's wrist, which symbolizes the sister's love and prayers for her sibling's well-being, as the other sibling promises to protect her. After the rakhi is tied, sweets and gifts are exchanged, as a thank you for the prayers and blessings. For those of us who don't live near an Indian store, want to ship Rakhis to and within the USA, or just want modern options, this post is for you!
Similarly, check out these posts if you are looking for ideas on celebrating Raksha Bandhan with a toddler or how to make DIY Raksha Bandhan Cards.
A question I get year after year is where to get Rakhis in the USA if you don't live near an Indian store or large Indian community. I've rounded up a list of some of my favorite companies who offer Rakhis in the USA and a few stationary companies as well!
Doing good with your purchase. This Rakhi collection has been wholeheartedly created by the children of the Earn and Learn program at Gandhi Ashram and has been hand-packed by the Chai Mommas themselves with all the best vibes. A portion of the proceeds from the sales will go to Manav Sadhna in the Gandhi Ashram.
Self-tying Rakhis, perfect for those long-distance relationships.
Personalized Rakhis for your brother or sister with their name stamped on it.
Adorable personalized cards with glow in the dark Rakhis for brothers and sisters.
Handmade greeting card including an Om Rakhi and envelope.
Curated rakhi boxes which include trendy handpicked rakhis, kum kum, haldi rice and chocolates, a celebration in a box.
Celebrate the bond with your siblings. The card includes two rakhis so that both of you can vow to protect each other.
Fun and unique Rakhis on Amazon, yay for prime shipping.
This card includes a beautifully handmade Rakhi, as shown, with a crisp and modern greeting card.
Stationery
Already have your rakhis and looking for creative and witty Raksha Bandhan stationery? Check out Pyarful, Paperpad and The Cute Pista.
Wishing you and yours a Happy Raksha Bandhan!