Meet youth activist, poet and writer, Ramya Ramana, who at 19-years-old shared stages with notable politicians, celebrities and activists, such as Harry Belafonte, President Bill Clinton, Mayor Bill De Blasio, Rosario Dawson and Eve Ensler.
Ramana's parents are from Tamil Nadu, India, but she was born in Flushing, Queens and lived there until her parents decided to move to Long Island, N.Y. She graduated from high school at Upper Room Christian School and is currently a student at St. John's University.
When Ramana was growing up, she mainly listened to Indian music, especially artists like A.R. Rahman, whose lyrics are so poetic and philosophical. This musical genre would go on to inspire her creative abilities and would ultimately impact the way she perceived life.
[Read Related: Brown Girl of the Month and NYC Youth Poet Laureate Ramya Ramana Receives Book Deal]
But her inspiration and creativity does not only stem from her external environment, her creative process, like many artists, comes from within.
"As a little girl, I would always hold a stack of paper because it made me feel important, it made me feel like there's something that I'm giving from within to the world," Ramana said. "Whenever I hold this stack of paper, I would close my eyes and say, 'Just do whatever comes to your heart,' and I would hope that it would become some sort of masterpiece, but every single time, a poem would come out."
Ramana said her poems have been centered on social justice, but she does not like to categorize her poetry.
"I feel like art shouldn't have a label or be limited," she said.
As a South Asian woman, Ramana said she believes that we are expected and assumed to only fit into a certain title. We are told we can be doctors, lawyers, and computer scientists, but we are not told we can be leaders, change makers or artists.
"I find that it's even more difficult for South Asian woman, because already, there is not much of a platform for South Asian artists and for women [especially], it becomes even more difficult because we have to fight these stigmas on what it means to be an artist, and to be open," Ramya said.
And despite the lack of diversity in the artist space in collective America, Ramana stands at the forefront with her poetry changing the landscape of artistry within the South Asian community.
"The world needs us, more than ever. I think South Asian women along with many women of color are afraid to take up space because most of our lives we have been told not to," Ramya said. "I still struggle with this tremendously. But, we have the power and the light, and all the magic inside of us to do just that."
---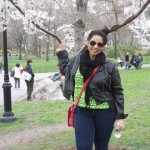 Sindhuri Bhimavarapu is a writer, lover of all things pure-hearted and a fan of exceptionally made coffee. She aims to inspire and motivate young women around the globe. Among her achievements are graduating from Stony Brook University with a degree in Economics and writing rap, which can be considered "Jay-Z" material. She enjoys light reading on modern economics, current events and latest business ventures. Sindhuri finds happiness in the simple things in life, occasionally indulging in Chipotle. She's also responsible for updating Brown Girl's Instagram account daily.