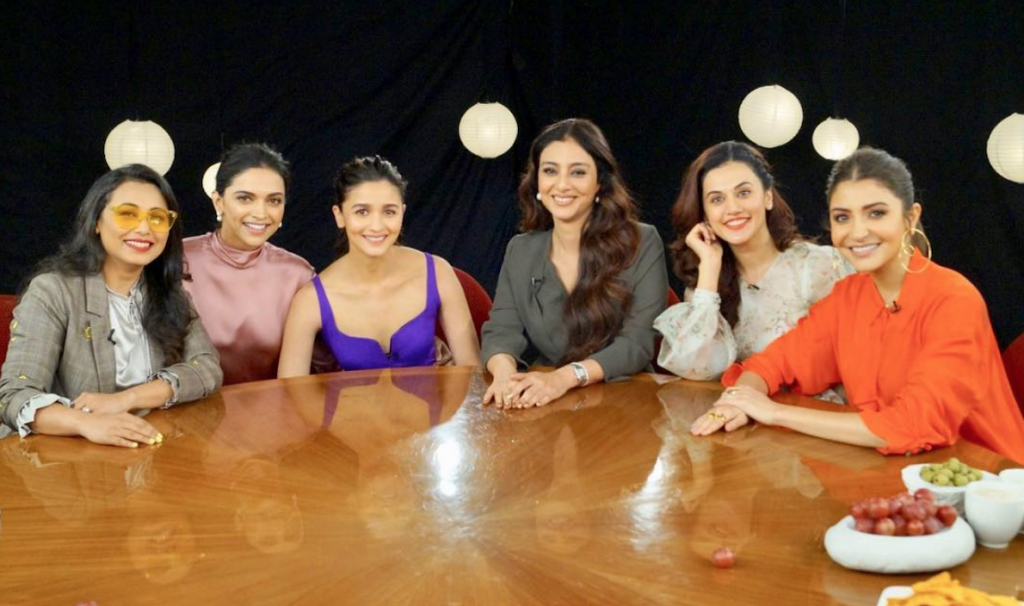 Cringing at this year's Bollywood Roundtable? Me too.
Bollywood critic Rajeev Masand is no stranger to interviewing the film industry's elite and is known for his annual Bollywood Roundtable with the actors and actresses who delivered the year's finest performances in his estimation.
In 2018, the actors invited to the discussion were Ayushmann Khurrana, Vicky Kaushal, Rajkumar Rao, Ranveer Singh, and Pankaj Tripathi, while the actress roundtable featured Alia Bhatt, Deepika Padukone, Rani Mukerji, Taapsee Pannu, Anushka Sharma, and Tabu. Both are incredible lineups of talent, of course, and for the most part, the discourse was quite riveting and revealing, but there were a few obvious issues with one Bollywood Roundtable over the other.
Overall, there appeared to be far more camaraderie in the Bollywood Roundtable featuring the actors; they seemed to respect one another and the time/amount each actor wanted to speak. In sharp contrast, the Actresses Roundtable found me cringing several times at people talking over each other. There were times, in fact, where the interview had a good 20 seconds of complete gibberish because they were all talking at once. At one moment Rani Mukherji had to call out that it was "Deepika's turn to talk," while in the Actor's Round Table, on the other hand, Rajkumar Rao, elicited conversation from Vicky Kaushal, since he had been quiet for quite a while.
One of the questions referred to takeaways from 2018, and both groups used the phrase "content is king," indicating that the film industry is realizing that the audience is far more discerning, and demanding. There are more powerful female roles than ever before, some incredible stories being told, the likes of which used to be relegated to the title of "art film," rather than a commercial one. Additionally, Netflix's original content is providing direct competition to the film industry, and, as Ranveer Singh noted, it is a great time for creators overall, so big-screen filmmakers and actors cannot take their craft for granted, because there are other avenues in which the audience can choose to consume entertainment.
https://www.instagram.com/p/BrhCClCHJWg/
But we can't ignore the elephant in the room: the polarizing discussion regarding India's #MeToo movement.
Masand addressed the movement's huge surge in India and asked each group for their reactions to it. The men were all suitably "woke" in their responses (it helps that many of them appear in films that are more well-rounded when it comes to equality in roles for men and women). Ayushmann Khurrana called the movement the "need of the hour," and Rajkumar Rao applauded the women coming forward and stating that women feeling safer is imperative.
Ranveer Singh called the movement "historic, surreal and unprecedented," generating a necessary "purge." In his uniquely raw way, he described the environment in Bollywood as "ab mardon ki phat ti hai" (loosely translated, it means "now, men are shitting themselves," presumably out of fear of being called out). While Khurrana and Singh agreed that there has been some "collateral damage," Singh insisted that it is a byproduct of a "revolution."
All of the actors agreed that the women coming forward were courageous. They agreed they are seeing changes in the industry already, and they want the changes to be more widespread. The discussion provides at least a little hope for more progressive values in the future for the industry.
The actresses' Bollywood Roundtable, on the other hand, had more division than expected. Alia Bhatt, Anushka Sharma, and Deepika Padukone seemed to be on the same page: Bhatt expressed full solidarity with the women who came forward, and the movement itself. She also brought up a concern that in any workplace, the movement or fear thereof, shouldn't further hamper a woman's opportunities or employment for the purpose of avoiding this sort of risk. Sharma added to that point, stating that it comes down to trust; that a woman would not be using the movement or reports of sexual harassment as "propaganda."
It was here that the Bollywood roundtable took a dramatic turn, as Rani Mukerji made some bold statements contending that the woman holds the responsibility to be bold enough, and powerful enough, to keep herself safe, as well as be able to speak and act out against potential harassers in the very moment. Even as she joked about men not taking the risk of harassing her due to how she looks and her voice (what…???), the tension around the table seemed palpable, with Padukone's furrowed brow, Bhatt's fidgeting and lip biting and Tabu and Sharma's slightly waning poker faces.
Mukerji implied that a woman should either kick the man between the legs or slap him, thereby ensuring that he think twice before trying it on another girl. Fortunately, Padukone interrupted the uncomfortable diatribe to state that not all women are "built" to have the ability to fight back in that way. Mukerji's response to Padukone's legitimate argument: Those women should "change."
Deepika, Anushka, And Alia really were making great points while Rani here makes martial arts noises. You can't make this shit up. pic.twitter.com/sceqsEj71N

— Doe (@doepikapadukone) December 29, 2018
Sharma pointed out that this kind of thinking holds women responsible for the change and victim shames them, rather than holding the perpetrators responsible. Mukerji's regressive rebuttal was that we cannot control the behavior of anyone other than ourselves. Bhatt then brought up that sexual harassment and molestation also happens to children and young adults who are too scared and impressionable (to her credit, she even states that both women and men can face sexual harassment), and that many of those cases reveal that a family member is a perpetrator. Meanwhile, Mukerji kept interjecting phrases like "Krav Maga" and "martial arts," eventually explaining that martial arts should be mandatory in schools for self-defense.
Padukone tried to explain that the problem should be "nipped in the bud" well before reaching the point of needing martial arts, but Mukerji was clearly not listening; instead, she was seen randomly chopping her hands around and making cartoonish martial artist-related noises. Mukerji continued that one cannot go around telling mothers how to bring up their children, that they are raising their children incorrectly. And yet she is also saying women need to change and learn martial arts?
It was incredibly disheartening to see an influential actress victim-blame, rather than address the true root of this problem: India's patriarchal society.
In another portion of the Bollywood roundtable, Masand talks about newcomers to the industry, particularly women, who are kept repressed, told not to have an opinion, told they must keep quiet, and do as they are directed. It was interesting that Bhatt and Mukerji, with their legacy Bollywood backgrounds and associations (being the daughter of highly successful directors and producers, Mahesh Bhatt, and Ram Mukherjee respectively) expressed no such issues—they were of the opinion that they could be just as bold as newcomers as they are now. In a refreshing change of pace, Sharma spoke up and said that although she believed she would choose her values over being repressed for the sake of getting jobs, she would hate to think what she may have had to do, had great opportunities not come her way from the start.
This conversation was reminiscent of when Bollywood stars were called out for nepotism early in 2018. The concern with nepotism is the inherited power, and it was disappointing that Bhatt and Mukherji failed to mention the inherent advantages in being born into a Bollywood family as well as launching and growing their career in an environment where their family is still quite influential.
The Bollywood roundtable interviews made it clear that not everyone in Bollywood fully understands highly nuanced subjects like power, consent, and culpability. With 2018 being the year of revolution thanks to the #MeToo movement (even if that revolution came with its share of opposition), maybe 2019 is the year for reflection and growth. One can only hope we continue to move in the right direction.