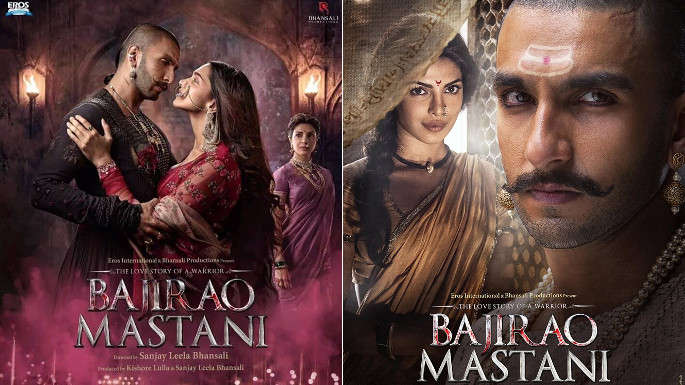 by Priya Arora
This post was originally published on our partner website India.com:
From "Mughal-E-Azam" all the way to "Goliyon ki Raasleela Ram-Leela," throughout the ages, Bollywood has had a way of granting us epic, larger-than-life love stories every few years. "Bajirao Mastani" is famed director Sanjay Leela Bhansali's most recent such gift to Bollywood fans everywhere.
In the film, Bhansali brings the historical odyssey of Maratha warrior Bajirao Ballad (Ranveer Singh) to the big screen. Against the background of an emerging, powerful Maratha empire set out to defeat the Mughals, "Bajirao Mastani" highlights Bajirao's penchant for love, and the complications it brings about in all aspects of his life and that of those around him.
The film opens with Bajirao's quick ascension to the throne as Peshwa (Prime Minister) after the death of his father. Bajirao's wife, Kashi (Priyanka Chopra), looks on lovingly as Bajirao takes on this new role. By the time the opening credits are done, we get glimpses of Bajirao's quick wit and infamous sword skills as he leads the Maratha empire to victory after victory. But the final goal, flying the Hindu flag over the currently Mughal-led capital of Delhi, emerges as his true intent.
It is at this critical junction when suddenly, as Bajirao plots his next move in the battlefield, we are introduced to a warrior with even sharper sword skills than Bajirao's own—Mastani (Deepika Padukone). She deftly convinces the Peshwa to help fight off a threat to her father's kingdom, and together, they wage an epic battle. Mastani saves Bajirao's life but ends up injured, and as he spends a few days there to make sure she is alright, they quickly fall in love. Before leaving, Bajirao gives Mastani his dagger—in Mastani's world, this is a sign of marriage. Unbeknownst to him, she pledges her life to Bajirao.
This, of course, presents a problem for Kashi, who is getting set to welcome her husband home after yet another victory. Upon his homecoming, we see that Bajirao and Kashi already have a deep bond, made more intense by Kashi's dutiful role as both a wife and a mother to their son. This blissful return is short-lived, however—Mastani shows up in Pune to claim her stake in what she now deems a marriage. Up against Bajirao's mother and brother, who refuse to accept her, Mastani finally makes contact with Bajirao. Their love is ever present, and after many trials and tribulations, Bajirao accepts her as his second wife. Being caught between Kashi and Mastani, however, presents difficulty after difficulty—for example, both end up giving birth to sons within days of each other, but Bajirao's heart is clearly with Mastani, as he leaves Kashi and their newborn son to be by Mastani's side when she is in labor.
The stark differences between Kashi and Mastani become clear—one is accepted by Bajirao's family, one is not; one is Hindu, the other is Muslim; one lives in the palace, while the other lives separate and alone. Every step of the way, Bajirao chooses Mastani—much to Kashi's dismay—scorning religious, familial, legal, and societal pressures. Bajirao's quest to fight for Mastani's acceptance over many years builds up the second half towards a climax that honors their warrior spirits and delicate, yet misunderstood, love.
In all ways, "Bajirao Mastani" is larger than life. Throughout the first hour of the film, one is constantly entranced by the colorful and extensive sets and costumes that we have come to expect from Bhansali's films. Visually stunning in so many ways, Bhansali's masterful direction and influx of action bring a passion and intensity to "Bajirao Mastani" that trumps all his previous love stories. Another win for Bhansali is the soundtrack—each song is delicately placed, balancing intense drama with lighter, beautifully picturized moments that still manage to move the story forward. Padukone, in particular, stands out in both "Mohe Rang Do Laal" and "Deewani Mastani," which will surely draw worthy parallels to Madhubala. "Bajirao Mastani's" magic, however, lies in powerfully written dialogues by Prakash Kapadia. Bringing Bhansali's fictionalized take on the novel "Rau" by N.S. Inamdar to life, Kapadia's dialogues emerge as poetry, aptly capturing both the older, proper dialects of Hindi and Marathi as well as the dramatic, emotional expressions the story warrants.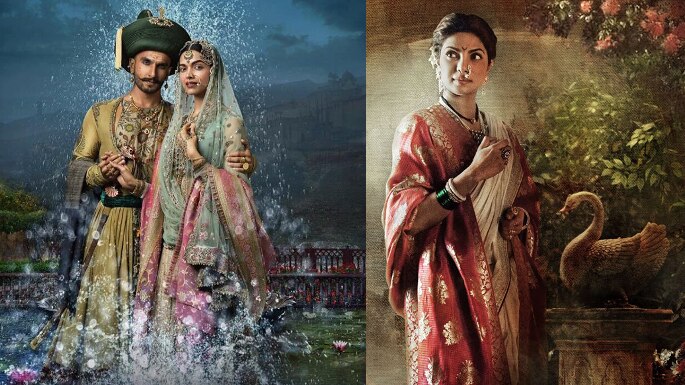 In so many ways, "Bajirao Mastani" also brings us glimpses of Bhansali's previous films, such as chandelier scenes reminiscent of "Hum Dil De Chuke Sanam" as well as the intense passion between Singh and Padukone, much like "Ram Leela." And, as with "Devdas," when Paro and Chandramukhi finally meet face to face, we are treated to a dramatic, yet fulfilling and realistic, meeting between Mastani and Kashi. Yet, in choosing to portray a story many are unfamiliar with (unlike Devdas-Paro or Romeo-Juliet), Bhansali manages to balance originality with his trademark filmmaking style.
With so much going right, what doesn't work well is the film's loose, and somewhat messy, second half. The fact that Bajirao is obsessively in love with Mastani against everyone's approval is quite clear by this point—yet the film stretches this out, adding years and years of time jumps and the same obstacles (such as Bajirao's mother, and religion) in their way. We also lose much of the action of the first half, like the raging battle scenes that made Bajirao come to life and initially drew him to Mastani. Instead, the Maratha quest seems to fall to the wayside for a blisteringly long time as Bajirao bounces back and forth between Mastani and Kashi. This aspect returns only towards the end as if Bhansali realized this and needed to wrap up both aspects of the story.
Despite this, "Bajirao Mastani's" greatest strength (besides Bhansali's masterful direction) is its acting—all three leads leave their mark in their own ways. Singh has proven himself as of late, distancing himself from the fun-loving Delhi boy we first saw him play in "Band Baaja Baaraat." With "Bajirao Mastani, Singh continues to emerge as a serious actor. This film feels about a hundred times more powerful Singh's portrayal of Ram in Bhansali's "Ram Leela"—he is more intense, more focused, and more impactful in his dialogue delivery. As Bajirao's first wife, Kashi, Chopra is also more than apt. It's a bummer that by virtue of the plot, her character was sidelined for much of the film, but Chopra's presence is felt in every scene she's in. More than any of her robust dialogues, of which there are many, her facial expressions throughout the film did complete justice to a woman so wholly in love and in pain at the same time.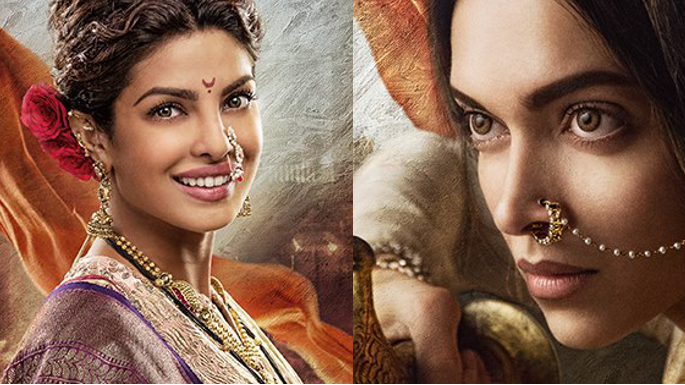 The real power of "Bajirao Mastani," however, lies with Padukone. She brings so much intensity to the role of Mastani that I'm pretty sure she didn't blink at all for the entire length of the film. In this role, we see Padukone continue to stretch herself as an actor, doing everything from dancing to sword fighting to romance, effortlessly. She gets down right dirty and grubby on the battlefield, and then visually stuns as the Peshwa's wife. Her ability to speak so eloquently, intentionally, and at times, without even saying words, is chillingly compelling.
A strong supporting cast—including Tanvi Azmi as Bajirao's mother, Milind Soman as Bajirao's advisor, and Mahesh Manjrekar as Maratha Emperor, Chhatrapati Shahu—are also memorable in their smaller roles, managing to foil the action and intensity of the leads without taking away from the story.
Overall, "Bajirao Mastani" embodies everything we have come to love about both Bollywood love stories and Bhansali's filmmaking prowess. It is solid in every way: stunning visuals, heart-stirring musical numbers, breathtaking action, and awe-inspiring acting—all done with the kind of sensitive direction that, for the most part, doesn't beat us over the head with it. The film also requires us to leave a little bit of reality behind, including expectations about the plot's predictability and coincidences. Despite this, "Bajirao Mastani" is a film you absolutely cannot miss—after all, epic, larger-than-life love stories don't come along as often as we might like.
---
Priya Arora is a queer-identified community activist, writer, and student. Born and raised in California, Priya has found a home in New York City, where she is currently pursuing a Master's degree in Counseling Psychology at Teachers College, Columbia University. Priya's passion and research lies in capturing and fostering the needs and experiences of South Asian American LGBTQ people and their families, with a mental health focus.