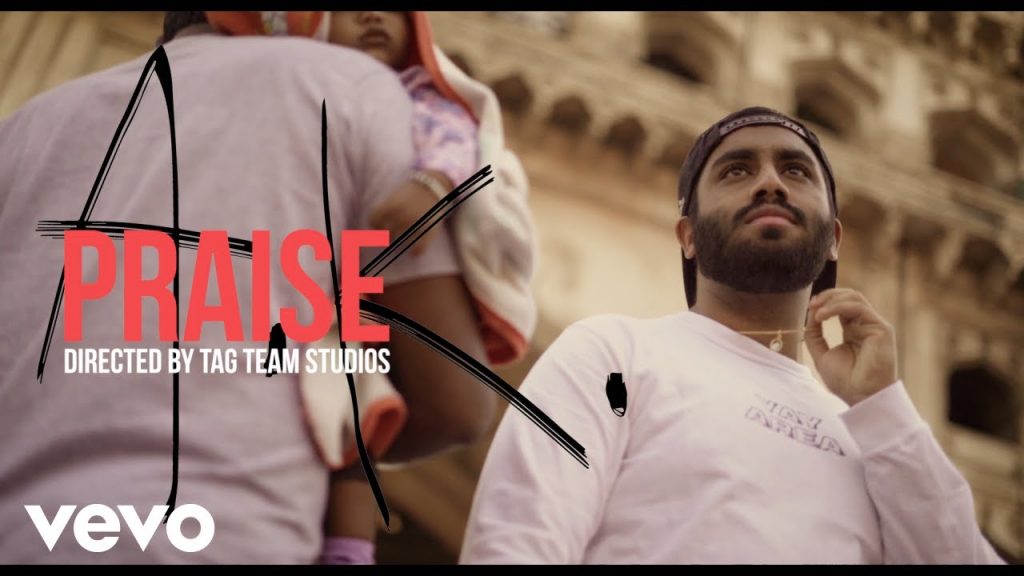 This Mother's Day, we follow the journey of rapper/songwriter Anand, better known as SoundsbyAK as he drops his new single "Praise" — an ode to his parent's journey as immigrants and his mother's sacrifices. From the Bay to the Big Apple, his lyrics are meaningful commentary, and he's dropping bars.
She always had a smile on her face, from the moment she woke up early to pack me a fresh lunch to when she tucked me in bed after helping me with homework. You'd never be able to tell she was scared about not being a citizen, that she was lonely not knowing a single relative in this foreign land, or that she sometimes came home crying because of racism at work. My childhood was filled with so much privilege and joy, and that's entirely due to all she did to make sure I could do everything she never could.
View this post on Instagram
Who is Sounds by AK?
A rapper, singer-songwriter based in New York City. I dropped my debut EP 'Model Minority' in 2017 about being South Asian in today's America and have since been dropping singles to branch out musically and hone my craft. My music ranges from politics to romance and this summer I plan on releasing a consistent stream of bangers. I'm excited for what's to come and I hope people rock with the music because I've just been having a blast making it.

I was born in Hyderabad, India but I was raised predominantly in Fremont, California. I lived a very typical middle-class childhood and went on to graduate college, and then moved to New York City to pursue music alongside my career as a software engineer.

I faced many of the same struggles many South Asian kids faced in balancing two cultures. While I was learning tabla and watching 90's Bollywood, I was also learning from 50 Cent and Kanye West, and what was once my cross-cultural confusion ended up becoming my source of confidence. Every little thing, from the trips to Hyderabad to the shows I frequent in Brooklyn have played their own distinct role in my musical journey and makes me proud of who I am.
When did you know you loved music? Can you remember a distinct moment it clicked?
I've always had a relationship with music. Growing up, before I could even speak, I would unintelligibly sing Bollywood songs. My father told me that I even knew which side of the Rangeela cassette my favorite song was on. As far as hip-hop goes, I remember exactly the moment it clicked. It was 2002 and '8 Mile' had just released and an ad for it was airing on television. 

I remember my 8-year-old self being absolutely fixated on the screen as I watched Eminem control a crowd. I was hypnotized by all those arms go up and down to the beat to 'Lose Yourself' in perfect harmony. I couldn't even discern the words that were being said but there was a certain energy in that performance that was infectious. I didn't even know what hip-hop was, but that moment captured me in a way that I recall even today. That was when I knew in my heart that I had a special connection to hip-hop. My mom wasn't the biggest fan, though
Are you trained or self-taught in any instruments or singing styles?
My mother is an Indian classical music fanatic, and as a result, my sister took singing lessons (fun fact, from Sid Sriram's mother) and I learned tabla for eight years. In all honesty, though, I was never diligent in learning or practicing. I was far more interested in hip-hop production and I would spend hours toying around on FL Studio after school. Back then, there weren't as many tutorials on YouTube on how to produce so learning happened as a product of fumbling around.

I was also really into songwriting and rapping. I'd spend recess writing songs and recorded my first few attempts at music with my father's work headset. My first pop-filter was an embroidery hoop with an old pair of my sister's stockings stretched over it. Back then, it was all about learning however I could and making do with the things I had at home.

I'm not a great singer, my mom is way better than I am, but I have an ear for melody that I attribute a lot to my aforementioned affinity to Bollywood music — especially the genius that is A.R. Rahman. My rapping style is a mix of the Bay Area music that was around me and the East Coast music I grew up listening to. I learned by being a sponge, and I continue to do so.
What was the inspiration behind "Praise"?
'Praise' was created as a result of me reflecting on how my relationship with my parents evolved. When I was a child, I saw my parents as superheroes. They had the answers to everything. They fed me. They bought me things. They never did anything wrong. But as I began to grow up and form my own thoughts, I began to realize the difficulty in being both the person I wanted to be and the person my parents wanted to be. I was never an incredibly rebellious child, but I was definitely at odds with my parents on more than one occasion. There are times I resented them and wished they were different (often times more liberal). My relationship was more strained. But as I grew even older and entered adulthood, my relationship transformed yet again because I began to see the truth about my parents.

My parents aren't superheroes, nor are they the dictators I thought they were. The truth is far more succinct and simple. My parents are merely human beings just like me. But in a weird way, that's what makes what they did all that much more amazing. If my parents had superpowers, that means everything would've been easy. There's no challenge in that. It's the fact that they didn't. The fact that they're mortal. They were able to provide this life for me while going through it themselves, and that's what makes them great. That's what I'm praising them for. My parents weren't superheroes, and I'm proud of that.
What is your go-to karaoke song?
Anyone that has gone karaoke-ing with me knows my absolute favorite is 'Gold Digger,' by Kanye West.

'If you aint no punk, holla we want pre-nup!'
What's been the hardest part of being a musician in a time where independent artists are rising but there's lots of saturation?
That's an excellent question. There are so many challenges that come with that. One of the biggest challenges for me is that social media doesn't come all that naturally to me. I love my social media presence amongst my friends (back in my heyday, my Snapchat was poppin'). But having to be "on" all the time to strangers is a very new phenomenon that is unique to independent artists who don't have media teams guiding their image.

I love freedom but it's difficult to maintain. Sometimes I wonder, 'am I promoting myself too much? Is this annoying?' or 'Should I try to post something every day even if it's content I'm not proud of,' etc. It's hard for me. I don't think I'm built for the constant content culture that we live in, it doesn't leave me any room to think.

Ultimately that's how you stand out in the market though. Artists always forget that if you want to have a viable career in the industry, you have to really have to treat yourself like a product. Do market research, see what's out there, understand your niche, figure out how to promote yourself, have a growth plan, manage your expenses, build relationships, etc. There are a million ways to get it, but choosing the right one can make all the difference.

Sometimes I feel like I'm working at 110 percent and it gets frustrating not seeing those metrics hit. Seeing people's end of the year Spotify play counts and comparing that to mine is a constant reminder that I'm 'behind' them. Sometimes the music I want to make isn't marketable. Sometimes I market potential hits the wrong way. I'm really just trying to learn as I go with the hopes that given enough tries, I'll pop off at one of those attempts. It'll happen one day.
What do you hope is next for South Asian artists?
I want there to be more unity. There's this unspoken belief that there's one spot out there that everyone is clamoring for, but that's not true at all. I believe that's a remnant of the competitive mentalities our parents came to this country with. I really think that if one of us makes it, it's like all of us making it. It's not true that somebody has to fail in order for you to succeed, it's not a zero-sum game.

I see this sort of unity at events like POPX, where everyone just gets together and has a good time and that warms my heart. That's the only way real way forward. That's why initiatives like Brown Girl Magazine are so important because they're so unifying. I hope I see more of that in our community. Everyone needs to grow together.
Who are some of your favorite artists?
Oh man, I have so many artists that I love. The top of that list is Drake and Kanye West.

Other than the usual suspects though, I love HBK Gang from the Bay Area, most notably IAMSU!, Kool John, Sage the Gemini, and P-Lo. They have consistently been making excellent music for nearly a decade and I am still baffled that they aren't way bigger than they are. They're stars to me and I'd love to work with them someday and give back to Bay Area culture the way it has enriched me so much growing up.

I've met some of my favorite artists in New York City, like Shawn Smith @shawnsmithstory (who has had one hell of a year), Seth Dyer (@sethdyer_ev), NBDY (@nbdy_), and Rahmaan (@xrahmaan) (who is also one of my personal best friends). I highly recommend you check these guys out, but this is like me telling you to listen to Drake and J. Cole in 2007. You can either hear them now or in a few years from now when they're really popping. But one way or another, you're gonna hear them.
What's next for A.K?
While I love the songs I've been writing, I'm really emotionally worn out from it. It's hard to consistently write music that you care so deeply about and putting it out to the world. I want to take some time out to just make fun music, by which I mean it's fun to make and fun to listen to too. They won't be my magnum opus or anything like that, but I need to recharge and I just want to enjoy summer this year. I have a couple of songs with brown producers and I'm working with some brown artists on those, so be on the lookout for some bangers this summer!
In times where there is an influx of music made for "click bait" and "viral" purposes, we value artists who integrate meaningful narratives, follow @SoundsbyAK for more where this came from.