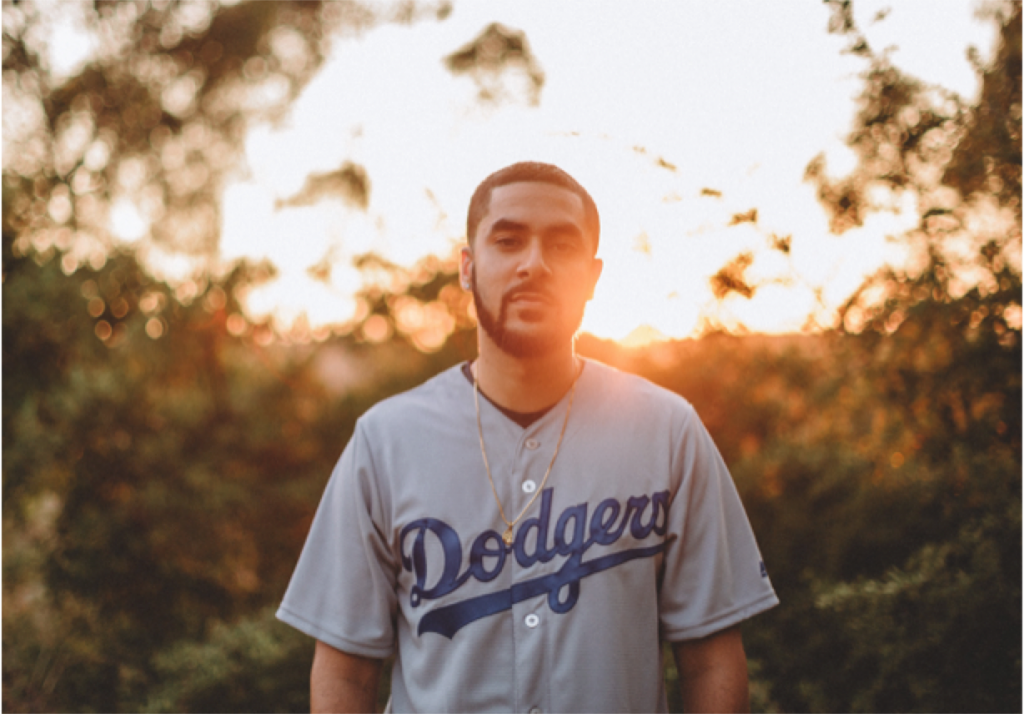 2018 marks a pivotal year for Los Angeles-based rapper Haseeb.
After nearly a year of releasing singles-turned-bangers in anticipation of his now released album, "Growth" finally dropped in late August. Just days later, the rapper embarked on his first-ever solo tour in North America, performing hard-hitting lyrics live to audiences in Chicago, New York and Toronto.
To date, the 10-track record has collectively garnered over one million streams and over 30,000 monthly listeners on Spotify. Not long after concluding his solo album tour, Haseeb was invited to join his first-ever European tour alongside fellow rapper Kota the Friend.
A first-generation American with roots stemming from Burma, India and Pakistan, Haseeb, like many, was tasked with balancing his South Asian, Islamic heritage with an urban, West-coast upbringing–all while living in the shadows of LA. In an interview with Brown Girl Magazine, he opens up about the trajectory of his career and hurdles he's crossed on an ever-growing journey to follow his creative dreams.
"Growth is about learning yourself and making positive changes in your life. You can't glow up without the grow up." – HASEEB
On the Come Up
The rapper is no stranger to rap and performing live. In elementary school, Haseeb made his first venture into the art of making music after listening to 90s rap mixtapes his brother would create in a tape deck.
He leaned more towards listening to "conscious rap," citing artists like Mos Def, Talib Kwali, The Roots and Erkyah Badu as influences. However, his music career launched in junior high when he began DJing at family parties.
"DJing was the first time I merged my art and commerce together. Rapping was something I was doing in the background, practicing and working…that was my real passion," he said.
Haseeb began recording music at fifteen and released his first album three years later during his freshman year of college, titled "Futuristic." He continued to produce a series of projects while in school. In 2015, he noted, blogs began picking up his work to showcase online, at a time where publications like "2Dopeboyz" were popular in the hip hop scene. Despite this, he became aware of his lack of a consistent audience.
"It's one thing if music is your hobby, but if you're really trying to make a career in it, at some point, something's gotta stick," he said. "I was like man, if these records don't do anything, then I'll have to reassess my life."
The first time his music gained widespread recognition was in 2017 when he had just released his song "Droppin". However, in the weeks following, he became disheartened at hearing almost nothing but radio silence when it came to new listeners.
Until one night, when he received a call from his brother at three in the morning informing him that the song was picked up on Spotify's curated playlist, "Fresh Finds."
Overnight, Haseeb's Spotify audience skyrocketed from 400 monthly listeners to 30,000, catapulting his lyrics to a brand-new audience and marking a turning point for the artist.
https://www.instagram.com/p/Bn9bLxXHO1E/?taken-by=haseebthefew
Some of his other milestones include working with Willie B, a platinum record producer who produced singles like J Cole's "03 Adolescence," ScHoolboy Q's "Prescription/Oxymoron" and Kendrick Lamar's "Rigamortis." After the two met at SXSW one year, Willie B sent him a beat, which Haseeb cut and created a record for the same day. He received an approval call late that same night.
"It's different when they tell you your work is dope, versus your brother, or your cousin, or your homie or home or even one of your fans," he said. "Everyone's opinion is valid, but not everyone's opinion is a professional opinion."
With Willie B's help, Haseeb's single "Slow" was produced.
On Lyricism
Prior to this year, he had toured seven times and rapped onstage before a number of best-selling artists like J Cole, Lupe Fiasco, Jay Electronica, Ghostface Killah, Rhapsody and Earl Sweatshirt to name a few.
Current affairs and day-to-day life play a recurring theme in Haseeb's music. Songs like "Droppin" tout lyrics inspired by the antics that occurred under the Trump administration, impacting the lives of millions of Muslim-Americans and immigrants alike.
I know that Twitter got our fingers itchin'/
This game really got my mind switchin'/
Tell me what I do this for, I don't really know/
Looking deep in my soul bro, I had to explore/
Memes ain't funny when there's bodies on the floor/
Silence of the Lambs, paint their blood over doors/
–Droppin'
In response to the transparency and lucid lyricism of his songs, he says, "People have different personalities, and I feel like my personality shows through my music."
"If I were to make party music and club music, that music wouldn't be authentic to who I am."
On his website, Haseeb's music is described as possessing a "distinct golden age meets contemporary sound…providing listeners sounds of rhythmic nostalgia coupled with deep thought."
On Culture
Haseeb began working in corporate America after concluding his undergraduate degree, moving onto obtain his MBA soon after. Around the same time things began picking up with music, however, he experienced a breakup with his longtime girlfriend, leading to a break in creating new projects.
He described the relationship as interracial, one that directly clashed with his South Asian culture. The experience led him to dedicate the final song on Growth to his personal growth in that time.
"'Play Love' is about my relationship with my ex, the idea of being in an interracial relationship and coming from a brown family," he said. "Expressing something like that is really tough."
Like many, Haseeb didn't find comfort in his cultural roots until early adulthood.
"When I was a kid, we didn't have Hasan Minhaj on TV, we didn't have Aziz Ansari. So, when I saw Will Smith on TV, in Fresh Prince of Bel Air, that's who I related to."

"People would ask me where I'm from, and I would respond with some totally ambiguous answer, because I wasn't comfortable with my own identity yet," he said. "I never wanted to be a "brown" rapper with "brown" fans. Or the Muslim rapper with Muslim fans. I wanted to be a hip-hop artist with fans who love his music."

"And that's still true to this day, because I don't care if you're Muslim, Catholic, Buddhist, Christian, Mexican, Chinese, black, brown…if you go hard, then I mess with you."
He described his Islamic upbringing as moderate, stating that his family "prayed, we read Quran, we fasted during Ramadan, went to the mosque on Fridays."
"Some things I say may be offensive to the "religious" people, and some things I say may be like, 'Ah man I'm here to party and he's over here rapping about praying towards the Kaabba' or something like that," he said.

"I feel like I can talk about both because I am both. For me, I know that at the end of the day, I believe in Allah and that's what I pray to and that's what I always go back to at the end of the day. And I consider myself a believer, I veer off the path all the time, but I could always go back and to me that's truth."
On the Hip Hop Culture and Collaboration
"I gotta be honest," he said. "When you see people like Hasan Minhaj and other people doing it at the level that they're doing it, it gives you the confidence to do that too."

"We live in an era now where you being you is what makes you unique. You don't need to conform to some Western norm that you think hip hop music wants you to. I used to be like bro, hip hop is never gonna accept someone like me as authentic. They'll always look at me as the brown guy. But then I was like, even out of all the brown artists, I came up freestyling and battling, touring all over the place and freestyling on stage, in the most underground venues in the country, like hip hop, graffiti artists and break dancers and all," he said. "My experience is very close and intimate and its definitely real heavy about the culture."
Though there are many artists he said he would be interested in working with, Haseeb highlighted 9th Wonder, who he calls his hero.
On Mentorship
Along the way, Haseeb described his encounters with several key people who helped put together the pieces of his career.
He attributes early influence towards an experience rap battling a local Pakistan rapper as a young teen, a man who surpassed him in skill and age. The man took him under his wing and invited Haseeb to his personal studio not long after, where he began making music for the first time.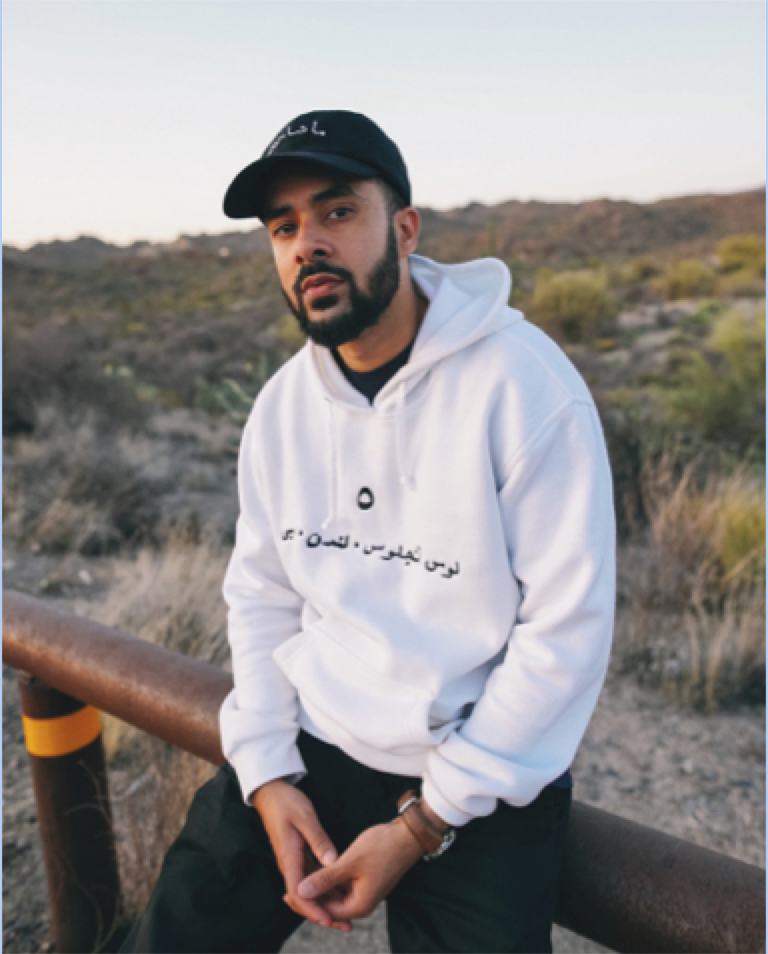 He went on his first of many tours with underground artist One Be Lo, one half of the rap duo Binary Star. Haseeb described his experience alongside One Be Lo as "being lyrically trained by one of the best."
When it comes to his own sanity and mental health, he said he can call up his older brother any day and have long conversations about life.
And finally, Amir.
"Amir's the captain," he said firmly. "Amir is the OG. He's the guy."
Amir Abbassy, known by his brand "Blame the Label," is a mentor whom Haseeb attributes many of highlights of his career growth to.
An Egyptian-American Muslim and formerly affiliate of Roc-A-Fella , he is described as "having made it before any of us. In that sense, he's our gatekeeper. Not just for me, but for others in the music community, and the brown community, and the Muslim community."
Amir and Haseeb initially bonded on Twitter over his dog Zeus, which led to a relationship being born when Amir moved to LA for work. Haseeb credits Amir for being a driving force in helping him create new music, push projects and build strategies.
"He's great at recognizing people's talents, and he's a dude that's always on my head," he said.
What's Next
At 28, Haseeb said he looks forward to building a more settled life with a family, making music in a way that helps provide for them.
"I'm not a kid anymore, who's like 18, 19, doing this rap shit," he said. "Everything's got to be very deliberate, it's gotta be very calculated."
In this game, he said, "You can't wait another three years for your next project or take four months off to find yourself. No bro, if you're gonna find yourself, find yourself in the studio."
In the coming months, his plans include releasing new tracks and a music video. In addition, he is producing fellow artist Rehma's new single under his label, "FewFriends." Though acknowledging that he still has a long way to go, Haseeb is determined to continue putting his heart and soul into refining his music and skill and towards the steadfast growth of his audience reach.
"I feel energized after this tour and putting out this project because it's like, wow, I actually have people who give a fuck," he said.

"And to me, that's everything."
You can listen to Haseeb on Spotify, SoundCloud and Apple Music. Follow along his journey on Instagram.