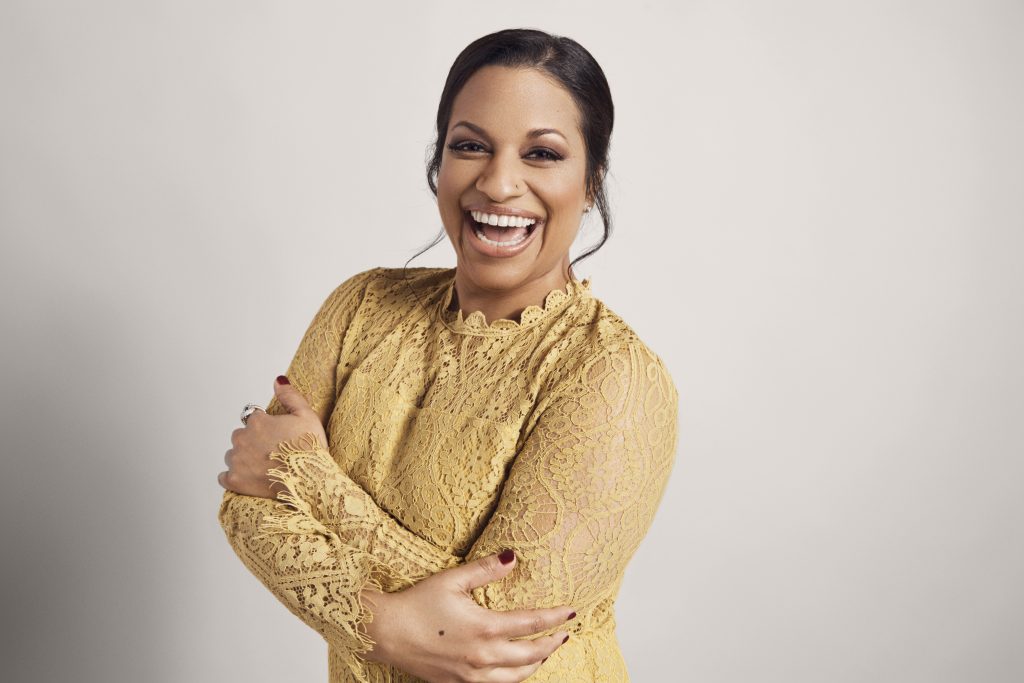 Meet Rati Gupta, actress, dancer and one of the most fun people to talk to! With my TV-binging habits at an all-time high and more and more South Asians being cast, when Brown Girl Magazine had the opportunity to interview this dynamic, Janet Jackson-loving "FutureMan" actress, we had to jump on it! Keep reading to learn all about Rati Gupta and her journey to the Big (Bang) Screen!
View this post on Instagram
Could you tell us a little about yourself?
I am an actress based in Los Angeles, California. I grew up in Indiana, and was a dancer from the beginning. Dance taught me confidence, something I really struggled with and was insecure about because I didn't see myself in my surroundings. I took up the Indian classical dance form, Kathak, ended up doing ballet, tap and jazz, and eventually joined the cheerleading squad in high school, and became captain of my dance team.
Starting out in dance, did you see yourself becoming an actress?
When I was younger, I would video record music videos from MTV and learn the choreography. I'd watch Janet Jackson EVERY DAY, she was my inspiration and what led me to major in dance in college. All roads led to Janet, I was hell-bent on becoming a backup dancer for her. Post-college in Chicago, I decided to pack my bags and head to Los Angeles, take every dance class and do whatever it took to get an audition.

It was scary – I faced lots of rejection, I felt defeated, but I decided to take acting classes. I figured I was in the space so I should at least take advantage of my opportunities.

I started taking a class with a teacher that happened to be a go-to sitcom coach, she encouraged me to consider acting seriously and embrace my ability to be funny. I had always thought people were laughing at me, not at my jokes.

This was also around the time 'Slumdog Millionaire' won an Oscar. I was developing my confidence in a time where being brown became 'cool' and the industry was looking for South Asian things and people, which helped me land an agent.

Then things started to pivot, the industry only wanted to tell the narrative of a stereotypical South Asian women, falling in love or similar same-old stories, it resulted in a level of discouragement and because they only wanted to check certain boxes.

I got an agent in 2009 but booked my first big break almost a decade later.
What was your first "big break" moment?
 MTV's 2010 movie 'Worst Prom Ever' – it was a different part, I was always cast to play an Indian-American so this role was about my acting, not this TV 'Indian identity.' I could finally be a woman who had her own personality separate from her ethnicity.

I got to play this really fun character named Ray, she was ethnically ambiguous in Seth Rogen's 'Futureman.' Ray was this aloof, kind of lost funny character that was one part of a person. The team on 'Futureman' was so small and tight-knit it made the lonely, rough acting experience a little bit more tolerable, I built a little family.
How did it feel to play a South Asian character with a South Asian name in a mainstream, award-winning show like "The Big Bang Theory?"
Sarah, a castmate on 'Futureman,' got an email to audition for the role of this Indian character, and suggested, I being the actual Indian should audition even though I wasn't invited, (no actual Indian women were). I called my agent and got on their radar. They had no idea whether the part would be short term or long or the capacity, a cameo or full blown character and it was well before they knew it was the final season.

At first I thought the role might be the low hanging fruit of South Asian plots entailing an arranged marriage proposal, her mother really wants her to get married, with a bunch of cheap jokes. For non-South Asians, this was the best lot. However, Anu, the character, ended up being this exceedingly modern, edgy tongue-piercing donning girl. I never thought I would see, let alone play an Indian woman with a tongue piercing and punk vibe. It was much more forward than expected. Even Raj's character, though he's this tech-nerd, he has evolved a lot.
View this post on Instagram
With the plot of "Unbelievable" involving commentary on rape culture do you think mainstream media is beginning to heavily integrate social issues?
I am so happy to be a part of a project that is talking about the reality of victims and corrupt systems. Based on a 2015 Propublica, 'An Unbelievable Story of a Rape,' it's such a parallel story of how victims suffer and how law enforcement handles them on their journey to justice. When this part came up, no matter how small, I wanted to contribute in some way, it was a story I wanted to help tell.
When does "Unbelievable" come out on Netflix?
Tentatively this year on Netflix. Public outcry is powerful, and the laws should change.
Do you have any new or upcoming projects?
I've been going through a lot of ebbs and flows, deciding to create while I'm auditioning, writing my own projects. I want to start creating from my perspective and my real South Asian-American narrative.
What is your advice to those eager to break into the acting industry?
Don't get discouraged, don't give up. Know who you are before you try to act like someone else. Find your sound and your voice, until you know yourself you can't be channel anyone else. Don't get lost in translation, creative industries can get lonely – find a solid group of friends and make connections in your roles.

Communities can get discouraging especially when they are not supportive, don't let that stop you from making your dreams a reality. My parents weren't sure of my choice and their friends were harshly critical but in due time I landed a show they had all seen.

Persistence.
What inspires you as an actress in three words?
Julia Louis Dreyfus. She went to Northwestern Univeristy and was in the same sorority as me, we had so many similarities. She made me feel like my dreams were real too.