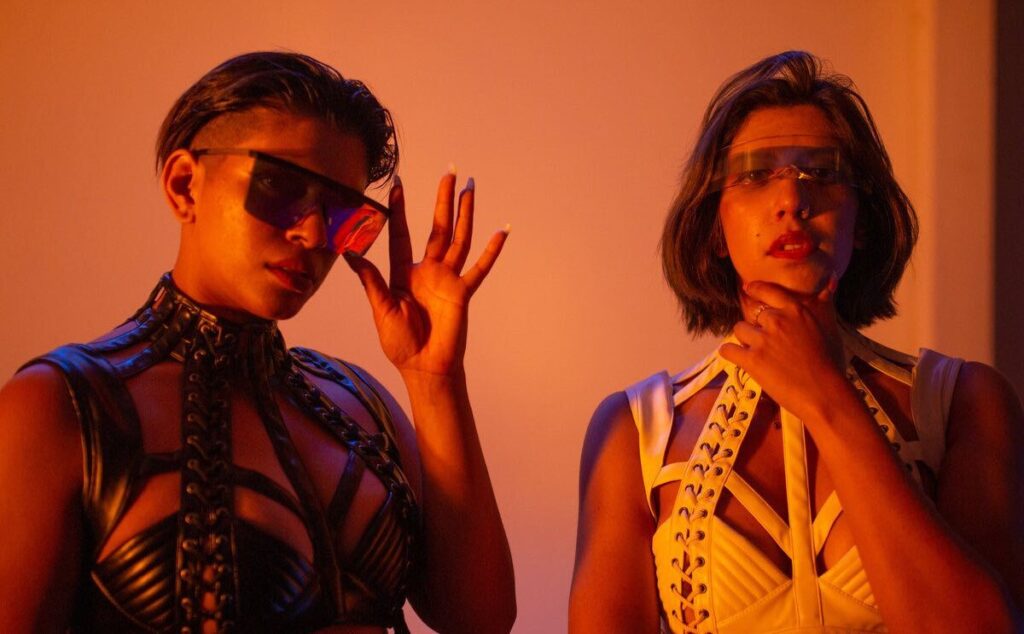 There's a certain high associated with hearing a beat drop or a bar that hits so hard our bodies have visceral reactions. Perhaps to dance, to rage or just to resonate. In a world plagued by systemic barriers to entry and bias of language and appearance live musical magicians. Artists whose love for entertaining and emoting permeates limitations. Two of these artists are Calgary's best duo: Cartel Madras.
How Cartel Madras Came to Be
Contra and Eboshi Ramesh spent countless nights at concerts, festivals and shows raging to musicians that made them feel the way we do when they perform. The sisters know what the goosebump-inducing environments mean to music lovers. However, the stages seldom had diversity in who was generating that feeling. No one that looked or sounded remotely like them existed. 
SoundCloud has served as a breeding ground for independent artists, specifically in R&B and hip-hop to be "discovered." In 2017, the duo found themselves uploading voice notes that would go on to change their lives. Contra and Eboshi made music individually and became drawn to the idea of doing so together. What were once "anonymous" uploads led them to owning their identity under the moniker "Cartel Madras." As the streams stacked, Cartel Madras was no longer an imaginative idea. It became reality.
Sonically, Cartel Madras lives at the intersection of hip hop and trap. They integrate linguistic references in their mother tongue, Tamil, and take instrumentation inspiration from around the world. Projects like Trapistan, Age of the Goonda, and subsequent releases are an amalgamation of their operatic, Carnatic, hip hop and trap influences. 
View this post on Instagram

The cadence, pace and lyricism leaves listeners feeling badass and energized. It is a feat to create a sound that is generally associated with male, heteronormative artists. And yet, their visuals echo the same sentiment. 
Songs like their recent release, "Drift," depict a collective of women in charge, running the operation and bathing themselves in the bag.
Their videos center the ability and worthiness of women of color and the LGBTQIA+ communities within concepts we associate with power, revolution and boss behavior. 
View this post on Instagram
Combining visual and sonic elements in storytelling
The two are fiercely passionate about storytelling through sound and visuals, creating short-film-like music videos that provide insight into how they see themselves and the world. I sat down with the duo to learn more about who Cartel Madras is and how they went from creating bedroom tracks in Calgary to over 110 performances around the world and working with the likes of AR Rahman, Cupcakke and many more. 
They explore themes meant to defy one another, like having women be both the hero and anti-hero, or challenging the stereotypes of who women-identifying rappers are. Simultaneously, we discussed the nuances of being South Asian artists in a region that, until recently, had no music industry outside of film music and commissions. The duo and I emphasized the importance of quality music that shares more about us than ethnic heritage as the subcontinent navigates its own understanding of "independent music."
The two are founders of THOTNATION MEDIA, a creative agency changing Canada's landscape for QTBIPOC communities and are also signed to Subpop. 
Cartel Madras's music and existence makes listeners feel seen simply through their dedication to their own multitudes. Be it the familiarity of language, avant-garde apparel or flow that feels inherent, their artistry has something for everyone.
Check out their discography here and prepare yourselves for the empire.