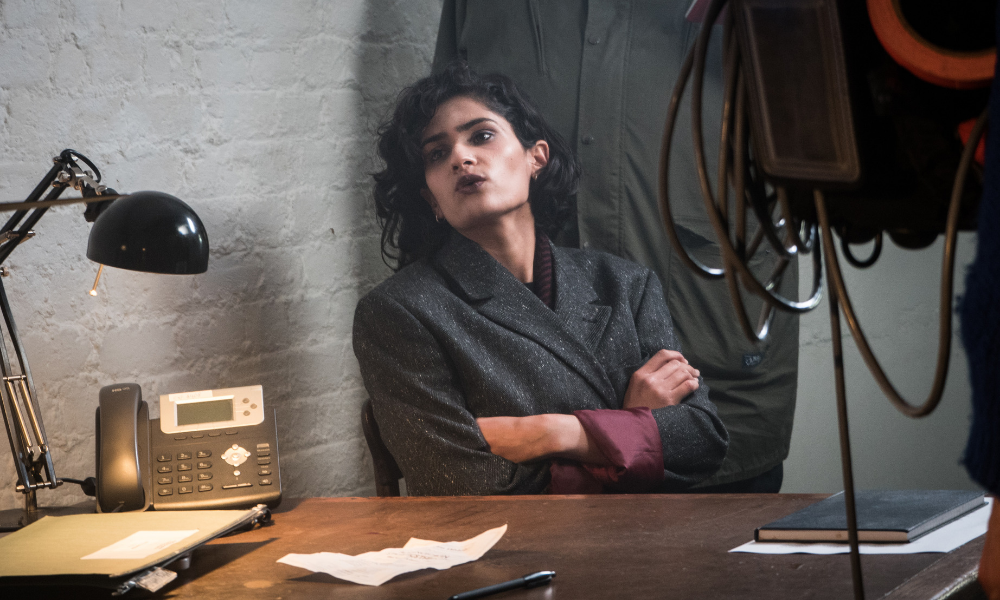 When I was growing up in the '90s, South Asian representation in the U.K. was one-dimensional to the point where it was almost racist. A whole generation of young British-Asian women grew up thinking that the outside world would draw all their conclusions about them based on stereotypes. Thankfully, we are now finally going beyond the trope of the Apu-style "Simpsons" character — an outdated archetype — to fully-fledged characters with personalities that go beyond their South Asian heritage and brown skin colour, which includes 25-year-old emerging Britsh South Asian actress, Seyan Sarvan in the upcoming releases "Spin State" and "51 States."
Sarvan is coming on to the film scene with one aim — to bring South Asian characters to life in the most holistic, representative fashion possible. A graduate of the London College of Music, Sarvan has seen the bright lights both on stage and on screen, depicting strong female characters that have been etched into history.  
https://www.instagram.com/p/BxsAmL8l-fv/
Like many young British-Asian women — particularly those with immigrant parents —Sarvan grew up consuming Bollywood and being inspired by some of the classics. 
My mum is a big junkie of Bollywood cinema that came out between the '50s and the '80s. I grew up being inspired by Raj Kapoor – he was so imaginative in his storytelling, and often portrayed roles of a 'tramp-like' figure that despite adversity is still so cheerful and honest.
Bollywood was not the only source of inspiration for Sarvan — the Western classics such as Konstantin Stanislavski and Al Pacino were certainly pivotal in where she drew her inspiration from in order to find her style as an emerging actress.
After a childhood and adolescence captivated by film, theatre and acting, Sarvan approached early adulthood with a choice to make about where she wanted her life and at this point that the London College of Music came on to the scene. 
At the age of just nine years old, Sarvan made the formal decision to act and was told that by her family that this would be a difficult decision. After moving out by the age of 18, she went on to audition at the London College of Music (LCM), giving her the perfect platform to explore and grow as an actor.
Course leader Paul Harvard came to LCM in the middle of my second year. His passion for and knowledge about everything acting-based really made me step up. He gave me complex, strong, female roles to play. When someone sees you as a leading actor, you reflect on what they've seen, and you believe in yourself.
Sarvan's first two major roles in "Spin State" and "51 States," are multi-dimensional characters, both of whom challenge audience perceptions of womanhood, strength, and courage. Sarvan sees herself in these characters in many ways and feels as though that is why she was able to do the characters real justice on-screen.
"Spin State" is the story of Dana, a mathematician who loses her husband in a mysterious series of events and decides to unfurl the tragedy alongside Detective Kline Dyson. Produced, directed and written by Ross Wilson, Sarvan says, 
The character of Dana isn't obviously 'strong' – she is not a warrior nor she does not carry weapons. She's a mathematician, but her strength is in her persistence, self-discovery, and in overcoming her adversities. She really does cut her soul-ties with the past, which really connected to my own journey at the time. She becomes daring and lives moment-to-moment. But she has a vision, a North Star, to guide her and keep her grounded.
"51 States," directed by Cassandra Virdee, is the dystopian story of England becoming the 51st state, with a wall around its borders and a white supremacist state housed within. I asked Sarvan what it felt like to be playing Sima, an 'Other' in this world, rumblings of which exist today,
When I read the script, it was just so easy to connect with the character of Sima — she won't stop until she's achieved the freedom of others. I always got a bit of a Malcolm X feeling from Sima. My deep connection with Sima is that she is the underdog. She is not waiting to be saved and connected to me overcoming the restraints in my own life; Sima has a natural adrenaline to her.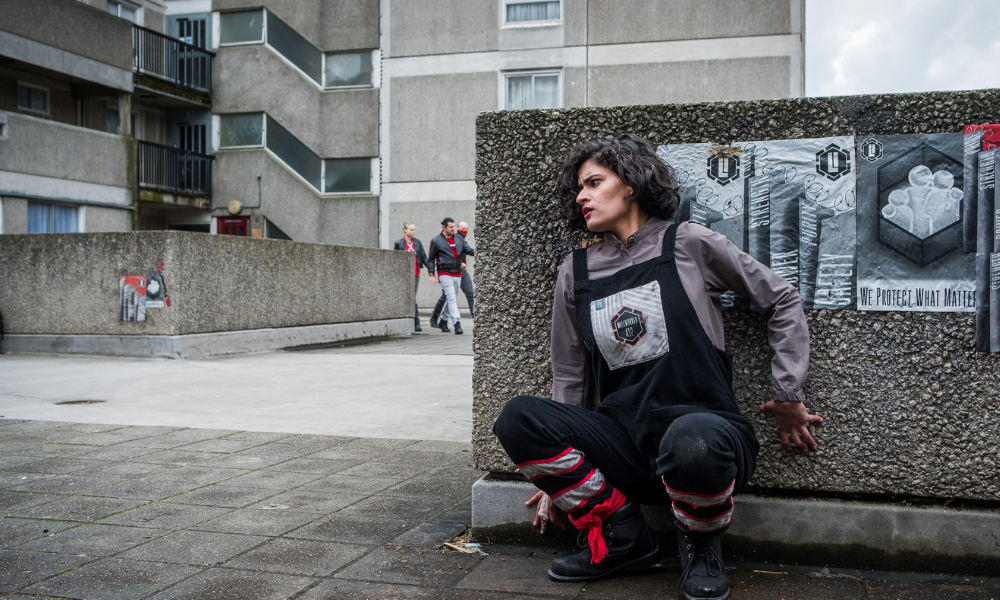 She also goes on to describe that the brutalist nature of a fractured racist is replicated in the brutalist architecture of the film in the form of Jack Gordon, who plays the individual leading the supremacist state.
This character talks in a way that really reminds you of the speeches of Trump and of Hitler. These people have existed throughout history and will continue to exist.
Positive representation is slowly starting to become mainstream. What Western media sometimes struggles with, however, is recognising that there are even nuances within the bracket of an 'Indian character.' Sarvan, a woman of Sikh heritage, also spoke about playing a character who was not just Indian, but also overtly Sikh. 
The director Cass Virdee has this real fluidity in her approach. She really encourages you to follow your instincts and improvise. To me, it felt the same to speak in either Punjabi or English. It was beautiful to see that the protagonist Sima could express herself sometimes more in Punjabi, and sometimes more in English. It was beautiful to see the words on my script also, in Punjabi and in English – it just represented the various sides of this person. There are parts of the film with a flowing-poetic Punjabi voiceover as a backdrop to this war-torn country.
Sarvan is on the brink of a launch into mainstream cinema, with both films set to be released in the next year. From her collected experiences on stage, on set and in school, what had she learnt that she wants to share with her audiences and those considering acting as a career choice?
My number-one takeaway has been that in the educational system, even in a discipline as creative as acting, you can experience a way of thinking that tries to lock you down into one way of bringing a role to life. But acting requires freedom. You need to feel connected to yourself. For me, there is so much electricity in believing that I live in these imaginary worlds – how lucky I am to live so many lifetimes. I want to embody those roles on-screen that can connect with the next generation of young women. That is what fills me with drive – representing the underrepresented. 
Details on "51 States" can be found on their Kick Starter page. Read more about "Spin States" at www.spinstatefilm.com.