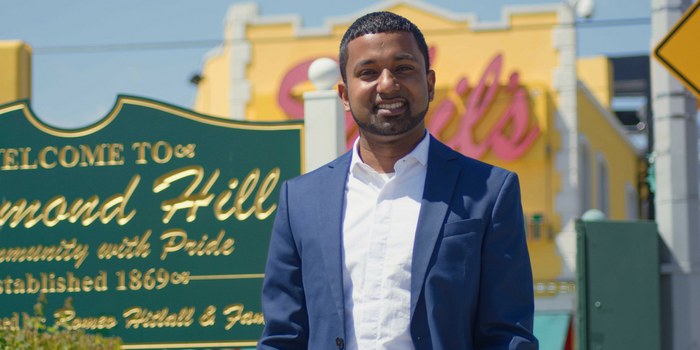 The following is a press release from Richard S. David's campaign for district leader. 
South Ozone Park, New York — Activist and Community Board Member Richard S. David declared his candidacy to lead the Democratic District Leader in the 31st Assembly District Part B. The neighborhoods include South Ozone Park and Richmond Hill, Queens. The position was formerly held by Council Member Ruben Wills and is currently vacant. The current female co-District Leader is Assembly Member Michele Titus.
"I'm pleased and honored to announce my candidacy for District Leader. This is a great opportunity to grow the Democratic Party in the community by connecting residents and activists with a process they have felt locked out of for decades" David said. "I am energized and excited. I have learned a lot since the last election and I am not going to give up fighting for my neighbors."
In 2017, David ran for the New York City Council in District 28 and came in second with almost 3,000 votes. David attended public school and started working at age 13, he graduated with a Bachelor's degree from Hunter College and earned a Master's in Public Administration from New York University.
David is active in many organizations within the community — he's served as a Community Board Member for more than a decade. He is also a co-founder of the Indo-Caribbean Alliance, the largest organization providing services to Guyanese, Trinidadians and all working-class New Yorkers.    
"It is with great pleasure that I welcome Richard David as co-chair of the Democratic Party in the district. I look forward to working collaboratively for the betterment of our community and our party" Assembly Member Michele Titus said.  
David was previously Vice President at the NYC Economic Development Corporation, where he oversaw the construction of cultural facilities, senior centers and other vital community spaces. He was also an Executive Director at the NYC Department of Consumer Affairs overseeing a City-wide program to lower the cost of public transportation by increasing the use of a federal tax deduction. David is currently a Chief of Staff at the NYC Administration for Children's Services.
A launch event for his campaign is planned for June 23, 2018, with several elected officials, organizations, community leaders and residents expected to be in attendance.
For more information about the launch or the campaign, please email, call or contact him via Facebook or Twitter.