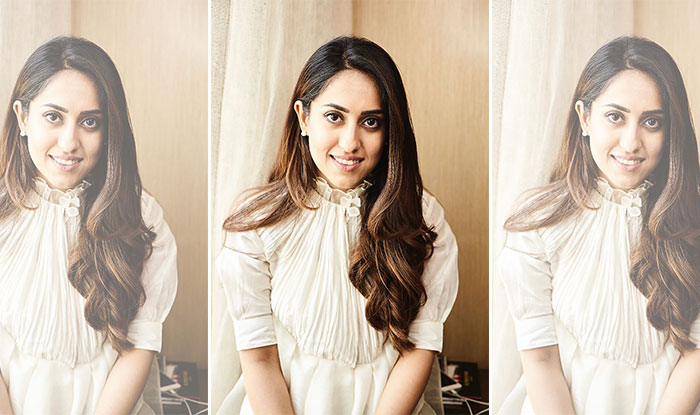 Delhi-based fashion designer, Ridhi Mehra, is taking the Indian contemporary fashion scene by storm. Starting out as a graduate in Business Management from Nottingham, Mehra took her first steps into the fashion world when she started at National Institute of Fashion Technology in Delhi. To gain experience in the fashion world, Mehra worked alongside many fashion labels before launching her own label in 2012. Her vintage-inspired label blends European tailoring with Indian craftsmanship which makes her designs stand out in crowded marketplaces. The label's collection has been featured in top tier magazines like Vogue, Elle, and Harper's Bazaar—she's also dressed a number of Bollywood's elite like Kareena Kapoor, Sonam Kapoor, Deepika Padukone and more.
In short, who is Ridhi Mehra? She's an aesthete and purveyor of exquisite contemporary style. To give you more insight into the brains behind this extraordinary fashion label, Brown Girl presents an exclusive chat with the ace designer.
Let's take it back to your roots. What sparked your interest in fashion?
Growing up, I was always surrounded by fashion because my mom and aunt owned a fashion label. I was able to witness all the talent and hard work that goes into this industry. After graduating with a business degree, I decided to delve into the fashion world with my own label because of my passion for fashion and my knowledge in business.
View this post on Instagram
As you know the fashion industry is cutthroat. What was your biggest fear when going out and starting your own line?
It was the nervousness and the fear of not being accepted in this highly competitive industry. I was constantly worrying if my designs would be loved by customers—keep in mind, this was when the market was dominated by tradition Indian couture. How could I stand out?
What are some words you would use to describe your brand?
Timeless. Dynamic. Graceful. Contemporary.
You've probably had a lot of ups and downs in your journey. What was one of the biggest lessons you have learned since you started the Ridhi Mehra label?
Continue to preserve, keep evolving, take in feedback and be aware of the smallest of changes in your sphere of work.
View this post on Instagram
How is working in the fashion industry different today than when you started out?
There is a lot more competition now, even from younger brands instead of just the old heritage designers. Social media has become so volatile, with the ever-changing algorithms, the introduction of new technology, etc. Clients now have access to brands from across the world thanks to e-commerce.
Speaking of social media, what role do you think social media plays in the fashion world today?
Social media indefinitely plays the largest role in all things marketing—not even just for fashion but any industry. If you don't have a well thought out social media strategy in place, chances are your business may not reach the heights of success it has the potential to.
You mentioned earlier how clients have access to brands from across the world because of social media and e-commerce, how is your work received internationally?
We've received some incredible and heartwarming feedback on our brand internationally. Thanks to our international retailers as well as our global e-commerce store (RidhiMehra.com), we are now getting orders on exquisite Indian couture from international customers in Mexico and China!
View this post on Instagram
How do you think your work has evolved since you began your label?
As a brand, we evolve our signature every season—simple because the industry is so dynamic yet volatile. However, with respect to what we did 6 years ago, we've expanded into pret, demo-couture and heave couture, not to mention, accessories and footwear.
Speaking of changing up your signature every season, what can you tell us about the new line?
The new SS19 range features two stories: Leila and Zahara. Leila is a dreamy and exquisite collection of easy demo-couture silhouettes in the color palette of lilacs and pinks with minimalist embroidery. Zahara features our new print in contemporary silhouettes accentuated with Navrattan gemstones.
How do you want women to feel when wearing your clothes?
I want women to feel the best version of themselves. I want them to feel happy, comfortable and most importantly, beautiful inside and out. Women should enjoy the occasion for which they've chosen our design and that's why we ensure our garments are not so heavy that they bog the wearer down.
View this post on Instagram
Ridhi, thank you so much for an amazing interview! Before we wrap up, what is one piece of advice you can give to young designers starting out and hoping to make it in the industry?
It's good to keep an eye open and observe everything around you, really take note of what everyone else is doing but stick to your unique aesthetic. Be dynamic and open to criticism. Listen very closely to what your buyers and clients are asking for and how you can appeal to the demand.