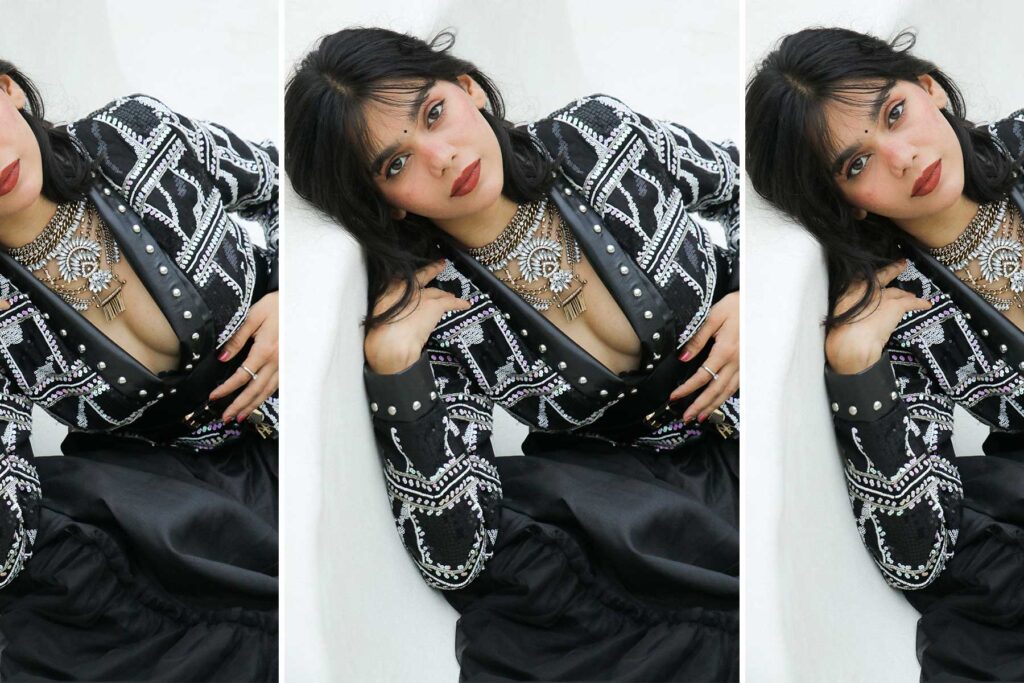 With aesthetic, relatable, and super fashionable content, Ritvi Shah is a fashion influencer who is easy to love. With over 160K followers on Instagram, her authentic take on everyday fashion is incredibly inspiring and will keep you asking for more. Relatively new to the content creation game, Ritivi's community is growing rapidly and she seems unstoppable! With a recent feature on Femina India's cover, Ritvi is also passionate about breaking unrealistic beauty standards and celebrating real skin.
View this post on Instagram
Brown Girl Magazine had the opportunity to talk to Ritvi Shah and learn about her content creation journey.
Let's start at the beginning, what inspired you to become a content creator in the fashion space and why?
To start with some context, I just graduated with a Bachelor in Arts and Fashion studies. I was in the middle of my education when I started creating content. When the pandemic hit, I had come back home to India to be with my family and had taken a semester off to reset. So I had some free time on my hands and I'd been wanting to create content for a while at that point so it seemed like a good time to start. I had grown up watching OG Youtubers like Lily Singh, Komal Pandey, etc and I had always felt like it was something I could do too! However, it can be really scary to start something for yourself and my biggest fear was in being consistent. So when I had four months off, I decided to give it my 100% and see where that took me. I started posting content every day and absolutely loved it! It was something that would keep me up at night and I became obsessed from day one. That's probably what drove me to create consistently and soon, my community started to grow. And while I was shocked by the response, it also felt like I had found my calling and I knew I was meant to do this.
View this post on Instagram
160K followers on IG is a big deal! Can you tell us what this journey of building a community has looked like for you and some things you learned along the way?
One thing I realized early on as a creator was that it can be easy to get consumed by the journey and take certain things for granted when they are happening. For instance, in the grand scheme of things, 150K followers may not seem like a lot but for me, personally, it played such a big role in helping with my self-confidence. So I've made it a point to be very intentional about each step and wake up every day reminding myself to not take things for granted.

And while I always knew that I had it in me to become a creator, it was only when I acted on it and people responded with so much love that I really started believing in myself. So I'm grateful to each member of my community and as my community grows, I feel a growing sense of responsibility come with it.
Can you share some milestones or 'pinch-me' moments that you've had since becoming a creator?
There are so many! But I would definitely say all the firsts were incredible and it wasn't because I hit those firsts but because of the community and support that got me there. I remember going live when I was close to hitting my first 100K views on a reel and everyone was cheering me on and it just felt so wholesome. So if I have to pick the sweetest thing about being a content creator, it would 100% have to be the audience who got me here.
View this post on Instagram
How challenging is it to keep up with constantly evolving fashion (and IG) trends and what do you do to maintain a unique aesthetic for yourself?
I think the first step towards creating good content is to consume a lot of content. And while I am a creator, I also am a heavy consumer of social media and that's how I manage to stay on top of what's trending. When I come across a piece of content that I love, I take some time to brainstorm ways in which I would create something similar but in my own style.

I also try to look at the content I create from a consumer's point of view rather than a creator's point of view. This allows me to think about the value I'm creating for the audience which I believe is the best way to connect with people. So I try to create content that is either motivational, educational, entertaining or an amalgamation of these. This has helped me carve out a unique space for myself.
View this post on Instagram
What would you like to tell someone who is thinking of entering the world of content creation, particularly on Instagram?
I would say consistency is key but it is also important to know why that is. When I first started creating content, I was very consistent with it and posted a video every single day. That's the best way to get your videos/reels to end up on someone's explore page. Not just once or twice but enough times to get their attention. Because in order to get someone to even visit your profile, you need to make multiple screen impressions. So the first step toward building a community is to produce quality content consistently. The second most important thing would be authenticity. Creating content that is a true reflection of your values is important as the audience can easily sense it if you're faking it.

I would also like to add that numbers are important. Instagram provides some useful insights on how content is performing and I think it is necessary to learn from it.
View this post on Instagram
Going on a slightly less fun but important tangent, could you tell us about how you deal with negativity or hate comments on social media?
When I first started, I was anticipating a lot of hate comments and was preparing myself for it. Being a Libra, when someone doesn't like me, I take it upon myself to understand why and make things better. But knock on wood, I haven't received as much hate as I was expecting but I still receive some negative comments. A lot of the time, before I even get the chance to see them, my friends or someone in my community blocks them which is extremely sweet. But the ones that I do see sometimes get to me and make me second guess myself so then I take some time to reset. I allow myself to feel however I am feeling and process my emotions before going into solution mode. Now that I have a larger community, I also remind myself that it's one hate comment in the midst of hundreds of positive and lovely comments. And there's no way that everyone is going to love everything I post and that's perfectly fine. Such differences should be celebrated.
A lot of people look up to you for fashion inspo. Where do you go for inspiration?
My mom's wardrobe!
I see a lot of culture-inspired fashion on your page and I am so here for it! What is one piece of fashion advice you would give to someone looking to get in touch with their roots?
I myself am in the process of connecting with my roots and I think the first step towards that is to understand the whole stigma around culture-related fashion. In my own life, I've heard people comment about how I was wearing too many Indian outfits when I was living abroad or not showing enough Indian culture. So it can be very conflicting and it is important to unpack all that. Stigma can also be very internal. For example, I refrained from dressing in ethnic wear for the first few months of moving to the US because I assumed that the people around me would judge me for it. But once I overcame that, I actually realized that people respond positively as long as you are being true to yourself and your identity. A lot of my friends absolutely adore my Indian outfits! And creating content also helped me a lot with overcoming that internalized stigma.

So if someone is looking to embrace their culture and incorporate it into their wardrobe, they can start small. Probably with a pair of jhumkas or kolhapuri chappals or simply a kamarbandh as a belt. There are so many fun ways to ease into it and do what feels the most comfortable!
View this post on Instagram
Want to hear more about content creation from Ritvi Shah? Join us on an Instagram LIVE session on Wednesday, July 27 at 8 a.m. PST (11 a.m. EST)!