by Liya Thachil – Follow @liyabobiya
Last Tuesday, a stirring joint announcement came from the illustrious houses of couture and shoes: Sabyasachi and Christian Louboutin. The world learned red bottoms will receive some masala flair. About. Dang. Time.
The campaign of this collection uses a vivid, dreamy, graphic novel-esque treatment to showcase the drama of these shoes. "Deep Sleep for Beauty" is about a ravishing actress searching for the perfect saree, who falls into a deep sleep in Sabyasachi's personal atelier because of a curse placed on her. The only way to awaken her is to bring something of breathtaking beauty to her, which, of course, setups Sabyasachi and Louboutin to accomplish such a feat. I mean how more apropos can one be?  Nothing could more perfectly foreshadow this collection than a storyline involving a beautiful actress, a curse, angels, psychic dreams, and stunning couture. Drama, drama, drama! Theatrical and glamorous drama for all!
This capsule collection is custom and made-to-measure. It only contains a limited amount of designs for men and women, as well as a couple of accessories. Every piece is constructed from fabrics taken from Sabyasachi's personal archives. It takes traditional Indian embroidery, fabrics, and handicraft techniques and gives it a more modern feel. In typical Louboutin fashion, there are spikes and studs and unexpected pairings, making this collection loud, joyful, and dramatic. So if you are looking for subtle, don't come this way. It is certainly not for the faint of heart. It's for the girl, or guy, looking to announce that they are here and they are living their truth to the fullest.
[Image source: Vogue India]
Because this collection is so exclusive and is all about the bespoke experience, it will not be easy to get your hands on these shoes. It is only available to purchase at Harrod's in London. The other way to acquire is to order a custom shoe from one of Louboutin's flagship stores. The secrecy makes sense because these are showstopping shoes and the effect is oh-so-much more potent when it's a grand reveal, versus social media saturation. I mean, I live by this philosophy: always make an entrance. Otherwise, it is a waste of an outfit and contour.
So let's talk shoes. There is a pair of brocade covered pumps with a block heel that are bold, yet comfortably chic. I love a block heel for bridalwear because of the weight of lehengas. The block heel just gives more support and makes walking a bit easier and one doesn't need to sacrifice height for logistics. I highly recommend it for South Asian brides.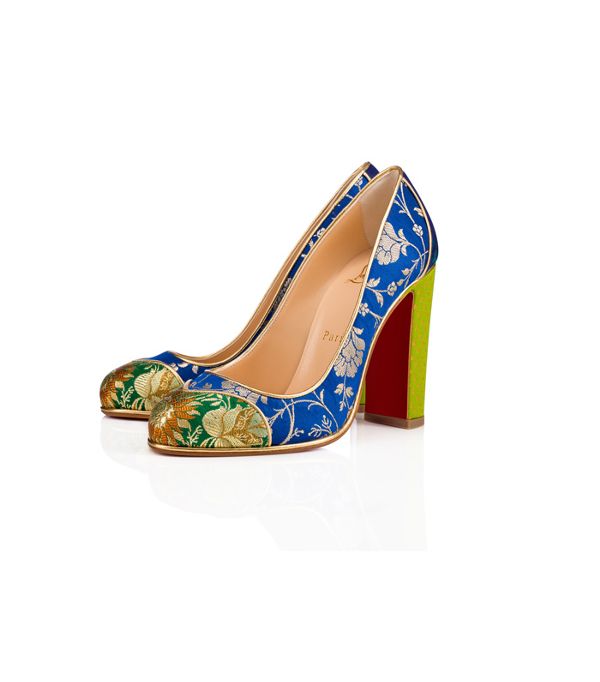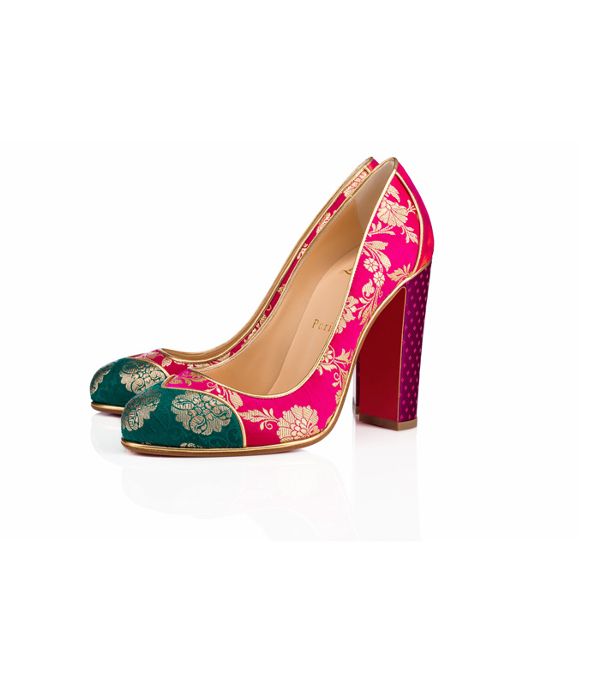 One of the accessories in the collection is called the Pouillon bag because it represents a pillow. It has exquisite beading, embroidery, and tassels, so it packs a punch. The key to desi dressing, in my book, is more is more is more, especially in bridal. When using that formula, this little clutch is beyond perfect to pair with an outfit for a mehendi or sangeet ceremony. And you will be able to use it for functions in the future as well. So it is a great investment piece. Plus think of the pictures.
Second on my list of favorites are these high zip up stilettos in a gold leather and fun pops of color done with textiles. Imagine wearing these shoes over a tight churi pant in raw silk and a gorgeous brocade kurti, with kundan jhumkas. Yes!  Twirl on the haters with that look. This type of shoe will elevate any outfit and make old outfits look brand new. You could also pair with a gold-sequined shift dress for a night on the town. See, this is how you know you have a good shoe. When you start envisioning multiple outfits in a range of fabulousness, then honey, that price tag is now justified.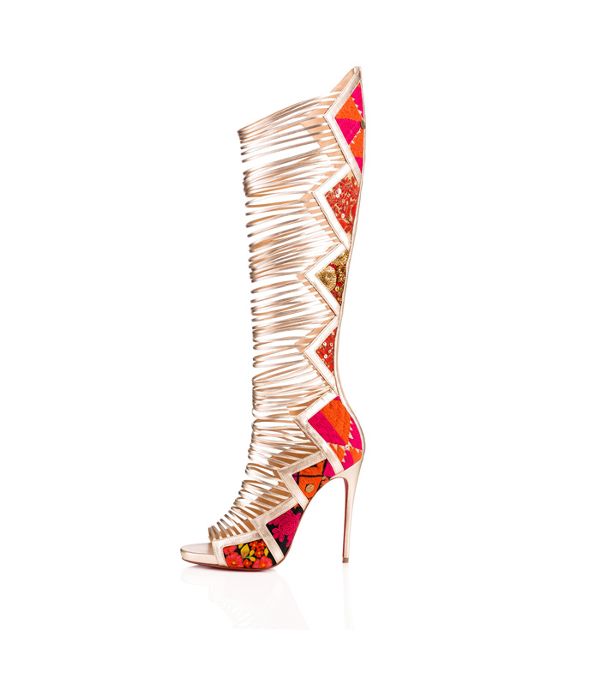 And finally, the piece de resistance: THE SNEAKERS! Listen, in the traditional bridal world of white gowns, brides have way more options of chic white sneakers to wear under their gown. Desi brides have only neon Nikes to choose from; I mean, no shade to those neon sneakers, I own a pair and love them, but it doesn't scream bridal. So when I saw these sneakers, they GAVE ME LIFE. I mean come on, this is what we have been waiting for. Now full disclosure: these might be the men's offerings, but who cares. No one can tell, especially if you rock them with confidence.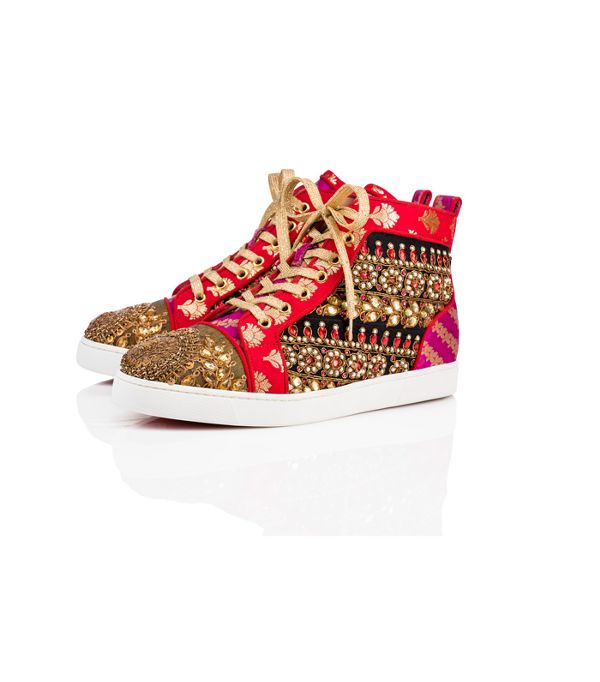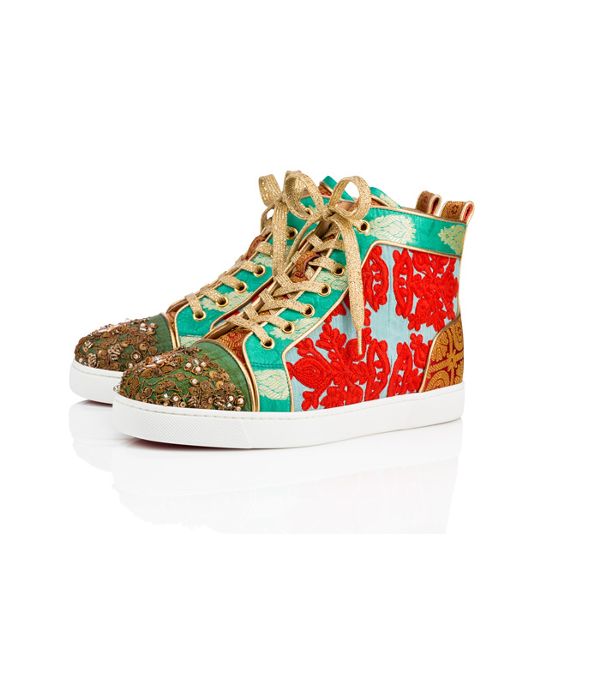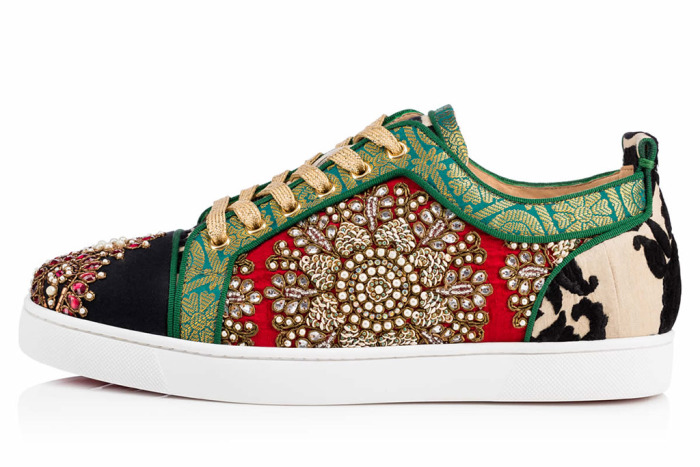 I find these fun and edgy and so unique. There is a perfect balance of sequins, textiles, and studs. Rocking these with some boyfriend jeans, a plain white tee, black leather jacket, and some hoop earrings will serve some Radha from the block vibes. Snaps snaps Louboutin and Sabyasachi, I see you.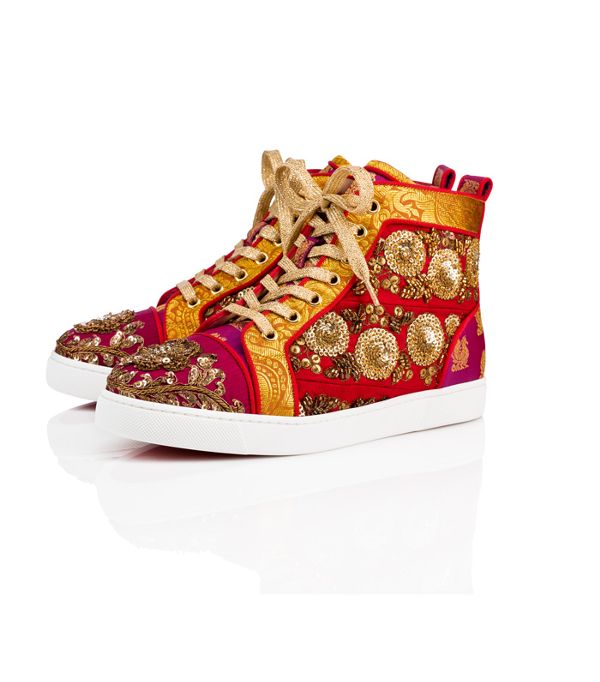 But there's definitely more where THOSE came from! Given that this is a seasonal collaboration, how can these luxe designers say no to fall footwear? SabyaXLouboutin loafers and booties, anyone?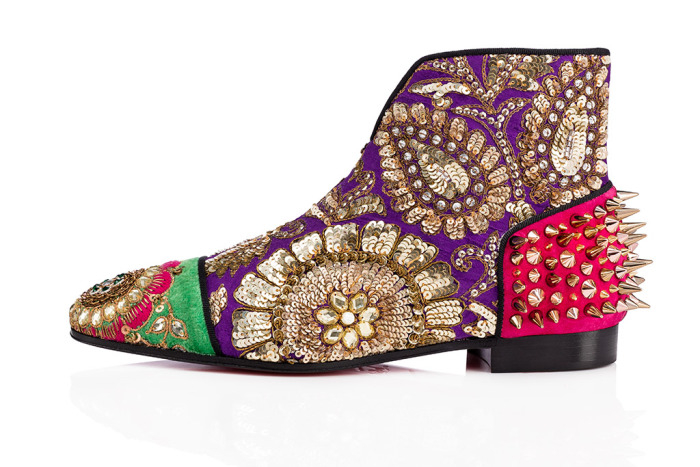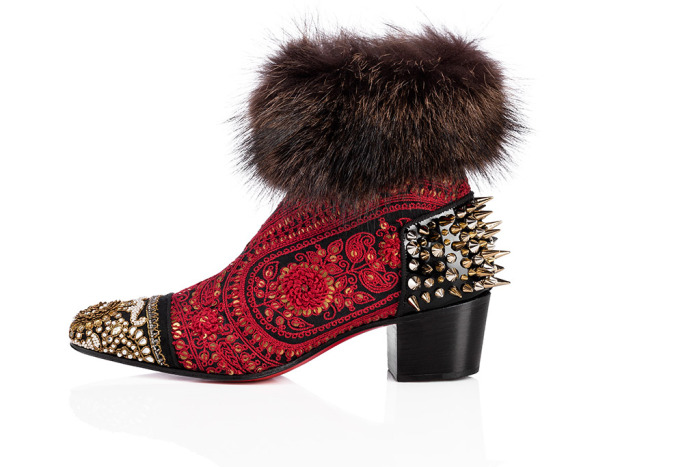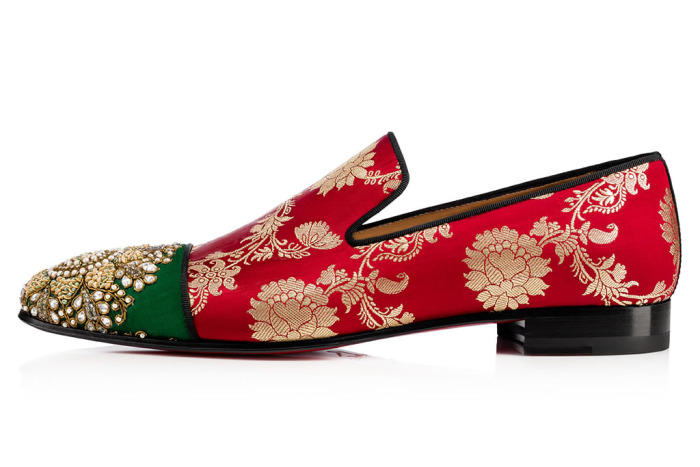 Overall, I give this collection a 4 out 5 stars.  This collection strays a bit from Sabyasachi's aesthetic and enters Louboutin's fun, eclectic world. Sabya is more elegant and balanced. He presents designs that are stunning in a more traditional sense; his palette is more jewel tones and antique work. Louboutin is more colorful and edgy; he is more flashy in many ways.
I know, it sounds strange describing an Indian designer as subtle and a French one loud, but c'est la vie. This collection is Sabyasachi through Louboutin's eyes so it is more playful, yet intrinsically desi. These pieces will be a pretty penny, so I suggest start saving now and carefully consider the longevity of them in your closet. They are an investment; however, for that special day, they are worth every penny.
All images in this post are courtesy footwearnews.com, unless otherwise noted.
[su_divider]
Liya Thachil is the co-founder of WESTxEAST, which is a retail brand aiming to provide South Asian inspired basics. It was created because of the need she and her co-founder, Tania Chackumkal, discovered for sari blouses, petticoats, kurtas and etc. They believe the silhouettes of the subcontinent should be more globally embraced. WxE aims to be a movement towards style beyond borders. Liya is an avid collector of vintage saris and believes all women should own at least one kanchipuram sari.