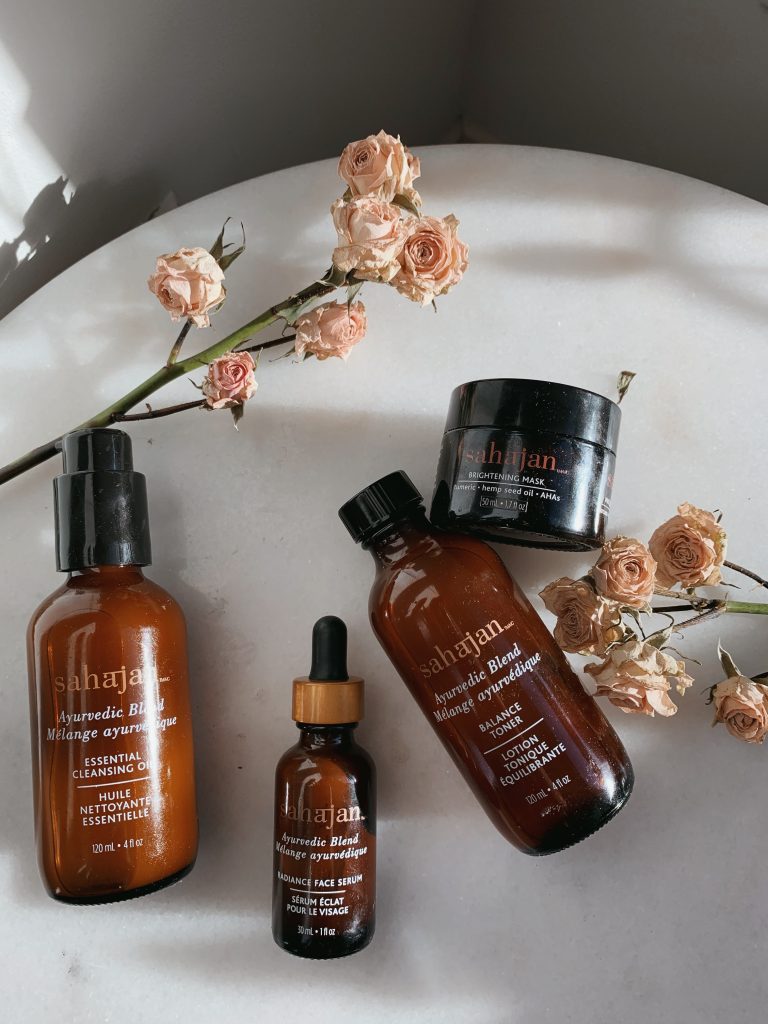 The following post is brought to you by Sahajan Skincare — high-performance skincare based on the Ancient Science of Ayurveda. Apply discount code 'BG15' for 15 percent off your order.
Founder and CEO of Sahajan Skincare Lisa Mattam came home one day to find her soon-to-be-three-year-old daughter, Julia, playing with her skincare products. Lisa's sahaja, her intuition, led her to immediately worry about the dangers these products posed to Julia's health.
Lisa's journey to Ayurveda came full circle when she proceeded to sit her daughter down in her room and explained to her which products were safe and which were not. Lisa's parenting, her concern for her daughter's health, brought her to the realization that the safest products were coincidentally the ones introduced to her as a child by her parents.
View this post on Instagram
Julia's adorable yet worrying exploration of Lisa's skincare products was the impetus for Sahjan Skincare because Lisa knew deep down we should all be using products that are closest to mother nature. Lisa intuitively knew this growing up, though her family never explicitly made it clear they were practicing Ayurveda.
"I don't think I knew the word [Ayurveda] when I was younger, " she says. Her family mainly exposed Lisa to Ayurveda by incorporating its principles into their kitchen "through the food [they] ate." She grew up as Ayurveda being "matter-of-fact."
View this post on Instagram

While interviewing Lisa, I learned Lisa's journey back to Ayurveda continued its cyclical path as Lisa returned to her family's place of origin, Kerala: "being the epicenter of Ayurveda in India." In Kerala, she was able to satisfy her "need to learn more" and expand upon what her family taught her about ayurvedic food-habits. In Kerala, she ultimately worked closely with doctors to develop the ayurvedic formulas for Sahajan Skincare products.
During the interview, Lisa explained historically to me why her family's home state Kerala is the epicenter of Ayurveda: Settler-colonialism aimed to exterminate Ayurveda which resulted in pushing it "underground." Specifically, Ayurveda moved to being more freely practiced in the south of the subcontinent, or rather, away from the center of the British empire. Kerala became a place where Ayurveda was able to thrive.
View this post on Instagram
More than just practice, Ayurveda is also a paradigm, and Lisa embodies this vision through her creation of these earth-based products. When asked which essential oil most closely captures Lisa's aura, she responds "Sandalwood." To Lisa, this oil is deep, warming, powerful, earthy, and grounding. Lisa grounds Sahajan Skincare in both modern-day pharmaceuticals science and the 5,000-year-old science that is Ayurveda. Her pharmaceutical background and years of experience in the industry allow her to do this.
Yet the wisdom of Ayurveda does not preclude the colorism deeply ingrained in our communities nor the racism deeply ingrained in our lives. From working with doctors based in Kerala to expanding her business across North America, Lisa has experienced both -isms. In fact, two years ago at a conference in San Francisco, a person candidly advised Lisa a piece of advice to search for a co-founder to essentially give the company a less-dark face.
"I was told to find a white co-founder to put it blatantly."
View this post on Instagram
Luckily, Lisa turned these negative experiences into a platform to have an amplified social impact facilitated by the fact that she believes "The beauty of skincare is that it is relatively universal." Lisa reminds us to "shake off" notions of colorism, unconscious bias, and "what beauty looks like." Sahajan Skincare is made for everyone, thus built on the premise that beauty looks like you.
When Lisa looks in the mirror, she sees her face. She sees her skin. She sees "the incredible map of [her] life." Sahajan Skincare represents the universal magic and science that keeps this map looking and feeling healthy.
Sahajan Skincare represents responsibility. While Lisa was delving into the depths of Ayurveda, the "concept of beauty being our responsibility really sat with [her]." The skincare line represents our internal responsibility to dually nourish our bodies by considering our inner glow and outer glow. Lisa grew up with Ayurveda primarily in her kitchen, nourishing her inner glow. Years later, Lisa began Sahajan Skincare to allow us to nurture our outer glow.
She says Sahajan Skincare "gives you the underlying nourishment of protection or [does] the underlying work."
View this post on Instagram
Lisa was pregnant with her second child the day she came home to see Julia mischievously playing with her skincare products. Luckily, this interaction ensured Lisa was able to envision and realize Sahajan Skincare, which will ensure future generations can have the perfect blend of nature and science not only in their hands but on their faces.