by Sneha Goud – Follow @Sneha_Goud
Among the latest generation of westernized, urban Indians, arranged marriages seem outdated and irrelevant. However, Harish Vyas's latest film "In English We Say," playing on Friday, December 15 at 7:30 PM on the third night of the South Asian International Film Festival, manages to use a father's attempt to arrange his daughter's marriage without her consent as the catalyst to a modern, fresh story about love, fidelity, and change.
Yashwant, a middle-aged postal worker, has always felt he fulfills the duties of his twenty-four-year long marriage. He earns the money and his wife takes care of the home. It takes his rebellious daughter Preeti to show him the toll his emotional neglect has taken on his long-suffering wife.
It may be difficult to watch early scenes of Yashwant's callous behavior toward his wife. The audience will cringe as they compare Yashwant's behavior to their parents or grandparents marriages. Fortunately, after Yashwant's wife leaves him, Preeti and his new son-in-law help teach him how important showing love is to his estranged wife.
A particularly poignant line from a minor character has stuck with me. Though he had a "love marriage" he differentiates between love before marriage and love after marriage. Any marriage can begin with love, but it takes work to keep that love within the challenges of marriage.
"In English We Say" is helped tremendously by Sanjay Mishra's performance as the old-fashioned husband Yashwant. Yashwant's casual cruelty towards his wife could easily make his character easy to hate but Mishra subtly shows the audience the motivations behind his actions. After working hard his whole life to provide for his family, he has not achieved the material success modern India has allowed others in his social circle. We see he takes out his frustrations on his wife because he knows she loves him unconditionally even if he won't admit it.
The film consists of some silly moments and characters that don't quite fit the narrative. Cutting the slapstick humor and focusing more on the characters that have influenced the family's dynamic would make a more cohesive storyline. The short glimpses we see of Banaras are striking and some more shots of the city's ancient beauty would have made a nice backdrop for the dramatic scenes.
However, the world premiere of the film is an excellent addition to the lineup at the 14th annual South Asian International Film Festival. The combination of the old and new world lessons are timeless and appeal to any age group. Vyas has created a film that can teach anyone that despite how difficult learning to love is, the joy it brings is always worth it.
Purchase a ticket to films playing at SAIFF this weekend (December 15-17) HERE. Use discount code BG25 for 25% off ticket prices.
---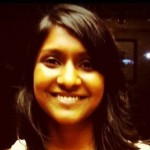 Sneha Goud recently graduated from NYU with an MA in public administration. Follow her on Twitter @sneha_goud for her thoughts on reality television, feminism, and all things South Asian.