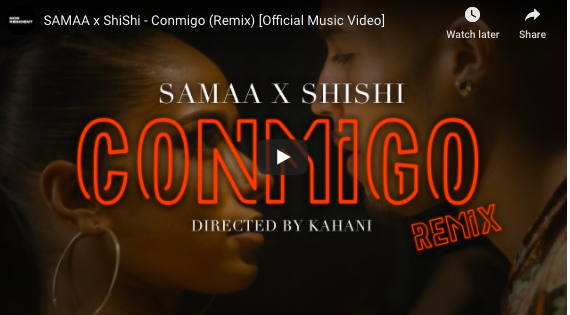 SAMAA, the five-man Hindi-English music group based in New York City, with roots in a cappella singing, emerged in 2016 as one of the world's most recognizable YouTube creators. Debuting with internationally viral pop mashup and collaborations with artists such as Samica, Shobhit Banwait, and Lisa Mishra, SAMAA saw their initial popularity rise by creating cover music fusing Bollywood, English Pop, and Latinx elements to build a unique cover sound.
After the 2018 release and commercial success of "Signs," an original composition featuring Punjabi sensation Pav Dharia, SAMAA entered a 2-year sabbatical from creating cover music to building a repertoire of genre-defining original arrangements. Beginning with "Pariyon Ki Rani" in January 2020, SAMAA set the precedent of prioritizing music blending global influences.
This summer, SAMAA brought together three brand new releases along with one remix featuring ShiShi, a New York-based producer and DJ who specializes in global fusion and baile funk. Their current release, "Conmigo Remix," featuring ShiShi, is described to have a Latin beat with Spanish, Hindi, and English tracks, making it the perfect summer track.
And don't miss their other great quarantine releases, including "Gumshuda," "Woman Like You," "Anjaani Remix" and a mashup cover of Billie Eilish's "I Love You" mixed with "Humari Adhuri Kahani."
If you want to join in on the "Conmigo Remix" fun, SAMAA has released a "Quarantine Dance Challenge" across TikTok and IG during these uncertain and isolating times — encouraging people to try the simple dance steps, tag @samaamusic and use #ConmigoRemix to be a part of the music!
These up-and-coming summer singles are all about showcasing pop electronic and acoustic elements spanning the English, Hindi, and Spanish languages. From Latinx and Hindi dance tracks to heartfelt Bollywood ballads, SAMAA is clearly showing off a breadth of musical mastery to capture its audience's emotions across many cultures and continents.