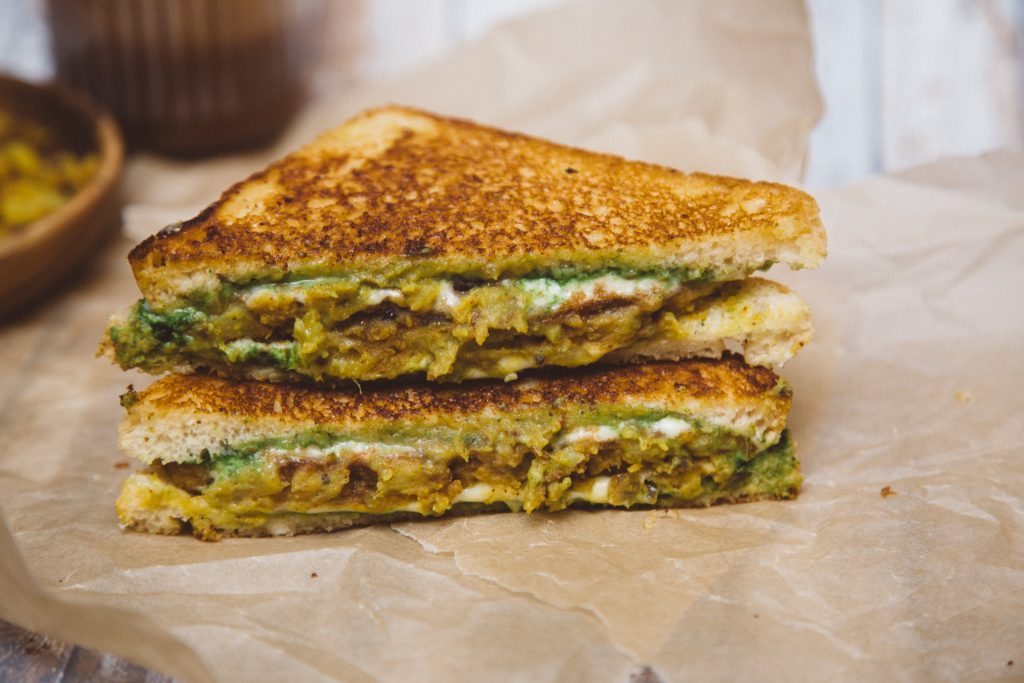 by Palak Patel
Ok. Let me start by saying that if you have to pick just ONE recipe to make from this little blog of mine, you want it to be this one. The potato filling inside of this sandwich isn't technically the same one I use to stuff samosas, but in my house, we still refer to this as the "samosa grilled cheese."
Generally, I don't care for potatoes (except buttery cheese loaded mashed potatoes) but I swear I could eat a dozen of these! It's got spicy and sweet chutneys, Amul sliced cheese and I swipe a little mayo on the outside of the bread before laying it down in the skillet (the trick to a perfectly golden crust).
I always keep a cilantro chutney and a tamarind-date chutney in the fridge or freezer but if you don't have a "go-to" family recipe for either, you can buy a ready-made version from an Indian grocery store. I find the best ones to be in the frozen section versus on the shelf. I do have the recipe for my mom's chutneys which are absolutely amazing and I promise I will share those soon so stay tuned!
I did include a quick recipe for the sweet chutney if you want to make something homemade. It's a version my mom would always make when we ran out of the "from scratch" stuff.
Serve these grilled cheese sandwiches nice and hot with a little extra chutney on the side of dippin'!
Happy Eating!!
Samosa Grilled Cheese
INGREDIENTS
2 tbsp oil
1/2 tsp mustard seeds
1 tsp cumin seeds
Few dashes Asofeteida (hing powder)
1 garlic clove, grated
2 teaspoons coriander-cumin powder
1/2 tsp chili powder
1 tsp garam masala powder
1 small onion, finely diced
3 potatoes, peeled boiled and diced
Salt to taste
Sliced Bread
Sliced American Cheese (I use Amul sliced cheese)
Tamarind—Date Chutney
Cilantro Chutney
Quick Sweet Chutney
1/2 cup Apple butter
1 teaspoon coriander cumin powder
1 teaspoon chili powder
6 tbsp water
Salt
INSTRUCTIONS
Potato Mixture:
In a non-stick skillet, add oil.
Once the oil is hot add mustard seeds, cumin seeds, hing and let crackle.
Add diced onions and cook until onions are translucent.
Add garlic, turmeric powder, chili powder, coriander-cumin powder, garam masala powder and mix well.
Add potatoes, salt to taste, and continue to stir and combine all ingredients.
Using the back of a spoon or a potato masher, smash the potatoes gently and continue to stir. (I like to keep it a half smashed kind of consistency).
Remove from heat.
Assembly:
Heat a skillet over medium heat and add a little bit of butter to the pan.
Lay two slices of bread down on the pan and spread both slices with cilantro chutney.
Add a slice of cheese on top of the chutney on just one of the bread slices and top it off with a few spoonfuls of the potato mixture.
Top the potato mixture with a few spoonfuls of the sweet chutney and top with another slice of cheese.
Using a spatula flip the remaining slice of bread on top and toast both sides of the bread until golden and cheese has melted.
Remove from heat, slice and enjoy!
---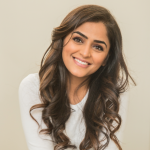 Palak Patel is a passionate home cook and food blogger who has an affinity towards creating dishes that provide a fresh and modern take on the familiar flavors of Indian cooking. Her belief that food can empower us, heal us, and most importantly connect us, is the driving force behind her blog. She especially loves sharing recipes that incorporate global flavors with locally sourced and seasonal ingredients.