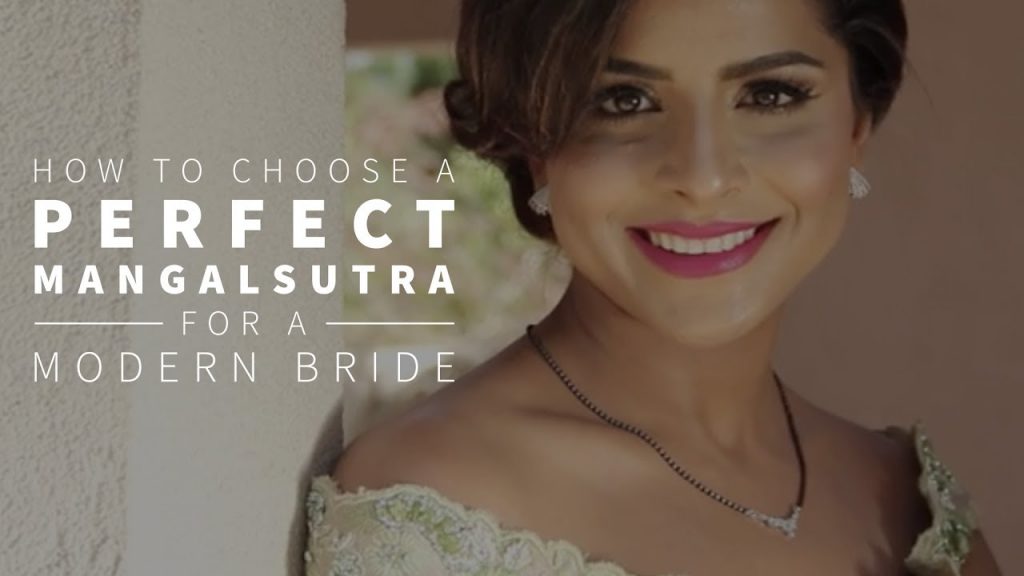 This post is brought to you by our newest sponsor Sampat Jewelers—a modern-day Indian jeweler, specializing in contemporary diamond mangalsutras. All images, and the video, in this post, are created by Darshana Shetty(model), Vama Designs (outfit), Glam Angélique (MUAH), Ashish A. Kharat (direction and video production), and Sampat Jewellers (fine jewelry). Take 10% off your first purchase using promo code BrownGirl. http://ow.ly/Cix930egwfr
There comes a time in every bride's life when she has to pick her bridal trousseau and matching jewelry. You carefully choose the perfect matching pieces for your outfits, knowing that these will be near and dear to you for the rest of the life; you'll keep these jewels forever, or maybe have them polished and pass them on to your daughter for her big day. Whatever the case may be, these jewels are special.
But it's not just those that you wear on your big day that matter. How about that one piece that's gifted to you by your husband, the one that you're supposed to wear for the rest of your life to mark your married journey—the mangalsutra.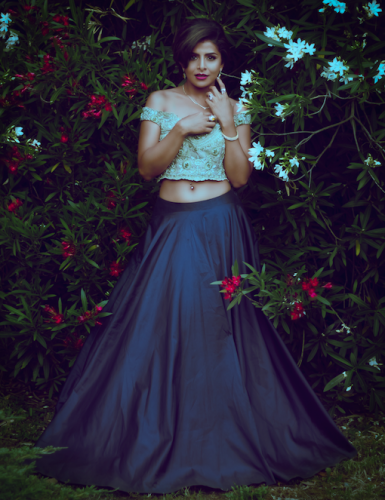 The ritual of adorning the bride with her mangalsutra is deeply rooted in the traditions of the Hindu wedding ceremony. But as time passes, modern-day brides may feel that the mangalsutra doesn't do justice to their day-to-day style. The traditional black beads may look archaic, and not something that they want to sport on a daily basis.
This is when modern-day jeweler Sampat Jewelers comes to the rescue. Founded in 1977 by Sudhir Sampat, Sampat Jewelers provides unlimited choices of diamond mangalsutra designs to the modern-day bride. All their pieces are handmade at their studio in Mumbai, India.  The artisans are originally from West Bengal, where the art of jewelry making has been perfected for several centuries.
Checkout this exclusive video on how to choose a perfect mangalsutra. The video will help you sport your ethnic piece with confidence and panache.
In the meantime, while in conversation with Jinal Sampat from the company, she gave us some background on the mangalsutra, how she proposed the idea of the modern mangalsutra, and where she sees it stand in the coming years.
How did you come up with the idea of the modern-day mangalsutra?
I personally never wore my own mangalsutra after I got married because the design and the black beads were too traditional to wear everyday.

There is so much importance given to the engagement ring but not so much to the mangalsutra. Brides don't have many interesting and unique mangalsutra designs to choose from.

I caught telling myself, "I wish I had a mangalsutra that was more versatile and stylish, a piece I could wear more often."

I proposed the idea of a modern mangalsutra to one of my clients. She loved it and I began sketching and designing an ideal piece that fit her style and personality.

The final piece turned out to be stunning and started to go viral on Pinterest.  I quickly realized this was not just my pain point. Many brides were looking for sophisticated, simple and modern designs.

Women today have a  modern lifestyle and I feel mangalsutra designs need to evolve with time as well.
So, how has the mangalsutra evolved over the years?
In the recent decades, the mangalsutra has evolved from it's traditional roots. It's no longer simply a mandatory ornament for a Hindu bride but also a strong fashion statement piece. The design of the pendant has seen the most evolution in terms of metal and precious stones like diamonds and natural gemstones.

Indian women in western cultures are less interested in wearing heavier or bigger mangalsutras and prefer simple designs instead. They don't want to look out of place by wearing a very traditional piece.
Do you feel that this piece/tradition will ever phase out of the Hindu wedding ceremony?
I personally think that a Hindu wedding is incomplete without a mangalsutra.

There is an entire ceremony where the groom ties the mangalsutra around the bride's neck and puts red sindoor powder on her forehead. In many ways, this ceremony is the "grande finale" of a Hindu wedding and symbolizes the unification of the bride and groom.

This makes the mangalsutra an essential piece in a wedding and I don't think it will ever phase out from our culture.
Do you feel modern-day brides still sport the mangalsutra on a day-to-day basis?
Although there is a lot of excitement while choosing the right mangalsutra, I don't see modern day brides wear it after the wedding is over, and the reason is simple.

As much as brides want to wear their mangalsutra, current designs are too traditional and don't go well with western outfits such as jeans or dresses.

My goal is to preserve our Indian culture by designing mangalsutras that speak to the modern bride.

When I'm designing a mangalsutra, I'm designing a piece that will empower the bride and take her to the next level in any capacity. I want her jewelry to give her the right opportunities.

After all, the mangalsutra is the one of the most important jewelry pieces for the Indian bride and she must flaunt it with style and confidence.