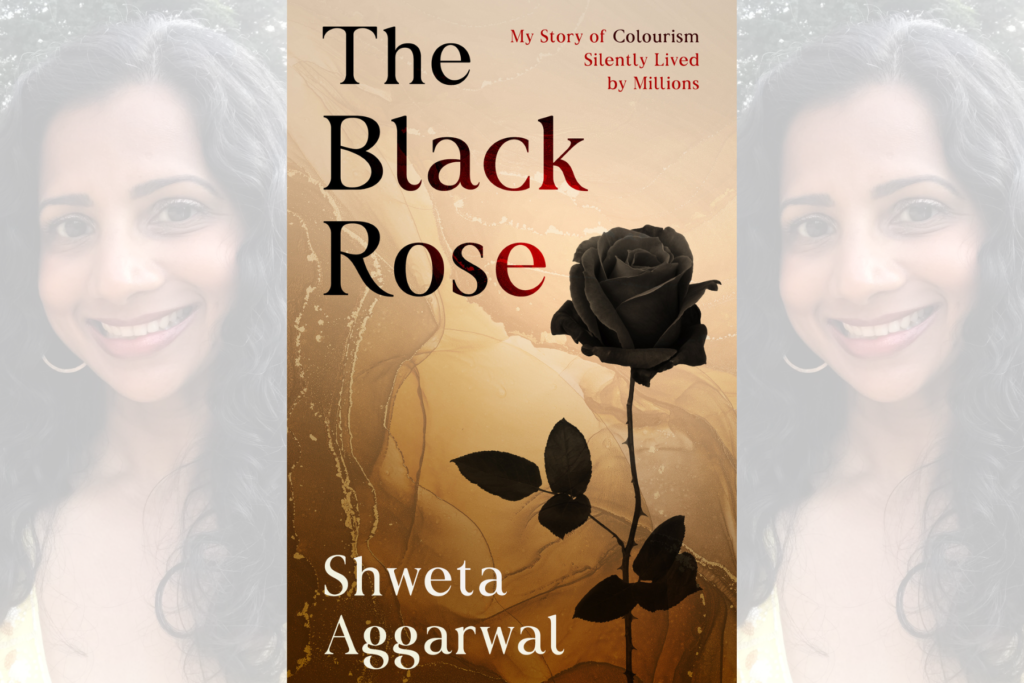 I was a mere 14-year old on the fateful night of 22 April 1993. The night that witnessed black teenager Stephen Lawrence brutally murdered in a racially motivated attack as he waited for a bus. The night that cemented my fear, that the colour of my skin does matter. The same night that confirmed my indifference as a British Asian in the United Kingdom — were we really united? Fast forward to May 25 2020, the murder of African-American George Floyd by a white policeman was the turning point for British Asian author and my lovely friend, Shweta Aggarwal to finally break her silence and narrate her story of colourism, in her new book, "The Black Rose." 
Aggarwal's gripping memoir emits so many emotions; that of an awakening, a voice that has been suppressed for years, filled with anger, mistrust and guilt. But most importantly, "The Black Rose" successfully disrupts the narrative that consistently allows society to box someone as indifferent based on a visibility factor. For Shweta, this factor was the colour of her skin. The injustices she consistently endured via some family members and fellow South Asian peers throughout her life, was as a result of her skin tone failing to qualify as 'acceptable', or as she often quotes in her book, not ranking high enough on the 'fairometer.' Whether she was in India, Japan or London, the scale was never too far behind. 
Within the first chapter, she recalls as a child in India, the distinct lack of subtlety displayed by certain family members through direct taunts of her duskier appearance in comparison to her parents. She realised that she wasn't in complete isolation from this prejudice, as her maternal aunt and uncle were also harshly nicknamed on the basis of their skin colour — Kaali (black) and Savla (wheatish). Aggarwal was left mortified by what many South Asians sadly still continue to casually exercise. Echoing similar incidents within my social proximity, it's infuriating witnessing the recipients of such remarks surrender to laughing at themselves too. 
Except it isn't funny. Born into a culture where conversations on religion, caste and hierarchy in India are still so prominent, the comparison of Aggarwal's skin colour being as dark as that of the domestic help (often from poorer families), prematurely planted seeds in her mind that she simply didn't belong with her family, especially  when she was sent to boarding school. Her lack of self-worth coupled with these taunts, gave her a whole new vocabulary for the letter B, that grew in parallel with the ongoing prejudice and anxiety. B for blackie, beggar's child, bedwetter! Not funny, but derogatory. Post her book launch that Brown Girl Magazine attended, she tells me,
I personally feel we are way behind when it comes to understanding the importance of mental health. Name-calling was normalised and if you objected, you were ridiculed further with remarks such as 'So sensitive! Can't you take a joke?' Body and colour shaming can lead to a feeling of inadequacy in the victim, which can further lead to depression and much worse mental illnesses.
View this post on Instagram
During the 1984 Hindu Sikh riots in India, where over 3000 Sikhs lost their lives, Aggarwal recollects the frightening moment when she and her classmates fled into hiding to escape the violence during a school trip. As a means to save all the students from harm, the Sikh boys were forced to remove their turbans and long hair — their visible identities stripped to keep them alive. Yet, ironically, even in this horrifying situation, Aggarwal felt least at risk, attributing this self-assurance to her darker appearance. 
The crux of her self-loathe was the love-hate relationship she formed with skin whitening creams. The birth of Fair and Lovely, India's most renown brand (now known as Glow and Lovely following a backlash) was notorious for selling the damaging message that fairer skin equated to a happier and fulfilling life. For it was fairer skin women that would qualify for marriage — clearly their only sole purpose! 
Tactfully using famous fair-skinned Bollywood actresses in television ads and posters, their so-called perfection would scream out to vulnerable young girls. (Men were targeted much later on, but the importance seemed less). Akin to the wretched beach body posters plastered on every corner in January — because apparently bikinis only look good on a certain body type —  the damaging message remains the same. Social acceptance comes at a cost, and that cost is to look a certain way. 
It's an extension of the dated methods imposed on women from the womb, where mothers are lectured on drinking milk with saffron to ensure the baby is fair, traditional matrimonial sites asking women to specify skin colour, and women being told to stay out of the sun. These socially ingrained views are eventually developed into modern day methods in the form of cleverly marketed consumables. Aggarwal admits, 
Most people only use the cream on their face just as I did. At that time, I didn't even think about the rest of the body. I felt that if the face becomes fairer, that will be enough for acceptance. My mum noticed the difference for sure and I was lighter by the time I met my husband, Amit. I must admit the addiction is a combination of three factors: the justification in your own head, the strong marketing message that ONLY fair is beautiful, and the 'compliments' from those around you. 
I admired Shweta's honesty on admitting what essentially was a dangerous obsession that she remained faithful to throughout her teenage and adult life. A ritual that, whilst prompted gradual results in her appearance, was never going to eliminate the insecurities she felt within herself. Moments of joy with her husband and children on holidays abroad, would be broken up by the need to 'fix' any damage the sun may have inflicted i.e. reverse her tan. The booming tanning industry in U.K., her now home, and admiration of her 'sun-kissed' look by Brits initially surprised Aggarwal — as if her colour had now gained acceptance. 
But who are we seeking acceptance from? A society that is still deep rooted in patriarchy forcing women even now to adhere to dated rites of passage that holds no relevance? Or a society that seeks to point out one's indifference because of how they look — their skin, their religious attire, their weight? Or a society that passes judgement on a woman's self-worth, and continues to abuse that same woman behind closed doors under the eyes of Goddess Kali? Aggarwarl goes on to explain,
The more damaging perceptions of colourism, are that 'fair is rich', 'fair is successful' and 'fair is better educated'. Essentially, 'fair is supreme' in every sense. And if that's the case, where does that leave dark-skinned people? In Ukraine, for example black and brown people were discriminated against and  not given a fair chance to save their lives. Is it fair to be denied a basic human right — survival — based on your colour? 
View this post on Instagram
I personally was curious to know from my family what the definition of prejudice in the Hindi vocabulary is and how it is/was applied to in India. "Pakshappat" (taking sides) or "poorva dhaarna", were the closest pure Hindi definitions known to my cousin, yet rarely used. However, my dad stated that "hum bedh bhau nahin hai" was the common term used to state amongst family and friends when someone was not biased and believed in equality. Somehow, colourism never really came under that category. A sentiment echoed by some of my Chinese and black friends . Even in parts of China and Africa, the belief that darker skin is perceived as inferior, is accredited to stereotyping certain groups of people as manual labourers working under the sun, and therefore of a lower class or caste. Does Shweta believe we can change this attitude?  
A couple of my aunts are still reluctant to help me with my mission. One even said 'it's pointless fighting it', while one said, 'everyone has the right to define beauty for themselves and being fairer is what beauty is for some.' The problem with this is that people then start to look down on people who aren't. Colourism, casteism and classism divide people, creating more unrest in society. If we continue to aspire to be fairer, we're still encouraging white skin privilege, and encouraging colonial values. The more we allow ourselves to succumb to these social constructs, the more enslaved we feel internally. Melanin is crucial for protecting our skin against the harmful radiation of the sun. Feel blessed that you have it and wear it with pride! 
I wonder how we can dare to walk shoulder to shoulder with our black friends in the Black Lives Matter movement, if we refuse to face up to our own biases against colour? We seek equality in the U.K., but deny our deep-rooted prejudice, whilst a white privileged man lectures the world on the difference between racism and unconscious bias (yes Prince Harry, I'm looking at you!). "The Black Rose" has paved a way for many more voices to speak out against the damaging impact of colourism, and in my view, rightly belongs under the definition of prejudice in the collective South Asian vocabulary.
"The Black Rose" is available to purchase on Amazon.
Photo Courtesy: Shweta Aggarwal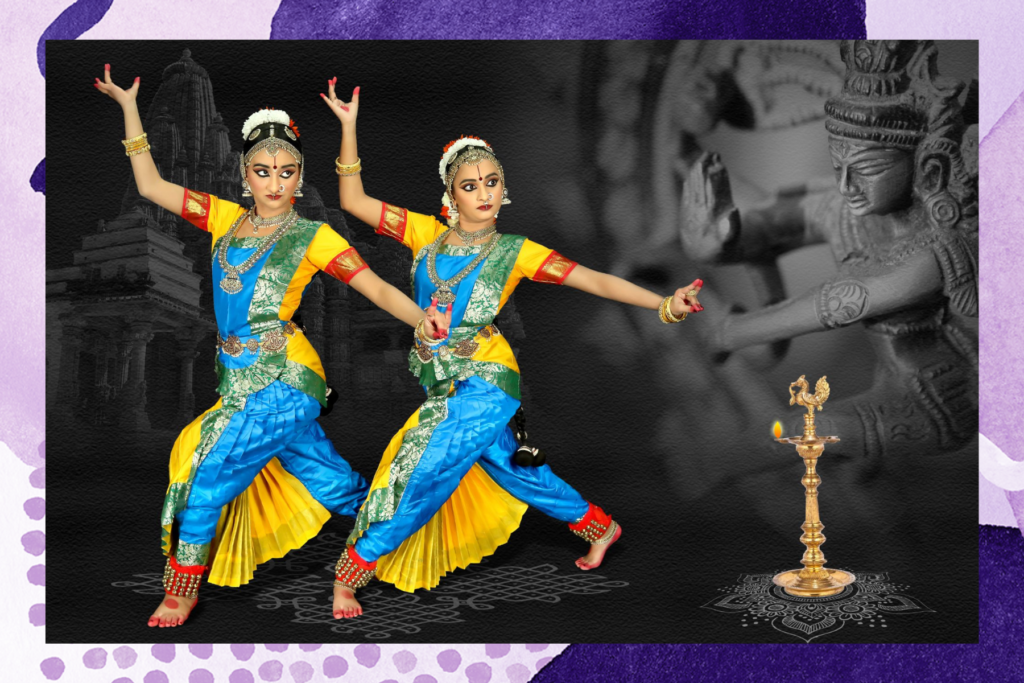 What is Bharatanatyam?
Bharatanatyam is a traditional Indian dance form and the oldest classical dance tradition in India. Bharatanatyam, originally a dance performed by women in temples of Tamil Nadu, is often used to convey Hindu religious tales and devotions. It is taught by a teacher known as a guru. The dance costume resembles that of a South Indian bride and the dancer wears anklets, called ghungroos, to keep the rhythm while dancing to the music. While Bharatanatyam is still taught all over the world in the traditional way, the styles of teaching have changed over the years. For the last six years, my sister and I have been taught modernized styles of Bharatnatyam in the USA.
View this post on Instagram
What is an Arangetram?
An Arangetram lasts approximately three hours and has nine, or in our case 10, dances in total. It begins with an introduction dance called a Mallari or Pushpanjali following the guru's nattuvangam (rhythm kept using symbols). In the middle of the program is a Varnam — a centerpiece dance that lasts about 30 to 40 minutes. This dance tests the dancer's endurance as well as their storytelling ability. The performance is concluded with a Thillana which is seen as the last glimpse into the dancer's full capacity. The Thillana is followed by a Mangalam, the closing dance of the Arangetram.
Preparing for the Performance
My sister and I began learning Bharatanatyam in 2016 when we were nine years old. Despite our instant attachment to the art form, we were always daunted by the idea of having an Arangetram of our own. It would be challenging, mainly because we are twins, and our performance would have to be suitable for two people to perform side by side. We began preparing for this event in the summer of 2021. Our guru would make us run for the first half hour of class to build our stamina — much-needed for a three-hour repertoire. We would spend the next two and a half hours learning our repertoire. The first dance we learned together during this time was our Varnam. Learning this dance took a month and we spent a lot of time memorizing it. Our Varnam was dedicated to Lord Krishna, one of the many Hindu gods, known for his charm, wit, and being a master Guru whose philosophies were immortalized through the Gita — the Hindu Holy scripture.
An Arangetram is the on-stage debut of a traditional Bharatanatyam dancer following years of training and discipline under the able guidance of a guru. This is a milestone for young artists as it opens up the opportunity for solo performances, choreographing individual pieces, and instructing other dancers.
By January, we had learned our entire repertoire and were starting to memorize it while adding expressions, poses, and building up our stamina, making them look effortless. Some dances were more difficult to memorize than others, particularly dances that were story-based. Because most Bharatanatyam dance music is in either Sanskrit or Tamil so we couldn't understand the lyrics right away. Our guru helped us interpret the stories before teaching us the choreography making them easier to commit to memory. We also had help from our mother who listened to all our songs and gave us keywords that corresponded with our dance moves. Listening to dance music on the way to school, dance, or while getting ready for bed, became a part of our daily routine as it helped us internalize the rhythms.
Although a year seems like a long time to prepare for an event, the day of the Arangetram came before we knew it. The morning started off with family and friends coming to our house to help us transport decorations and essentials we would need backstage. We arrived at our venue — the Balaji temple in Bridgewater, New Jersey — and made our way to the green rooms. Our makeup artists assisted us with hair and makeup, which lasted four hours. During this time we were going through the dances in our heads and mentally preparing for the performance to come. Once we were dressed in costume, we headed for the stage pooja, a prayer session on the Arangetram stage with close friends and family, to invoke a successful performance. This was also the time when jitters started kicking in. It had just occurred to us that the performance we'd been preparing for our entire dance careers was about to happen and this was the only chance we had to show the audience our very best.
A person can only have one Arangetram in their lifetime, and this huge milestone comes with pressure given how special the performance is.
As the masters of ceremony were introducing our first number all I could do was stare at my sister standing in the other wing, and I knew we had the same thoughts going through our minds.
Delivering the Dance
As we began dancing I felt almost a sense of relief because of how well we knew the dance. Every single dance was so ingrained in our muscle memory that it felt like second nature even in front of such a large audience. During the repertoire, we had two costume changes, with three costumes in total. Each costume change took 15 minutes while the audience was learning about SAMHAJ or listening to speeches from our friends and family. Backstage, our makeup artists and backstage moms were busy helping us change our costumes and jewelry, adjusting them to make sure nothing would move while dancing. We also had some of our fellow dance girls backstage giving us water and fruit as well as tightening our ghungroos so they wouldn't fall off on stage.
Our Varnam was a huge success, resulting in a standing ovation from the audience. After the Varnam, we performed a slower dance called Ramabajanam, telling all the stories about Lord Ram, another Hindu god known for his chivalry and virtue. We decided to dedicate this dance to our parents since it was always their favorite to watch and listen to. My mom was heavily involved in helping us memorize this dance by telling us the stories so we wouldn't forget the choreography. Right before the last dance, we acknowledged all of the people who helped us backstage and were presented with our graduation certificates. In order to give the audience a peek at the effort that went into the performance they were watching, we shared our experience with the audience as well as our guru's message during this time. Our last dance surprised the audience, as our mother joined us on stage and danced with us. She always dreamt of being a dancer as a child but was never able to learn. Sharing one dance meant a lot to us, and watching it was very entertaining for the audience as well. After all the dances were over, all our guests proceeded to the banquet hall for dinner where we were able to greet all our guests and thank them for coming. When the night ended we were exhausted but still full of adrenaline.
View this post on Instagram

Even though the tension that had built-up in my head over the last few months had now subsided, I was somewhat disappointed that the process had come to an end. I wouldn't exactly call my Arangetram journey perfect or effortless, but I grew so much this past year as a dancer and as well as a person. The lessons I learned from dance about hard work and resilience will carry on with me for the rest of my life and for that I am forever grateful. The event itself brought so many people together such as my aunt and cousin, who came all the way from India to attend, as well as so many relatives that we hadn't seen in years. Grandparents, as well as young children all gathered in the audience to watch a display of their culture, or for some audience members, learn a new one. Not only did we spread awareness for this beautiful art form, but we also raised awareness on mental health amongst South Asians — an issue we're passionate about.
Along with our guru, we decided to leverage this event to create awareness for mental health amongst South Asians in the United States. We decided to advocate for SAMHAJ, a charity that provides education and support for South Asians affected by serious mental illnesses. In order to educate people about mental health, SAMHAJ offers workshops to social service organizations, schools, and mental health professionals as well as provides culturally competent mental health services by creating bilingual support groups. You can donate to SAMHAJ via this link.
Overall, this process has been immensely gratifying and I simply cannot wait to see what the future has in store for me with Bharatanatyam.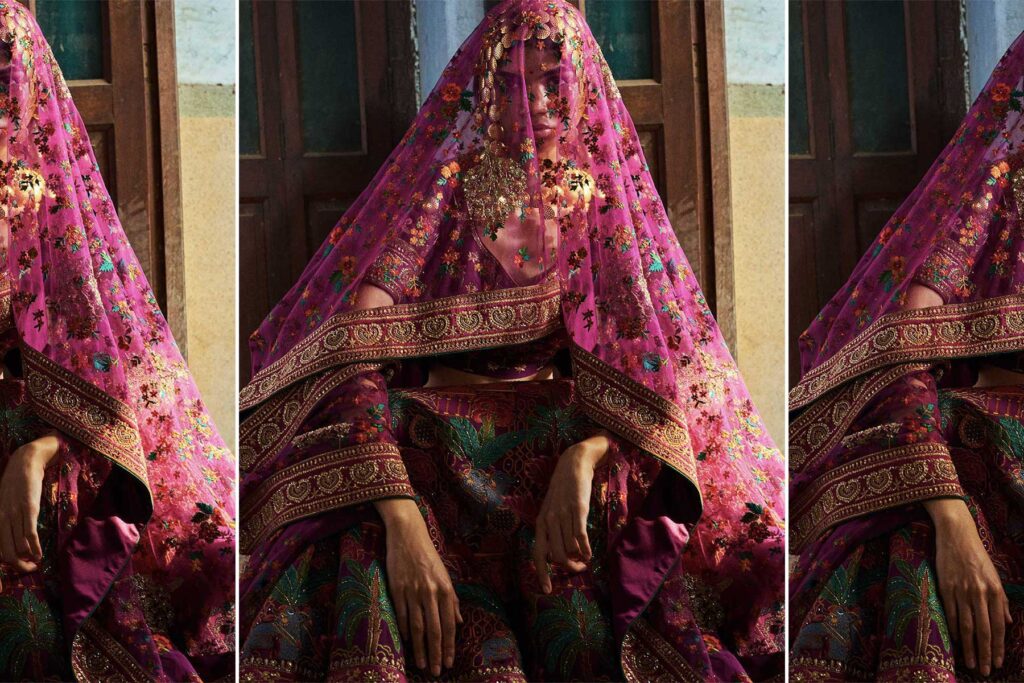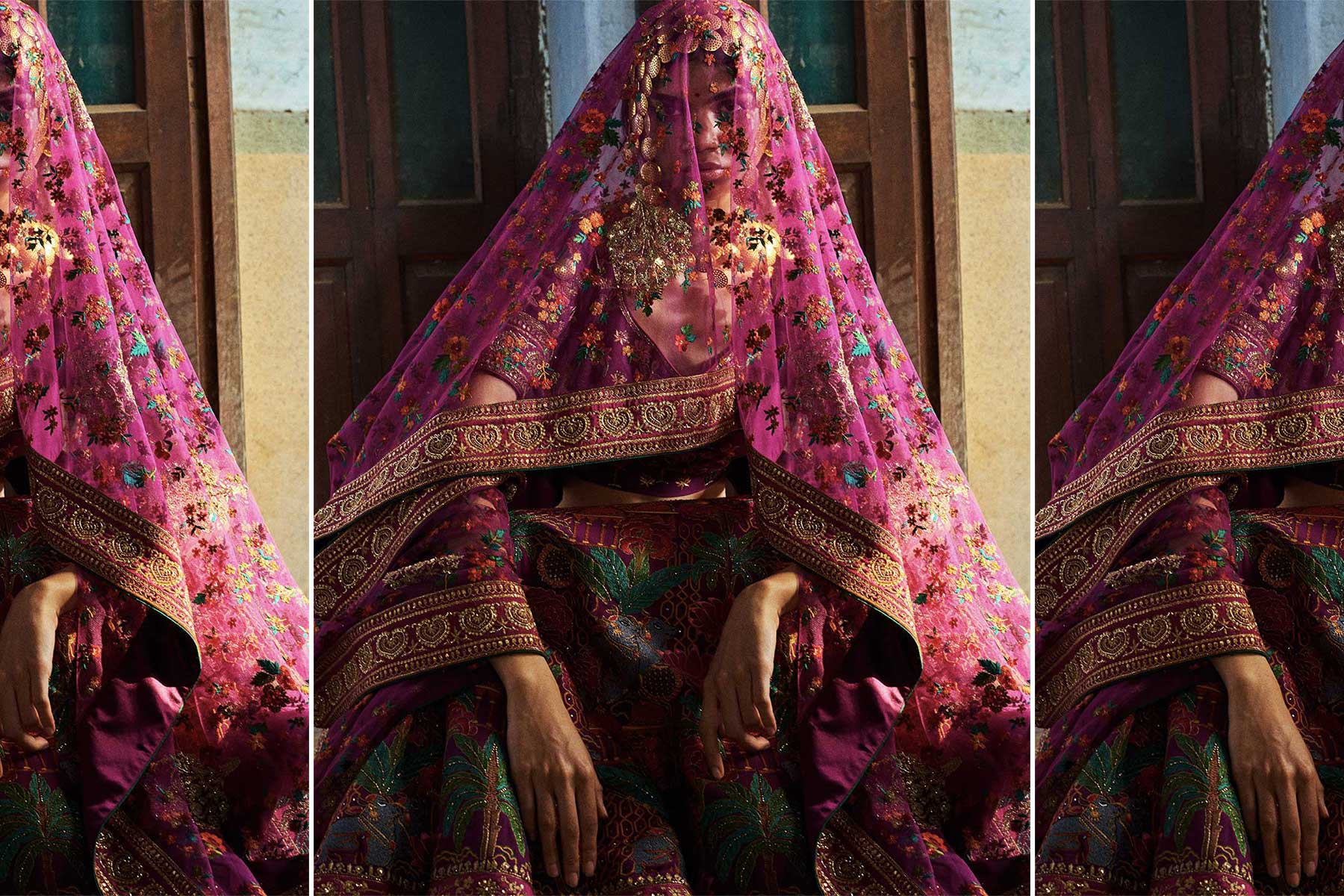 The results are in — the Pantone Color for 2023 is here — and it looks like Viva Magenta will be ruling runways, the streets, and (even) your wardrobes.
Viva Magenta is a deep shade of red, and Pantone describes it:
Brave and fearless.
It's meant to be celebratory, and joyous, and encourage experimentation. If you were thinking of toning it down a notch with your wardrobe in 2023, it's time to think again. It can really be your time to shine in something bright and colorful!
View this post on Instagram
But, for anyone who's used to wearing neutrals, Viva Magenta can be daunting.
How do you incorporate this vibrant hue into your everyday looks?
Where can you find just the right pieces?
How do you rock the color without going overboard?
Well, popular South Asian designers and maestros of color are here to answer all your questions.
Aprajit Toor, Arpita Mehta, and Rahul Khanna break it down for you — what to wear, how to pair, and everything in between. Their takes on the Pantone Color for 2023 are simple but they'll help you make a bold statement anywhere you go!
Take a look at what they have to say.
Rahul Khanna of Rohit Gandhi + Rahul Khanna:
Viva Magenta is a color that suits all skin tones. It's a color for all occasions; women and men can both wear this color with [the] right styling. Cocktail saris, jumpsuits, and reception gowns are some great options for women whereas, for men, the color has started picking up a lot lately. Men have started experimenting with their looks and we as designers have more options for men as well. Recently, we made a custom-made silk velvet fit for Ranveer Singh in the same color. Apart from your everyday clothing, Viva Magenta is also going to be the ruling shade for the upcoming wedding season.
View this post on Instagram
Arpita Mehta:
The best way to do Viva Magenta in your everyday wardrobe is to go top to bottom in [it]. Be it in co-ord sets or a kaftan or any comfortable outfit. It's such a bold & beautiful color that it looks the best when it's self on self rather than teaming it up or breaking it with another color.
Aprajita Toor:
Viva Magenta is a very powerful and empowering color that descends from the red family. It is an animated red that encourages experimentation and self-expression without restraint; an electrifying shade [that] challenges boundaries. One can easily incorporate this color by picking a statement footwear, bag, or jewelry in Viva Magenta which can be paired with neutral or monotone colored outfits.
View this post on Instagram
And there you have it — three ways you can easily take a vibrant hue and turn it into something you can wear every day. Take cues from these top designers on how to wear the Pantone Color of the year and get started! We'd love to see how you style Viva Magenta!