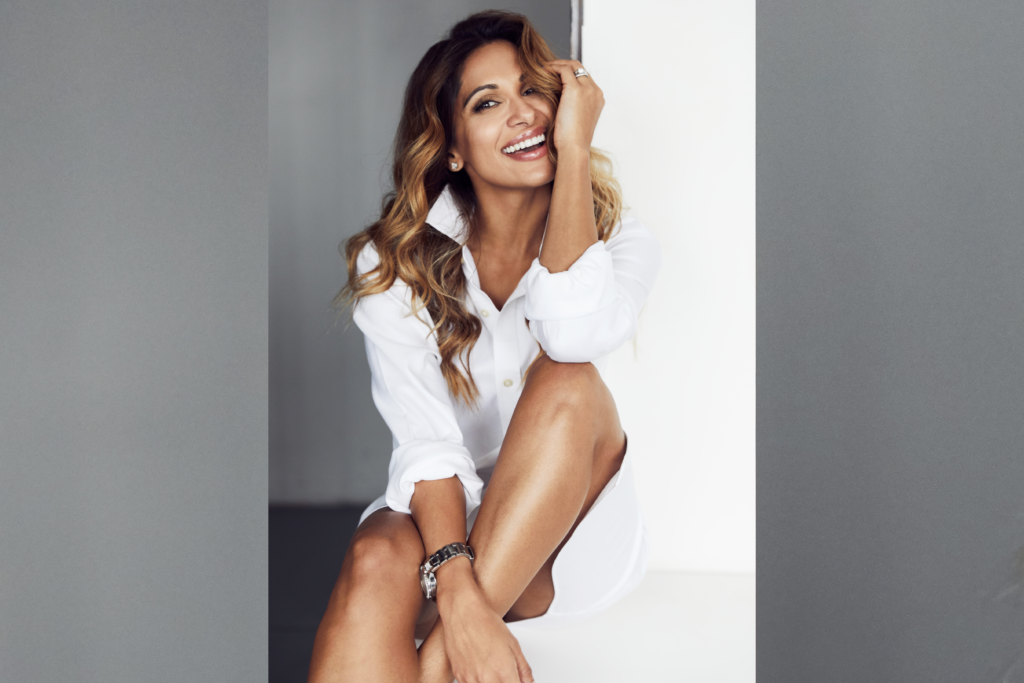 Whether you're a channel surfer or a diligent ET Canada viewer, to all my fellow Canadians out there, you probably already know Sangita Patel. She's our homegirl; hitting up the red carpets and movie premieres, interviewing the biggest names in entertainment and hosting HGTV's "Home to Win." And if, like a special aunt of mine, your last name is Patel, it's quite possible you've been asked whether you're related to her aplenty. But on top of all of that, Patel, electrical engineer-turned-television personality, is Canada's first-ever South Asian Cover Girl ambassador.
If you are among the less-informed, allow me to give you a brief intro:
Sangita Patel is a television personality who went from being a reporter on the Weather Network to becoming an entertainment reporter for ET Canada in 2014. She's known for covering the most coveted red carpets and interviewing the likes of Tom Cruise, Julia Roberts and Dwayne Johnson, to name a few. International beauty brand Cover Girl named Patel as their Canadian spokesperson for their Simply Ageless Collection and then renewed their partnership in October 2020. And the best part is that Patel is Canada's first South Asian face for Cover Girl. 
I recently had the opportunity to chat with Sangita Patel about being a Cover Girl ambassador, her multifaceted career, life amidst the pandemic and more. Here's what I've got for you:
How do you feel about being Canada's first-ever South Asian Cover Girl ambassador?
Pinch me! It's truly an honor to be an ambassador of a company whose products I used growing up, and a brand that celebrates diversity. Announcing our collaboration on my 40th birthday was an unbelievable moment.
What do you think can be done to ensure that you're not Canada's last South Asian Cover Girl ambassador (basically to diversify the world of beauty, at large)?
I believe we are on the right journey, as we begin to see more and more companies and makeup lines creating products that work for every skin color. No more mixing different foundations to get the right shade! For me it is important that seeing more women of color portrayed becomes the norm, and that we do see people that look like us represented. I want my daughters to be able to see themselves reflected in the media, something I didn't have growing up. I want them to be confident in their own skin. 
I read that your degree is in electrical engineering. How did you pivot from that to the world of media? 
That is a very long story! Essentially my passion led me to this path. I have always loved math and science, and growing up I knew that life as an engineer would promise me a career. But my passion has always been talking to people, learning from their stories and making people happy. By working at ET Canada, I have the opportunity to chat with some of the most inspiring people in the world and help them tell their stories.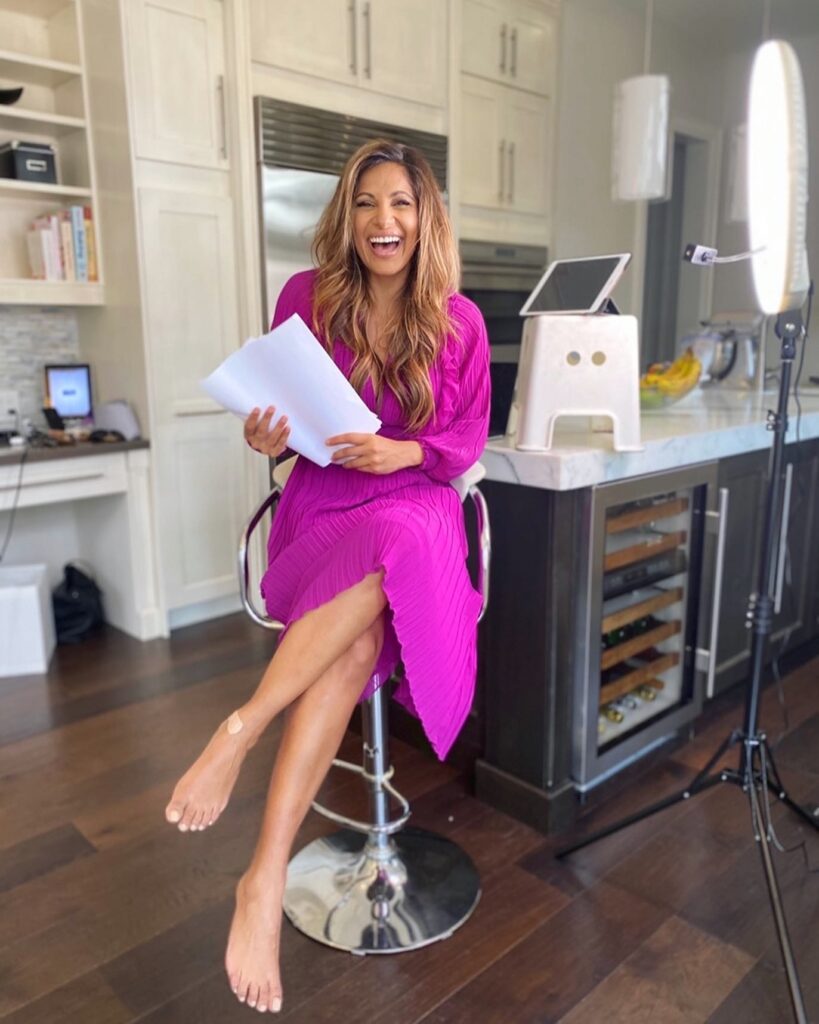 Did you always know that you wanted a career in the media (as a host, reporter and on-air personality)?
I was always the kid who tried everything. So no, I never thought I would be where I am now. I loved being on stage and entertaining, and I used to dance as a little kid… Remember Garba!? So it was always a part of me. But I used to think I would be a teacher, or an engineer, or journalist…I had so many dreams!
What made you eventually pursue it?
Honestly it was my attitude of, 'why not?' when one path leads to another. When I was a reporter on The Weather Network, new opportunities in television began to knock on the door, and I said to myself, 'why not!'
You've had the opportunity to meet and interview some pretty cool people throughout your career. What are some of your favorite or most memorable moments?
I have so many, from Dwayne "The Rock'"Johnson (I consider us friends), George Clooney making me coffee, spending time with Tom Cruise in Paris, chatting with Julia Roberts…the list goes on and on! It's all about creating those memorable moments.
How has the media industry changed since you began your career?
I had just started working at ET Canada when Instagram was becoming popular, and it changed so much. Social media has created a whole new way for people to take in information. 
Have you noticed any changes in the people making decisions behind the scenes since you began your career?
I can't speak for the industry as a whole, but I am very fortunate to work with an incredible team that listens to my ideas and lets me do my magic. They embrace the way I do interviews and accept me for who I am, and that means a lot.
How (if in any way) has being a recognizable minority affected your career?
I didn't fully realize what it meant to be a South Asian woman in the entertainment industry, especially here in Canada, as there weren't many examples when I started. So many young women have reached out to me on social media over the past few years saying just that, and I think that is when I realized what it meant for me personally. I now have a purpose when using my platform, wanting to help create a path for minorities.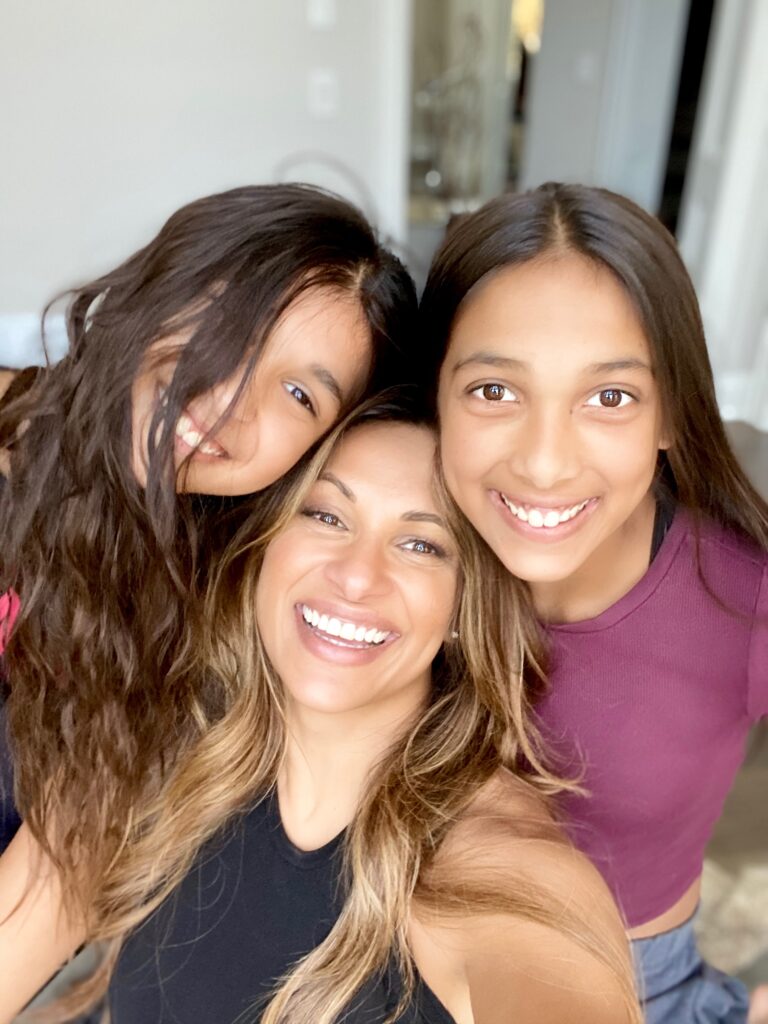 How has your work life changed since the pandemic began?
Working from home has been interesting, but the silver lining is having more time to watch my girls grow up.  With my work at ET Canada, I would normally be traveling a lot, so it's nice to be still and be with my girls. Mind you, we do drive each other crazy sometimes!
What are your days looking like as of late with the second wave of COVID-19 and new restrictions?
I just stay inside all the time now! I don't really leave the house to go out anywhere, especially with the winter weather. I hate walking in the cold! It's definitely more mentally challenging with these second wave lockdown restrictions. 
These past years have been difficult for all of us for a variety of reasons — from the pandemic to activism burnout. What have you been doing to maintain your mental health and sanity?
Working out and taking time for myself. Even if that means taking a longer shower, or going to bed earlier and reading a book. Taking a moment away and letting myself be. Take care of yourself, so you can take care of others!
Through the strides Patel has taken in her career and continues to take, she's definitely paving a way for young women (like her own daughters) to grow up finding confidence in their own skin. She is the sort of representation we absolutely love to see in the world of beauty and entertainment. She's expressed wanting to use her platform to create opportunities for minorities, which is commendable. Hopefully, one day, it will lead us to a world where more people of color can create a space for themselves in the industry on the basis of their individuality.
You can catch Patel on ET Canada and HGTV's "Home to Win" and follow her journey on Instagram and Twitter.