Designer Sanjay Garg completed a decade in the fashion industry this year, and it's safe to say that there's no stopping him now. Garg, of Raw Mango, has come as a breath of fresh air into the fashion world and revamped the traditional sari with his contemporary ideas.
In an exclusive interview with Brown Girl Magazine, the mastermind of fashion talks about the handloom, trends to keep in mind, and how the sari is a transcendental garment.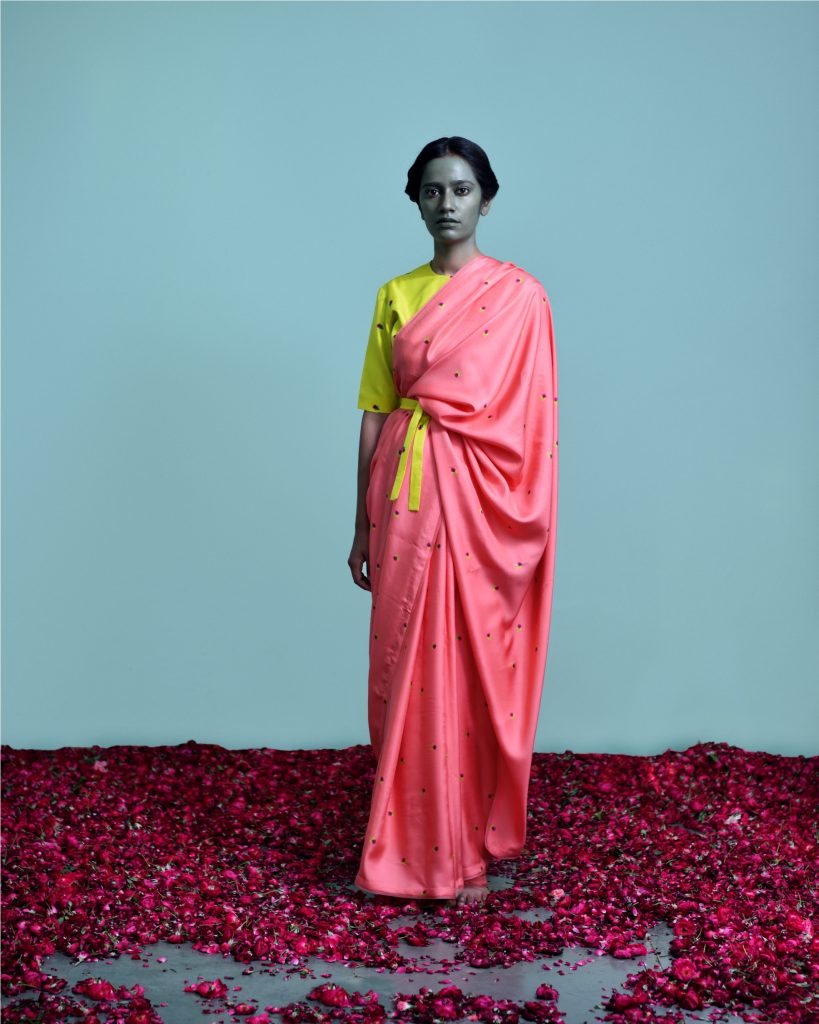 Raw Mango has set a very distinctive tone for itself as a brand because, instead of the typical Bollywood glam that involves a lot of bling, it has been focused on beautiful handlooms and reviving in young women their love for saris. Could you tell me the thought behind taking this direction?
Raw Mango is a sari brand, and Sanjay Garg is our line of garments (lehengas, dresses, coats and separates). The DNA is the same, the textile development process is as involved, however, the intention behind Sanjay Garg was to give occasion wear options to women when they were not wearing a sari.
Have you always had a love for the handloom? Did you feel it needed a revival?
Handloom is special to me because it speaks to ones' culture, community, craft and much more.
There has definitely been more awareness about handloom than before, but it is still too early to see whether this revival has brought about change and importantly, we need more numbers associated with progress. Access to simple data is still an issue, it is hard to judge change without that.
Because of this modern age, the art of sari draping is dying. More and more women don't know how to drape and avoid saris because they find it difficult. How do you believe the sari will survive in our modern age? Do you find this is a problem you consider and try to address when designing your collections?
Our Raw Mango campaigns are always photographed on real women, most of whom wear the sari and are comfortable with it in their wardrobes. We don't design with the intention to change that but are actively involved in that conversation as well. For instance, I've been on the Advisory Board and very involved in www.thesariseries.com — a digital anthology of drape that recently released and creates access to over 90 short how-to drape films. Projects like these have the potential to impact change in this space and are deeply connected to the world of Raw Mango.
Can you describe the Raw Mango woman? Do you have a muse? Is there a woman who inspires you when you are designing?
The idea of one woman is an unrealistic ideal — our designs range from saris with monkeys, flamingoes, rabbits and more to the antique trellis of florals. The options are endless, and we are fortunate to be able to cater to all kinds of women — whether they choose minimalistic options like our gold tissue sari, a sooti sari, simply color block, our textiles, or opt for a banarasi silk.
[Read Related: Find Your Sari: Liya Thachil of WESTxEAST Demands a Revolution to Return to the Sari]
Is there a type of silk sari that is your favorite?
If I had to pick five saris, they would be Kanchipuram, Pondru, Varanasi, Lahariya, and Chanderi.
Let's talk about the collection, 'Cloud People.' Could you tell us about this collection, especially the name? You offer a pantsuit in a Bordeaux brocade, which took my breath away. Should we expect more separates and, for lack of a better word, Western silhouettes?
'Cloud People' invokes a celestial spell, bringing to earth winged messengers and unearthly spirits — mythical symbols of hope and guardianship. Requiring close appreciation, minute collection details reveal soft feathers and scalloped clouds of angels in flight, made through hand embroidery, Bengal mul, zardozi, and brocade.
Menswear of the Awadh region informed many of 'Cloud People's' silhouettes including dresses, kurtas, trousers, jackets and more.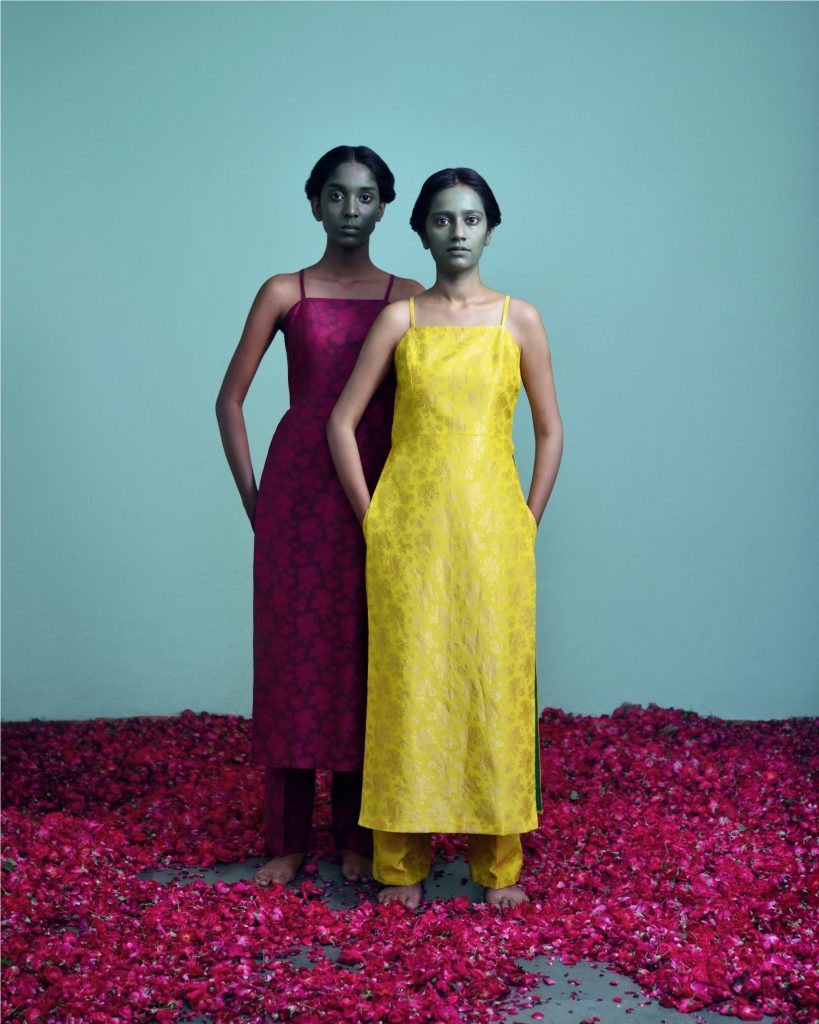 In closing, what is a piece of style advice that you could share with us?
I think it's important to not get carried away by trends, instead, explore your culture, tradition, and heritage and think about the uniqueness each textile or fabric can bring, and of course, dress for your body type.