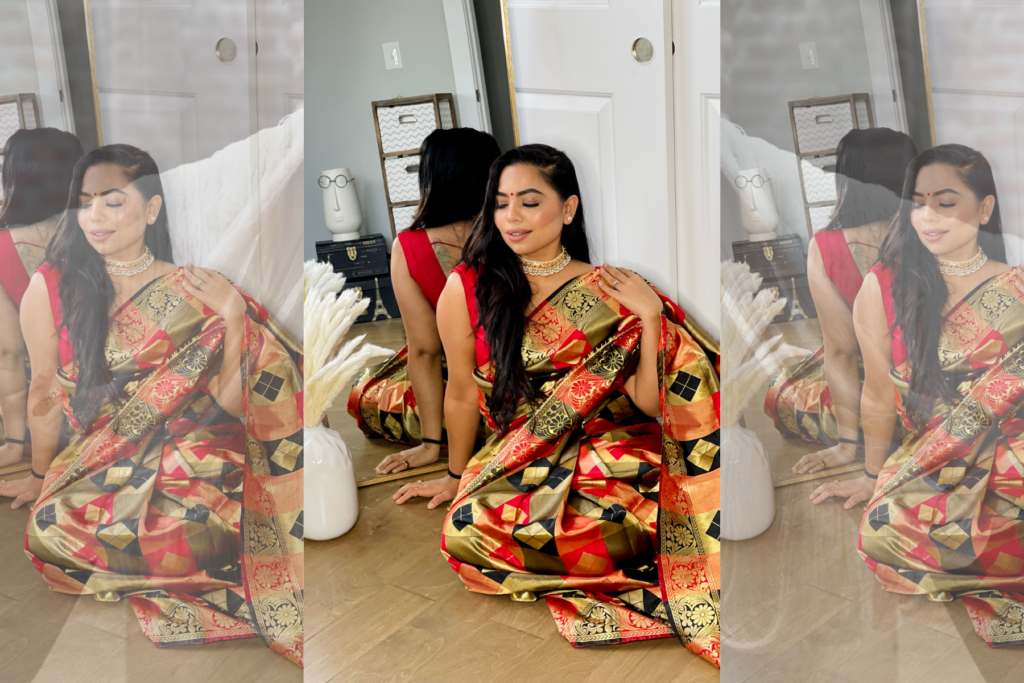 P.O.V: You're late to your best friend's wedding because you couldn't find an aunty to pleat your saree.
The solution? The One Minute Saree. It starts as your typical 6-9 yard saree but draping it is a zillion times easier. The front pleats and tailored waistband make it as simple as "1,2,3!" What's more exciting is the fact that you can drape it in any way you prefer! Say goodbye to 'Saree Draping' tutorials on YouTube! 
Sasha Revankar, CEO of this patent-pending brand, shares a bit about her small business with Brown Girl Magazine. By the end of this, you're going to want to hold off on opening those blue cookie tins filled with pins and other sewing supplies the next time you wear a saree! (Below is a video tutorial of how easy the One Minute Saree makes it, in partnership with Miami-based lifestyle content creator Zahara Khan.)
View this post on Instagram
What is the story behind your small business?
They say 'necessity is the mother of invention.' I love sarees, but I rarely wore them. My last experience prior to starting One Minute Saree was several years ago. I had been to a wedding with my four and 1-year-old daughter and despite my better judgment, mustered the confidence to wear a saree. It looked beautiful, but I found myself running to the ladies' room every 30 minutes to adjust and fix the darn thing. Two small children pulling at it from every side didn't help. I was utterly traumatized by the experience.

Fast forward a year later, on a trip to India, a colleague experienced a similar problem when her mother-in-law insisted she wears a saree to a wedding, despite her preference for an easy-to-wear dress. Through talks with tailors, the idea to create the one minute saree came about. My first time wearing one, I was in awe — the fit was secure and it literally took less than a minute to wear. I instantly thought to myself, 'Every woman who has ever thought of wearing a saree needs to try this!'
If you could describe your sarees in one word, what would it be?
'Liberation' is a great word to describe this product and our company bringing it to market to a wider audience. It really is what you feel when you wear it compared to wearing a traditional saree (at least for those of us who are not pros). It also makes it so much more accessible to people who would have never dreamt of wearing a saree.
How is it different from pre-stitched sarees? 
Products had been in the market for "pre-stitched" sarees and "saree dresses," but these sacrificed the fluid and adaptable soul of the saree. There are some you put on like skirts. We specifically wanted to pick sarees and embrace the different types of sarees. 
You have such a wide array of sarees to choose from! How do you pick out your collection?
Basically, I just started with my own POV. It is a combination of what is accessible to us and what as a buyer, I'd be more interested in. 
Where do you source your fabric from?
All based in India, practically all over the region; it depends on the kind of sarees.  
That's amazing! Where exactly?
We keep sarees from Kolkata, Jaipur, Chennai, and even some from Surat. Sometimes we branch out to other cities and states, again kind of depending on which kind of sarees we are looking at. 
Who is your target audience?
Myself, aha. Actually, we have customers buying for their grandmas even. But, yes, our 'target' is primarily second-generation women, in the U.S, U.K, and even in India. 
View this post on Instagram
Since the brand preaches feasibility, is it one size fits all?
Nope not at all actually. While it is something made to make your life easier, you do not have to sacrifice the sizing. Currently our sarees are custom made, however each saree is adjustable to fit three different sizes, so if you wanted to lend it to a sis or if sizing changes it can be used. We have some limitations since we use real sarees for our material. We are planning on offering standard sizes and off the shelf options soon, but we will maintain the flexible sizing because sarees are clothing items that do get passed down and shared.
So, how does one go about ordering a saree from the website? 
You need a couple of measurements, once you decide what saree you want. Waist to the floor, etc., something that isn't very adjustable. Option to add-on a blouse (can customize). A standard U.S. customer (15 days). Express shipping is 3-5 days on certain sarees. 
I realized you also have a "Bridesmaid" collection! What types of sarees are in that collection?
More often than not, bridesmaids opt for more neutral colors, so generally have simple, yet elegant monochrome sarees in stock for them. 
View this post on Instagram
How do you think "One Minute Saree" allows South Asian women to embrace their love for South Asian fashion? 
I think this is also for women who aren't actually from a South Asian background. Perhaps, someone attending their friend's wedding or if you get married into a South Asian family and want to embrace the culture (but in a really easier way). I think that this brand is accessible to those individuals as well. 
What is your favorite saree that is currently in stock on your website? And why? 
I would choose two:
And, that's a wrap (pun intended). If you have an event coming up right around the corner or just want to purchase sarees for keepsakes, do give One Minute Saree a try. You won't be sacrificing the essence of wearing a full-length saree at the price of ditching all the safety pins! 
Photo courtesy of New Jersey-based content creator Kripa Patel Joshi.