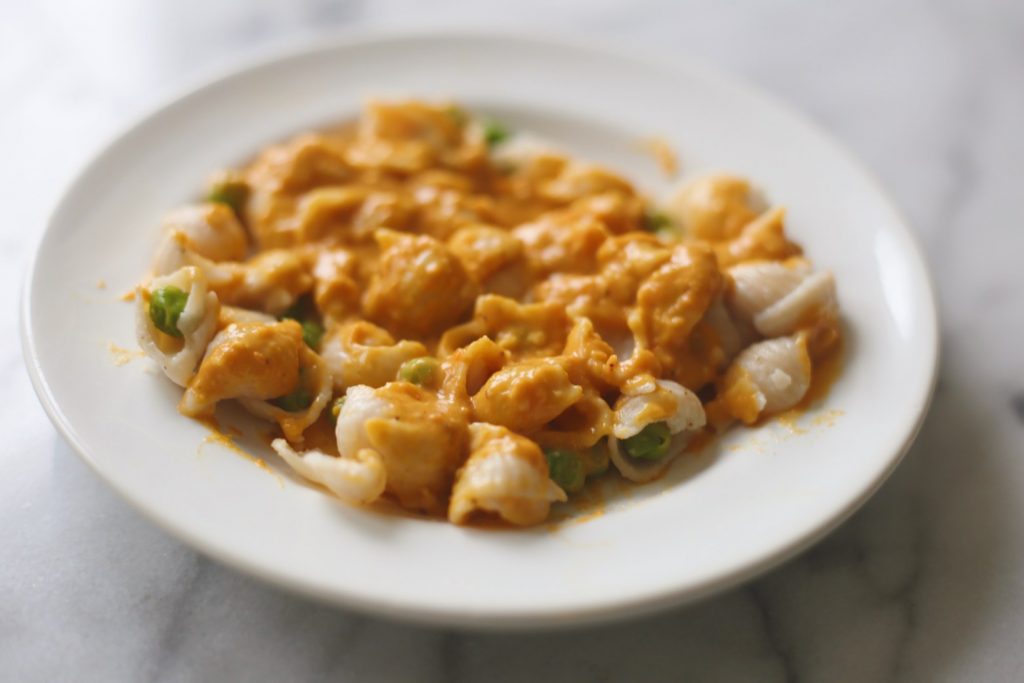 This post was originally posted on citrusandgold.com and republished with permission.
This sweet potato cashew cream sauce recipe kind of happened by accident.
I was perusing through Mckel Hill's book "Nutrition Stripped"
 when I stumbled upon a recipe for a butternut squash vegan cream sauce. It sounded so damn good that I was determined to make it that night (and I was excited because I had all the ingredients at home!).
Except when I got home I realized my butternut squash went bad (boo!). I was so invested in making it that I decided to go rogue and make the sauce with sweet potatoes instead.
With a few tweaks, here is what I got:
Sweet Potato Cashew Cream Sauce + Brown Rice Pasta
INGREDIENTS:
8 oz brown rice pasta
1.5 cups peas (I used frozen)
2 small/medium sweet potatoes, about 2 cups
1 cup nutritional yeast
1 cup unsweetened almond milk or light coconut milk
1 tbsp dijon mustard
¼ cup cashews
½ cup vegetable or chicken broth (more or less depending on the preferred consistency)
DIRECTIONS:
Sauce:
Soak cashews in water for 2 hours. If in a rush, you can soak in warm water for less time but do not put it them boiling water.
Preheat oven to 400F to roast the sweet potatoes.
Peel sweet potatoes and slice them to roast. Mix sweet potatoes, olive oil and salt and pepper into a bowl. Line tray with aluminum foil place sweet potatoes on tray. Pop it into the oven for 25 minutes.
Once the sweet potatoes are done cooking, add them to your Vitamix (or a powerful blender) along with the nutritional yeast, dijon mustard, cashews, almond milk and chicken stock. Pulse slowly, and add more liquid if needed. Add salt and pepper to taste.
Pasta:
Set water to boil and add a dash of salt. Once the water begins to bubble, add pasta and cook on medium/medium-high for 15-16 minutes (or follow instructions for your pasta). Add peas to flash cook for 3 minutes and then strain water from pasta. Add a little olive oil to pasta if desired.
You can pour the sauce over the pasta and warm it on low heat. But I liked using a separate saucepan to keep the sauce and pasta separate.
The sweet potato cashew cream sauce would be a perfect topper for sautéed vegetables or zoodles, too!
[su_divider]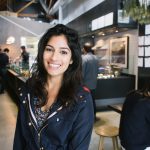 Akansha Agrawal is a writer, pilates instructor, and an Insights Analyst who lives in San Francisco, CA. She is also the creator of Citrus & Gold— a blog that focuses on wellness for the mind and body. Akansha loves to connect to like-minded individuals so feel free to say hi on Instagram or Twitter!