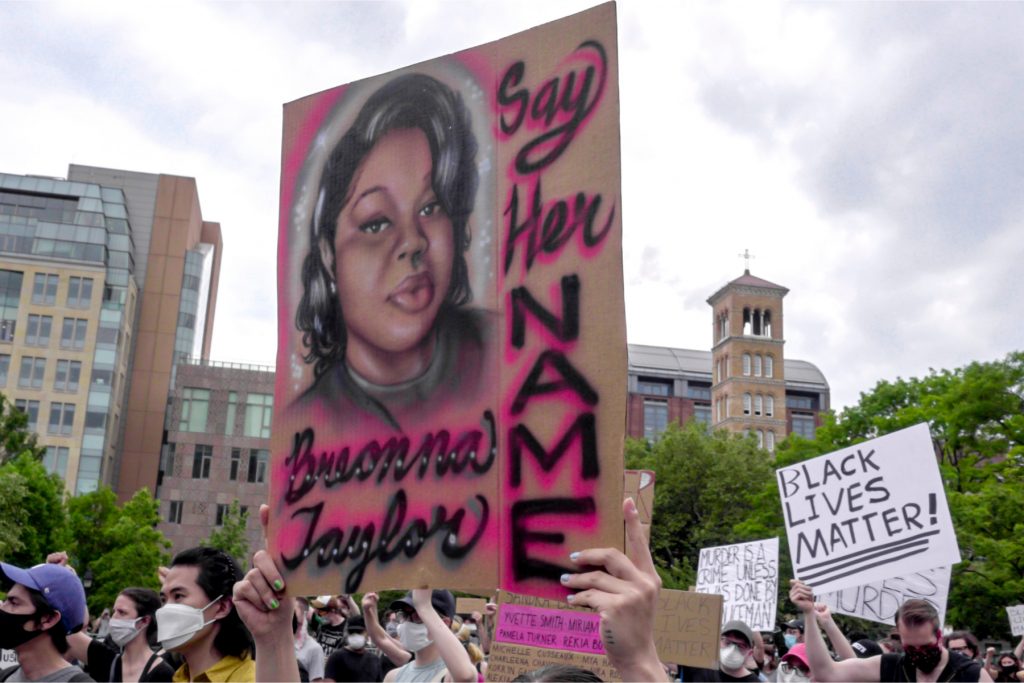 Take action today by signing her petition, donating to her GoFundMe page and email and send an email directly to the Kentucky Attorney General, Mayor and the Governor here.
We need to keep talking about Breonna Taylor. We have to keep saying her name. Breonna Taylor was an EMT on the frontlines of the pandemic and was murdered by the police in Louisville, Kentucky on March 13. The three police officers used a "no-knock" warrant to enter her home without warning and shot her eight times while she was asleep. The officers responsible have only been fired, and have yet to be arrested. Although Taylor was killed on March 13, the country didn't break out in righteous anger right away. This could have been another tipping point in the movement for Black lives. Instead, officers responsible for her death have been free for more than three months. 
We've made strides in the last few weeks on the issue of police brutality and violence against Black people. Minneapolis is reworking its criminal justice system by disbanding the police. Approximately 50 percent of adults in the U.S. think that police violence is a serious problem. We've made strides, particularly in combating the anti-blackness prevalent in the South Asian community, by examining our biases when it comes to race and speaking up about the instances of anti-Blackness exhibited in our communities every day. 
Where we seem to be stunted is confronting the gender bias in the reporting of police violence towards Black women. Black girls from as young as age five are perceived as older and "less innocent" than they actually are, and are much more likely to be suspended or expelled than their white counterparts. This continues as Black girls grow up. "Black girls make up nearly one-third of the girls referred to law enforcement, and more than 40 percent of girls arrested in connection with a school incident," according to Education Week. 
These stereotypes leveled against Black girls and women from childhood inform and help explain the violence and under-reporting against them in terms of police brutality. The hashtag #SayHerName was created in 2014 by the African American Policy Forum and the Center for Intersectionality and Social Policy Studies to collect and elevate the stories of Black women that are so often under-reported. The first time the hashtag was widely used was to share Sandra Bland's story. 
But can you name other Black women harmed and killed by the police, often in their own homes? Atatiana Jefferson was shot through the window of her home when she went to investigate a noise outside. The police never announced their presence on her property. Aiyana Stanley-Jones was killed while sleeping next to her grandmother during a police raid. Just like with Breonna Taylor, police officers mistakenly, and without announcing themselves, raided the wrong apartment. Stanley-Jones was seven years old. 
We remember Eric Garner's name, Tamir Rice's name, and Mike Brown's name. George Floyd's murderers have been charged. Breonna Taylor's have not. Black men's stories get visibility and action in a way Black women's stories have not. Breonna Taylor's name has already stopped "trending" on social media. Racial justice does not walk gender lines. If we want to reimagine and rebuild a world where Black lives are safe, the stories of Black women cannot be invisible. That's why we need to #SayHerName. 
In the midst of the uprising triggered by the murder of George Floyd, many have started to transform the #SayHerName hashtag to #SayHisName to lift the stories of other Black men who have been subject to police violence. To turn #SayHerName into #SayHisName or #SayTheirNames is to again marginalize and erase the exact voices #SayHerName was meant to highlight. As Precious Fondren explains in Teen Vogue, we've seen time and time again the stories of Black women's experiences with police brutality forgotten. It's an erasure of the experiences of Black women. 
We need a space to tell Black women's stories, to remember their full lives and big dreams that were cut short by police violence. That's what the #SayHerName movement is.
Black women face violence by the police. A lot. Their names deserve to be said, and the violence against them deserves our collective outrage and action.