by Liya Thachil – Follow @liyabobiya
The views and opinions expressed in this article are those of the contributor at Brown Girl Magazine but do not necessarily reflect the official policy or position of the publication. 
So if you haven't heard about it, hear about it now: Zara caused ripples earlier this month because of a rather ugly garment, pictured below.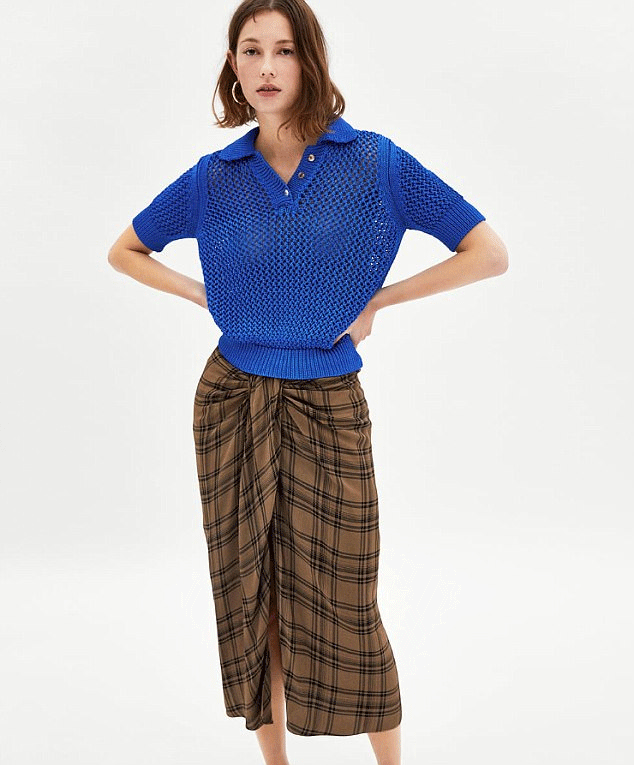 When one sees this offending piece, especially someone who is of South Asian descent, they can't help but recognize the similarity of this and a particular form of casual wear for men quite popular in the South of India, and beyond. I am referring to, of course, the lungi. Dhoti, lungi, mundu, whatever you may call it, that seems to have been the inspiration behind this piece.
Many were up in arms, decrying the Zara lungi for cultural appropriation and how the white folks are back at it with swiping from our culture. All well-founded concerns to be sure. As a people, our traditions and culture have been ridiculed by the Western hemisphere. So rightfully so, one must have outrage.
But, this is fashion. To take it even further, this is fast fashion. The fashion world is notorious for borrowing from cultures, countries, and each other. It is almost a prerequisite to copy from somebody. So, to me, and I am aware this will be an unpopular opinion, the biggest issue with this skirt is the price. $70 for this is ridiculous, Zara; I'll give you $10 and not a penny more.
The skirt isn't exactly a lungi — it happens to share the same pattern that is popular with dhotis. I mean my father must have a few in that horrendous print. Which leads to my next question: for those that are offended, are they or have they attempted to rock these dhotis? Or does their rage come from perhaps a guilty conscience? Guilty because they have been embarrassed by their own fathers at one point or another for wearing their lungis out to get the mail (mine has done this one too many times)?
This is a style of clothing meant to be worn essentially for housework or pajamas. Someone figured out how to take that, pre-pleat it, make it look relatively chic, and slapped a price tag with a nice margin. Can you really fault that? They've managed to market it better than we have certainly.
This conflict of cultural appropriation is difficult to tackle when it comes to fashion. It reminds me of the controversy over John Galliano's Diorentalism haute couture collection and Yves Saint Laurent's Opium collection. These designer's borrowed heavily from Chinese culture, especially the fabric and silhouettes. Was that an homage or a blatant robbery? If you attended the Costume Institute's China: Through the Looking Glass, there was a powerful moment of understanding how culture and fashion go hand in hand. It is a source of inspiration, that is taken and applied to a garment. That is all; I, unfortunately, can't see it past that. Perhaps I lack the sensitivity to comprehend the full extent of the hoopla.
These days, Zara and H&M provide a way for those of us with couture tastes and fast fashion wallets to enjoy a variety of runway offerings. I myself own several pieces of theirs that are direct copies of designers such as Givenchy, Dolce & Gabbana, and Valentino. The flagrant theft is accepted as the norm because, again, this is fashion. What really are the rules?
---
Liya Thachil is the co-founder of WESTxEAST, which is a retail brand aiming to provide South Asian inspired basics. It was created because of the need she and her co-founder, Tania Chackumkal, discovered for sari blouses, petticoats, kurtas, etc. They believe the silhouettes of the subcontinent should be more globally embraced. WxE aims to be a movement towards style beyond borders. Liya is an avid collector of vintage saris and believes all women should own at least one Kanchipuram sari.