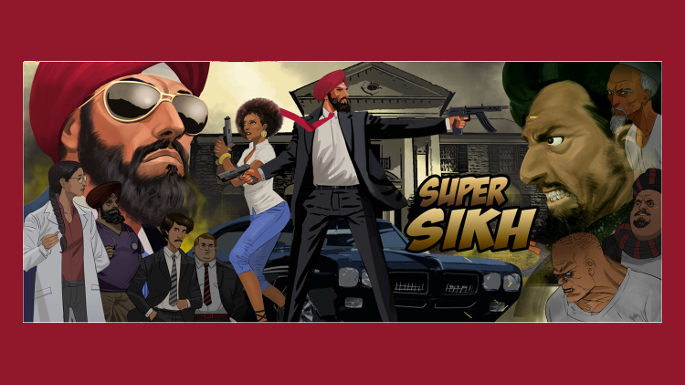 by Foram Mehta 
This post was originally published on our partner website India.com:
Move over, Batman. There is a new crime-fighting stud in town, and you've never seen a superhero quite like him before. Sporting a beard and turban, Secret Agent Deep Singh may not look like your typical comic book hero, but he fights for all the same things: justice, equality, and good in the battle against evil.
So, what makes him any different from other superheroes? Deep Singh, or "Super Sikh," is the first and only comic book hero who is fighting racial and religious stereotypes.

Here is what you need to know about the world's newest, most daring comic book hero.
He [Naturally] Lives a Double Life. Deep Singh was the son of doctors who died on a humanitarian mission in Africa. Now he lives with his aunt and uncle in India, working as an I.T. geek by day and as a multilingual, SAS Special Forces-trained Secret Agent by night. Oh, and he loves Elvis.
"We wanted an everyday hero with and everyday life and an extraordinary vision and secret super-life," said "Super Sikh" Co-Creator and Silicon Valley Executive Supreet Singh Manchanda. "This way all kids can dream big for themselves."
His Sikh Principles Always Guide Him to Do Right. Realizing that Sikhism is often confused with Islamic teachings —those misconstrued and perpetrated by extremists, anyway—"Super Sikh" Co-Creator and comic book veteran writer Eileen Alden wanted to ensure Deep Singh accurately represented the religion for its values of peace, justice and righteousness.
"He stands up for equality and justice even if it means he puts himself at risk and has to fight. He never starts any fights, but if he sees any innocent people who are in danger he does not hesitate for a second to step in and stop the perpetrators," Alden said. "A lot of these decisions are very immediate and reflect his constant living according to Sikh principles. He doesn't, for example, need to wait for approval or worry about appearances or politics."
He Proves that Stereotypes Are Borne of Ignorance. Unlike any other well known comic book superhero in appearance, Deep Singh's openly Sikh appearance serves a purpose to combat the notion that people are as they look and also to challenge readers to look deeper into why someone may be the way he is.
"Stereotyping is a big undercurrent we address in the comic. We are hoping to force people to look beyond appearance and examine people's actions, breaking apart all kinds of stereotypes," Aldeen explained. "And we are also showing how ridiculous the stereotyping can be when you know the reality of who a person actually is. In the comic we often use the qualities of people being absurd and showing comical situations to illustrate people's motivations and break the stereotypes."
She adds: "For example, our main villain is the leader of a Taliban squad. He is an evil guy who wishes he could join the Islamic State, but they keep rejecting him, and so he is basically motivated by insecurity and a feeling of being inadequate. So here we're taking a villain that people might otherwise see as just a generic stereotype, and we're rejecting that idea. Instead, we're showing that his evil comes from the fact that he is an insecure egomaniac. We humanize him and show his human motivations as the source of his bad actions, not race, caste, or creed."
He Already Has a Huge Fan Base. As of date, a Kickstarter fundraiser for "Super Sikh" raised more than $22,000 (from an initial goal of $5,000) from 360 backers to put the comic book into production and promote Sikh awareness.
"We have heard such encouraging stories from fans, and the support has been just incredible, more than we ever dreamed," Alden said. "I think partly it is because of all the work we put into crafting the stories and characters, and partly the timing, where people really have a need to see more visible Sikh characters in fiction who demonstrate positive character traits instead of negative ones."
He Has a Super Cool Cousin You Do Not Want to Mess With. Not one to forget the sheer awesomeness of women, "Super Sikh" will also feature Deep Singh's uber smart, tough-as-nails cousin Gurpreet Kaur, whose scientist-ninja combo double identity is one every bad guy should definitely be afraid of.
"You are going to see her have some great cleverness for problem-solving, great strategy, and combat training," Manchanda said. "So, outwardly you will see her step in to take the lead when Deep Singh is away in Africa. But you will also see her inward journey, as she is confronted with challenges, she is going to have to go deeper as a person and find her inner courage, or 'Kaur-age,' and we will see her transform not just outwardly as she steps into a leader role, but also inwardly as she pulls more strength from her Sikh values than ever before in her life."
Manchanda adds: "The story gets richer and shows that women and men may solve problems differently and are complementary. The different use of force, ingenuity and skill will come into play. We really wanted to also showcase a key Sikh value that women and men are equal in action not just in words."
He Has Inspired Positive Change in the Lives of the "Super Sikh" Co-Creators. Drawing on their own backgrounds and experiences both within and outside the Sikh community, the co-creators said creating Secret Agent Deep Singh has ignited new meaning in their lives.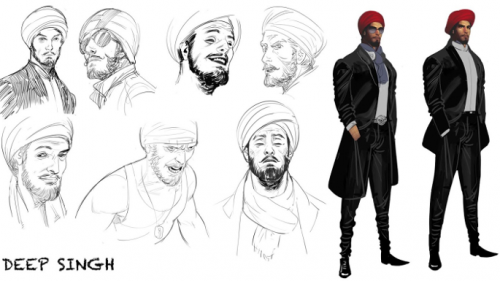 Alden even claimed she is "the first known person to become Sikh as a result of doing extensive research for a comic book."
"The turning point really came when I had learned the Gurmukhi (Punjabi) alphabet in order to read the Sikh scripture," Alden said. "I remember being deep in translation and turning around some ideas in my mind about Hukam (the Divine Laws that govern life) and trying to understand what the Guru was saying, when I felt like I started to understand the meaning by looking inward at my own self. And as I started to understand the meaning, I could understand my life better…I would maybe describe it as though I had been walking with my feet my whole life but never noticed — until suddenly they were revealed, and I realized they had been there the whole time, and I just hadn't been aware of them as part of me. I felt the awareness that this message of the Guru is truth and that I knew this on a deep intuitive level that I had never had before. I would describe it maybe as finding and accepting faith."
On Manchanda's personal experience helping to create "Super Sikh," he said, "I love comics, and I was bullied as a child, and when I saw the statistics on how many children especially male children who were turbans were bullied, I really wanted to do something…It's really important that people recognize that the more we get the more we will be able to give to the kids in the form of comics and better stories."
[divider]
Foram Mehta is a freelance journalist and photographer enjoying the life of a "starving creative" in New York City. When she's not hunting down the best brunch in NYC, you can find her rooting on her beloved Texas Longhorns and dreaming of the day Oprah comes calling. Check her out on her personal blog: A Metaphorical Mind.