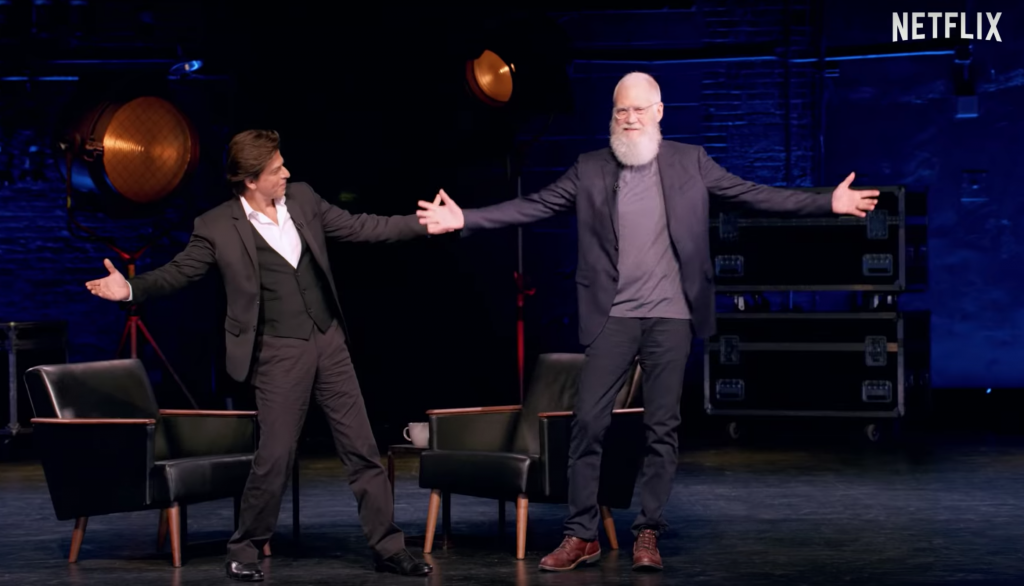 Once upon a time, in a faraway land (the mothership, India), there lived a girl who was so enamored by the incomparable Shah Rukh Khan that she memorized his dialogues in every movie, ripped his photos out of magazines everywhere she went for her scrapbook, sobbed bitterly every time he died onscreen, and valiantly fought off comments and critique that were even faintly disrespectful to the man she believed to be the love of her life. And she knew, even then, she was just one speck of Shah-dust in the entire universe of people that love him just as dearly. Fast forward to 2019, and the woman (fine, it's me) loves him no less, and was not surprised to learn that he has a global fan footprint that runs 3.5 billion people deep. Sheesh. I didn't NEED to meet him I guess. *sobs bitterly*
But, I digress. SRK brought his usual glory, complete with candor, sarcasm, humor and his trademark charm to a special episode of David Letterman's "My Next Guest". He now has the potential to earn a whole slew of new fans and shed light on the popularity and impact of the Indian film industry with global audiences. I for one (and the 3.5 billion other specks of Shah-dust) wholeheartedly celebrate this epic point in his celebrated and highly public career.
In his honor, here are the 10 things we love most about Shah Rukh Khan, that David Letterman just discovered in this new special (streaming now!):
1. His (often self-deprecating) humor and sharp wit
Referring to the SRK level of fan worship he witnessed on his trip to India, Letterman admits that he had never experienced anything like it. When Letterman refers to the sheer size of his fanbase, SRK promptly replies "We procreate a lot, there's a lot of us", twinkling back at the amused host. At one point, Letterman says "I am on medication", to which Khan responds "I could tell as soon as I saw you".
Close to the end of the show, SRK and Letterman do an impromptu dance performance to which SRK quips: "Dave, this is not 'Chicago'", when Letterman does the Charleston dance and ALMOST veers into jazz hands. Throughout the show, he had Letterman chuckling and in many cases bursting into laughter. And he had the audience eating out of his hands, of course.
2. His dimples!
The moment where Shah Rukh Khan talks about how the women in his life finding his dimples to be very "sweet", elicited whooping cheers from the live audience, to which a startled Letterman asks rhetorically, "It's like this wherever you go, isn't it?". Lightly poking at his cheeks, SRK quips back "The dimples?!", which of course, had the audience and Dave cracking up.
3. His extreme candor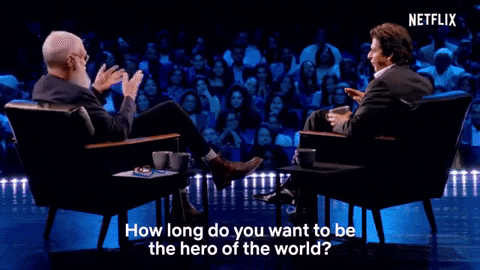 Talking about his inconceivable level of stardom  (which he openly admits to enjoying), SRK responds to Letterman's question "How long do you want to be the hero of the world?" with "106 years", gleefully grinning at the audience, and they collectively answer for him, "Forever!"
Nothing less would have done, says Khan, in his humorous and charming way, but being perfectly serious!
4. His level of petty
Shah Rukh Khan, trying to be politically correct when asked of his (and India's) opinions on the current President of the United States, was EVERYTHING. He calmly states that the U.S. was once thought of as "the place to be", but is now considered as an "okay" place. He finishes with a flourish to say, "maybe you guys deserve it!"
Referring to an altercation SRK had with a journalist who wrote a caustic and controversial article about him, he laughingly says he spent a few hours in jail, and then went over to the journalist's house, and lit up a cigarette, so the journalist knew that SRK was well within reach!
5. He was Bollywood well before he was Bollywood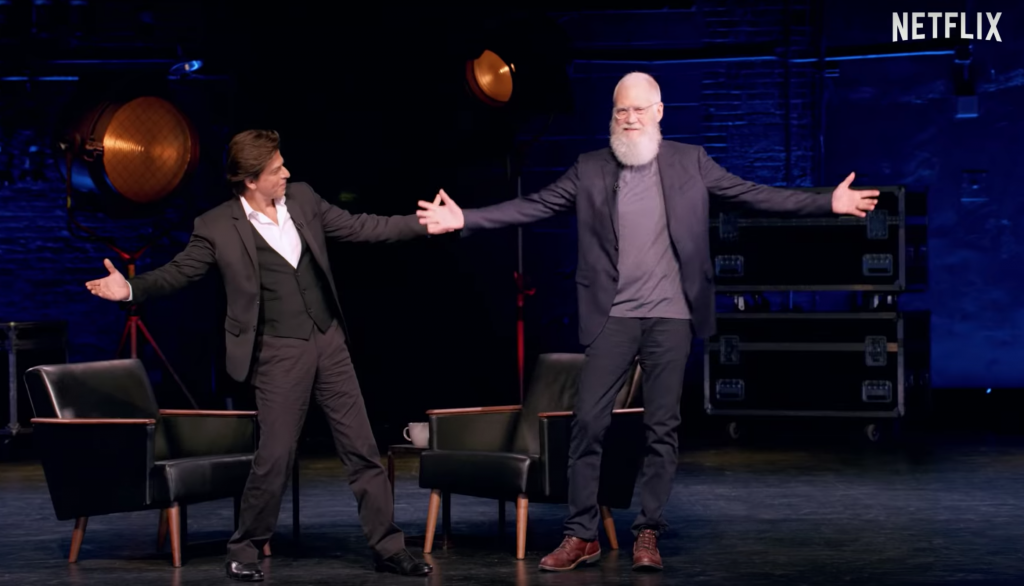 Of course SRK is asked about his real life Bollywood love story featuring his wife, Gauri Khan, which he discussed in detail, peppered with embellishments of picturing her slow-motion running towards him. But his affinity for Bollywood-level of emotional atyachar was revealed when he recalls threatening his mom, who was in the ICU, with dire consequences (ways in which he would be a terrible son) if anything bad happened to her and if she left him. One of the many times in the show, when he amused the audience during a poignant story.
6. His love for his fans
Khan wryly admits to being "an employee of the myth of Shah Rukh Khan", larger than life, because people need him to be. He reflects on the love he's received from his fans, and expresses his desire to meet as many of them as possible in his lifetime. Ummm… Main yahaan hoon, yahaan hoon, yahaan hoon, yahaan, Shah Rukh!
7. That eyes closed, bashful grin when he's particularly amused
David Letterman, upon finding out that SRK cheated on a Hindi exam, so he'd get a perfect score and be taken to watch a movie as a reward, wonders what effect this stunning admission would have on the 3.5 billion fans, and perhaps the numbers were dropping rapidly. Dimpling back at the veteran talk show host, Khan says cheekily,
As Americans do, I'll publicly apologize, and be forgiven.
8. He is who he is, no matter where he is
Throughout the show, whether in the portions recorded in his home in Mumbai, and those recorded in front of a live theater audience in New York City, SRK seamlessly transitions from a sharp black suit and vest to a plaid shirt and white t-shirt, to simple white kurta pajama all the while being exactly who he is. There are no affectations, no weird accent changes, he is totally comfortable referring to Indian pop culture, Bollywood references, and sharing his opinions succinctly, if a tad bit irreverently. He even repeats back a comment from a Punjabi taxi driver, and describes his "Ramleela" theater experience in childhood, saying dialogues like "Bolo siyapati Ramchandra ki jai!"
9. Shah Rukh Khan is the (stereo)typical Indian dad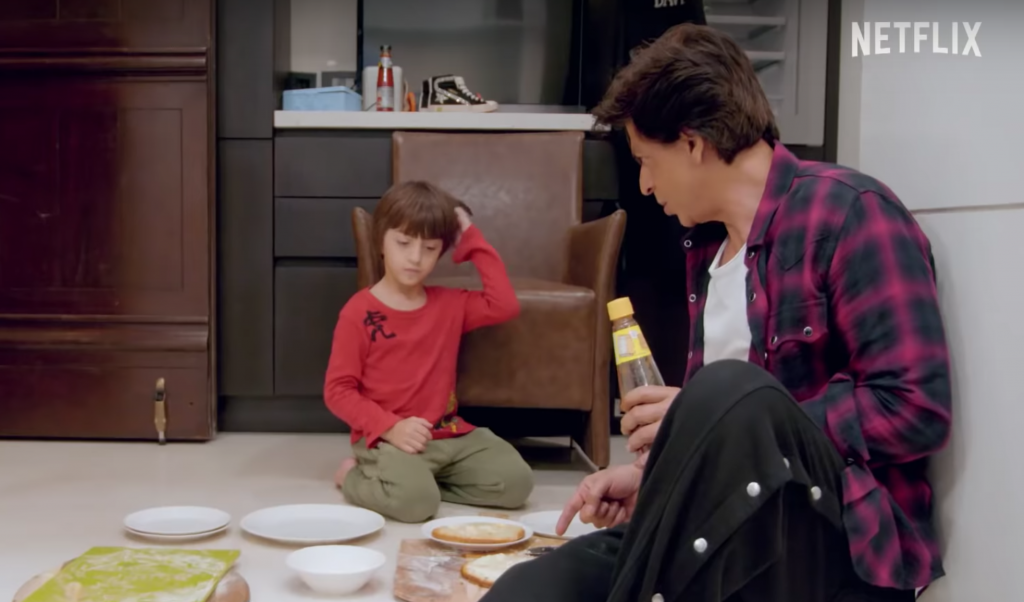 When Shah Rukh talks about his kids, he is every Desi cool Dad. Totally willing to cook for his kids in the middle of the night, and stalking the kitchen phone line for the opportunity to do so. Drawing ketchup smiley faces onto his son's food. Grimacing at the fatherly duty of discussing "boyfriend/girlfriend" problems, with somewhat violent remarks and gestures about his daughter Suhana's boyfriend!
He fully admits he wants to be a helicopter Dad, but in the same breath claims to respect their privacy. He openly tells the world he doesn't think his son can act, although he looks "nice, tall and okay". But throughout this interview, he expresses how much of a better human having his kids has made him.
10. His devotion to his parents
One of the best known non-secrets about Khan, is his deep love for his parents. In a matter-of-fact way, he admits that his father was a failure as an attorney (and a success as a freedom fighter) because of his unwavering honesty. He speaks with Letterman of the time he had with them, and the time he lost with them due to their untimely deaths, with a certain wistfulness, and rawness that is so endearing.
David Letterman ended the episode by saying he often reflects back on episodes of the show and his guests as "Smart, lovely people from whom I have learned things". But then he says, with an air of seriousness, "And you would be at the top of that list." The speck of Shah-dust in me, sighed a beautiful sigh of inevitability.
You'll always be at the top of my list as well, Shah Rukh. Now excuse me while I drift into a Bollywood fantasy of SRK raising his arms and slow-motion running.