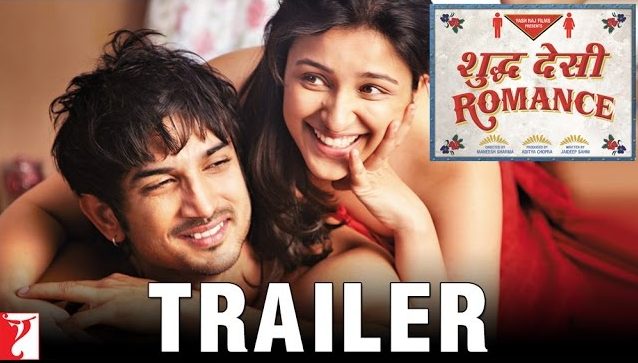 It's been five years since the release of "Shuddh Desi Romance," a film which shows a modern-day, live-in couple, in spite of societal taboos. "Shuddh Desi Romance" stars Sushant Singh Rajput as Raghu and Parineeti Chopra as Gayatri, two complete opposites who meet each other as Raghu is running away from his own marriage from a young woman named Tara (Vaani Kapoor). The two fall in love and move in together, having to pretend to be siblings so neighbors don't pry too hard into their personal lives. After Raghu has to convince Gayatri to get married, she ditches him at the altar – it's the same fate he made Tara go through.
Funnily enough, Raghu meets Tara again, and now they fall for each other, but of course, Gayatri soon re-enters the picture. It's a funny sort-of love triangle – one that at times is a little conventional – but the real heart of the film is about how some romances don't need to be solidified through the bonds of marriage.
"Shuddh Desi Romance" is a Bollywood film that chooses to celebrate a different type of love story, so in honor of the film's anniversary, we have created a list to toast a few more of the best modern Bollywood rom-coms.
Be careful! There are a few spoilers below!
"Love Aaj Kal"
While most Bollywood movies end with the central couple getting together (much like Shuddh Desi Romance), Love Aaj Kal brings Jai (Saif Ali Khan) and Meera (Deepika Padukone) together from the start. From there on they break up, move to different cities, meet new people, but because it's Bollywood, you sense that they'll end up together. Instead, where this movie truly excels is in exploring every permutation of their relationship over the years, from the painful distance they often feel to the uncomplicated friendship that's strengthened only by their romantic history. – Proma Khosla
"The Lunchbox"
In a funny way, "The Lunchbox" is novel and modern because of its simplicity. The film follows Saajan Fernandes, an older man at the end of his career, whose wife sadly passed away a few years prior. He receives lunch through the dabbawala system in India, but thanks to a strange mix-up, his normal lunchbox is switched with one made by Ila, a woman who is attempting to reignite the romance in her marriage (with a man she eventually discovers is cheating on her) by making delicious lunches. Ila realizes the mixup, and writes Saajan a letter in the next lunchbox he receives from her — the two then embark on a sweet friendship through their letters. The pair eventually fall in love without having seen each other once, and they re-discover passion and love in their lives in the process. – Keertana Sastry
"Jaane Tu Ya Jaane Na"
As a kid, "Jaane Tu Ya Jaane Na" was one of my favorite movies, and ten years later, little has changed. This movie features a group of college pals, including two best friends who are stark opposites but end up realizing that they are in L-O-V-E! This movie is a great pick me up and is realistic in so many ways, beginning with the fact that the female lead, Aditi, (Genelia D'Souza) is anything but the typical Bollywood bombshell: she is loud, outspoken, argumentative, and hilarious. Combined with the quiet, Mama's boy nature of Jai (Imran Khan), this movie is fun, quirky, and will give you ALL the feels. – Duriba Khan
"Margarita with a Straw"
The central romance in Margarita with a Straw doesn't actually end on a happy note, but it doesn't matter. The movie is more about celebrating self-love, independence and finding one's own identity. Margarita with a Straw stars Kalki Koechlin as Laila, a young woman with cerebral palsy who embarks on a journey to New York City on scholarship to NYU. She is accompanied by her traditional mother, but that doesn't stop her from lusting over a new male student in her class, Jared, and sweetly falling in love with a young female activist she meets by chance, Khanum.
Laila is confused by her sexuality, but is awakened by both Jared as Khanum in different ways. In the end, Khanum is the person she realizes she loves, and while their relationship doesn't work out, Laila learns who she is through finding that love and having it reciprocated. While things are changing for the better in Bollywood, you don't often see a female-centric film, that also features an LGBTQ storyline in a positive way. – Keertana Sastry
"2 States"
This movie isn't about how a Tamilian girl named Ananya (played by Alia Bhatt) falls in love with a Punjabi boy named Krish (played by Arjun Kapoor). Falling in love is the easy part, what comes after is the whirlwind. Ananya and Krish's families do not approve of their relationship because they come from two very different parts of India. The movie is spent showing the hurdles they both have to jump through to get their future in-laws blessing before getting married.
"2 States" brilliantly touches on so many themes: the north vs. south Indian prejudice, how a healthy marriage is not only between two people but between two families, abusive relationships, gender equality etc. etc. It truly is a romantic comedy that speaks to the challenges we'll all face when it comes to falling in love and getting married today. The movie is funny, witty, emotional, and I would be lying if I said I don't plan on making sure my wedding looks EXACTLY like the last 5 minutes of the movie. – Nikitha Menon
"Cheeni Kum"
https://www.youtube.com/watch?v=d0iimj-6Tuk
This might be a controversial (or at the very least, unusual) choice, but this movie is one of the very few that portray a May-December romance this well. Amitabh Bachchan is essentially Brown Gordon Ramsay, and Tabu is a customer that can 'zafrani pulao' better than him. He's 64, she's 34, there are bound to be some bumps. "Cheeni Kum" is not without its flaws, but is a rare Bollywood film that starts out with a truly unlikeable lead and develops the characters over time. R. Balki shows these people for who they are, warts and all, and in the end you end up rooting for that miserable curmudgeon. Come for the chemistry and the food porn, stay for the soundtrack by Illayaraja. – Shruti Tarigoppula
"Shubh Mangal Saavdhan"
Unlike "Shuddh Desi Romance," the romance "Shubh Mangal Savdhan" isn't that modern. It's the film's subject matter, and how the main couple handle the issue, that makes it novel. The film stars Ayushmann Khurrana and Bhumi Pednekar (who also starred in another great rom-com, "Dum Laga Ke Haisha") as Mudit and Sugandha, a couple who fall in love and are about to get married. The problem? When they try to get intimate, Mudit can't quite… perform the way he wants.
The film could have taken the more traditional (and offensive) approach and turned the whole thing into one big, crude sex joke. But what makes this movie so special is that during Mudit's struggle through erectile dysfunction, we also see how it affects Sugandha, and how she tries to stay with Mudit and help him in any way she can. Mudit learns manhood and married life is not about needing to perform, it's about being present for your love and working through your issues together.
We hope Bollywood continues to make more modern romances like "Shuddh Desi Romance" and chooses to show the many different ways people show their love for one another. Other Indian film industries have been making little modern gems for years, like the Tamil film, "OK Kanmani" (remade in Hindi as "OK Jaanu"). Let's hope "Shuddh Desi Romance" was just the start.