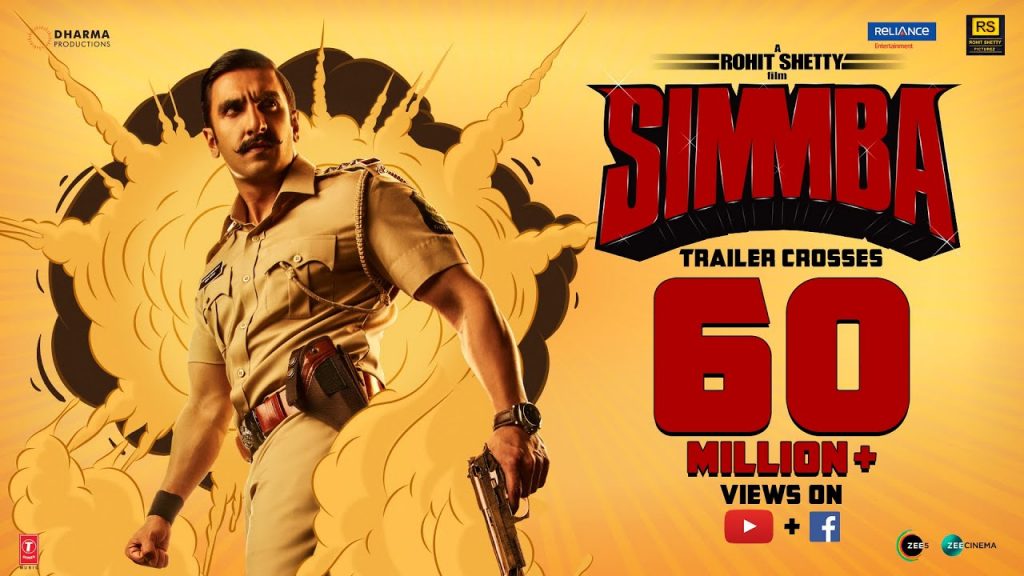 I've never once voluntarily gone to see a Rohit Shetty film in theaters (except "Dilwale," but we don't need to talk about that). That being said, "Simmba," doused in typical Shetty flavor and even with some problematic moments, it might be worth a trip to theaters.
Shetty's remake of the Telugu film, "Temper," had a 20-crore opening, making it on track to be amongst the top ten opening weekend hoardings of the year. All in all, it's been a pretty good year for "Simmba" lead Ranveer Singh. He's had a marriage, a couple blockbusters under the belt, and now his much-anticipated "Gully Boy" will be making the rounds of the festival circuit.
https://www.instagram.com/p/BsIVjfRBWEe/
"Simmba" is the epitome of single screen cinema, complete with seeti bajao-worthy lines and hot-takes straight at the camera. A cast of aam-aadmi character actors somehow find the dark sunglasses-clad lead worming his way into their hearts with his raucous laughter and ridiculous jokes. All the actors repeat their lines again and again for emphasis, guiding you along the plot with the heaviest of hands — in case you've missed the first several indicators. With a set lifted straight out of "Singham" and the same Goa setting as always, Rohit Shetty seems at ease in his backyard.
The story flows quickly for the most part and the first half (dare I say it) is incredibly entertaining. Ranveer as Simmba drunkenly mimes and alters the lyrics to classic songs, and his one-liners and swagger leave you wondering if it's the character or the man talking. Like its predecessor, "Singham," "Simmba" comes complete with his own tagline, a cheeky "tell me something I don't know" which always gets a laugh.
Shetty takes all his plot cues from the 80s: A pretty girl, a wayward officer turned good once he finally dons that khakhi uniform, not to mention an underworld Bhau who has no qualms about murdering his brother-in-law, but still teaches his young son about Gandhi and respects his mother's every word.
"Simmba" is an orphan who has seen a police officer take a bribe early in his life and decides for this very reason that he, too, will one day be a cop. With the help of a kind-hearted night school teacher, he achieves his dream and somehow manages to remain likable even without a moral compass. Enter the beautiful orphan girl across the street, Shagun, disapproving subordinate Mohile, and night school teacher Akruti, and the compass finally begins to tick.
https://www.instagram.com/p/BjyROH-AbFi/
Ranveer Singh was meant to be in "Simmba." Everything about him screams mass appeal hero, and the film delivers in droves. He lives and breathes Sanghram Bhalerao, taking immense pleasure in every thrust of his crotch and every wayward punch laid on some unsuspecting goon. Simmba is drunk with power, and yet he is all the more hilarious for it.
The film is swimming in remade 80s aesthetic, and Singh can't help but take a few laps in the pool to stretch his muscles. He elevates the script in a way you wouldn't think possible, and would make even the most callous critic roll his eye in fond exasperation. The hamming and the kitschy one-liners come naturally, believable because he understands the laugh-ability of it all. The play acting as he mocks a disapproving subordinate with uff taana is fucking FUNNY.
The masala works for the masses because it always does. It works in the first half for a "multi-screen" audience, too, because the kitsch is the joke, and Ranveer Singh is certainly in on it. He'll make sure you are, too. That's the benefit of working with an actor who so deeply reveres the kind of cinema he makes, as well as the cinema with which he grew up.
It's obvious Singh was chomping at the bit to essay this role, he hits all his marks ten times over and more. He gets the ridiculous accent, and linguistic mix just right, and every film reference pulls a laugh out. When the plot turns the page, Singh cuts the shaana corrupt officer act, and portrays the grief and rage of Bhalerao with a startling amount of authenticity.
https://www.instagram.com/p/BkHLKtCHWFI/
A hospital scene pre-interval especially calls attention to his acting chops. With all the bluster knocked out of him, stripped of cheeky humor and taglines, Singh's grief-stricken face looks inexplicably young. It's the turning point of "Simmba," and while there is little believability in the second half, what does remain flows straight from Ranveer's sheer conviction and commitment.
Still despite the film's obvious raging success, I'm glad it wasn't Sara Ali Khan's debut. Khan as Shagun looked gorgeous against Shetty's backdrops, giving all the right faces and body movements, but she didn't do much else. And it's not her fault' we've seen enough from "Kedarnath" to know this newcomer has some acting chops of her own — it is the script that lets her down. A short, unsatisfying will-they-won't-they between Singh and Khan gives way to a beautifully revamped Nusrat Fateh Ali Khan number on the hills, but unfortunately Khan is later sidelined for the rest of "Simmba," save for a line here and there. Two such different releases in the same month, however, shows promise for our newest leading lady. And a Shetty film is always an experience, even if you're overshadowed by a seemingly random (but fully expected) cameo from Ajay Devgn.
The downfall of "Simmba" (if you manage to overlook all the testosterone) is its rape-revenge plotline. The second half of the film devolves into an uncomfortably paternalistic rage-fest that centers on the question "what would you do if it were your sister?" This is made all the more upsetting and harmful by the sheer multiplicity of women around Simmba crying out that these rapists need to be shot and killed. Singh calls back to Jyoti Singh Pandey, as well the horrifying incident with an eight-month-old infant at the start of 2018, marrying movie and memory in a wildly Sunny Deol reminiscent "tareek pe tareek" scene in a courthouse.
The effect is clear, disturbing, and jarring. It talks of all the right things for all the wrong reasons. Women voice that they are afraid to go anywhere at night, parents look at each other and cower to think of what would happen to them if their daughters had been assaulted. Shetty very clearly grasps the mood of the moment, but he squanders it with responses like "Desh ki betiyaan padh toh rahi hain par desh ki betiyon ko in haivanon se bachaega kaun (daughters of the nation are studying, but who will save them from these savages)?" which is a play on the ever present "beti bachao, beti padhao"  government slogan, and "darr mat tu police officer ki beti hai."
https://www.instagram.com/p/Br5C130BFFo/
The film attempts to include women in the film: Simmba asks a judge if one "desh ki beti" can help another, a group of female officers beat a confession out of the two rapists, and (in case the point hadn't gotten across) Simmba asks a group of women what they think should happen to rapists. Of course, each answers unflinchingly that "they deserve to die."
It's woefully misguided at best, and downright irresponsible at worst. There's no nuance in the conversation, there's no emotion behind the reality of the crime besides the same tired thought process of "she could be your mom/sister/daughter." It makes you wonder if Shetty and the men behind "Simmba" would care if about a stranger in the same way. And in case you're not already stressed enough, take into account that Shetty does not waste time in promoting two new outings: A subtle indicator for "Golmaal 5," and a teaser for the upcoming Akshay Kumar-starrer "Suryavanshi," complete with a tagline.
"Simmba" is clearly an effort by Shetty to blend masala with "cinema that matters," but I am left wary by the righteousness he assigns these fake encounters. Is it right to revere extra-judicial justice by the police in a country notorious for police & political complacency (and encouragement) of communal riotings?
The sounds of triumph swelled around the Miramar police station in the immediate aftermath, and as the audience clapped around me, I felt my throat dry. When the current landscape is rife with these very crimes by the government, how, in good conscience, do we take a very real problem like rape and prescribe it such a morally wrong solution? For a country which so frequently takes its cues from its films, it is terrifying to think that "encounter" stories are so commonplace, and they are so often seen as Hail Mary victories for righteous officers stifled by the system.
All in all I give "Simmba" 3 out of 5 stars. It might just be the best Rohit Shetty film to date (if such a thing exists), and it owes its entire success to Ranveer Singh. All I hope and pray is that Singh keeps listening to his better angels and delivers us more Bajiraos and Padmaavats (and Band Bajaas!) alongside his newfound mass-hero success.