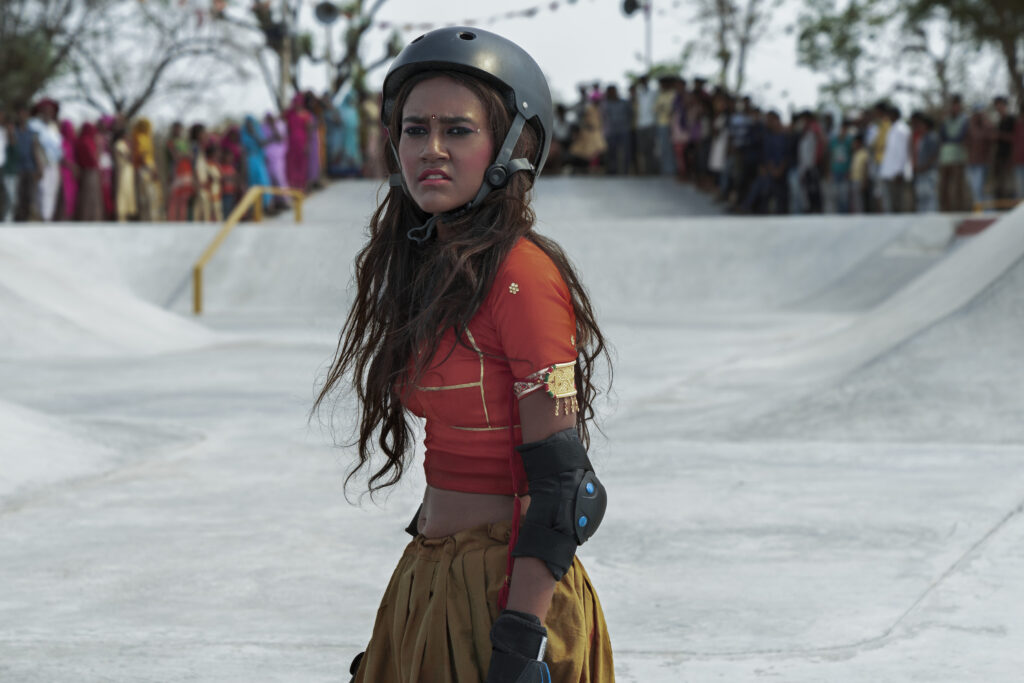 The rising skateboarding movement across India caught the attention of writer/director Manjari Makijany back in 2017. Born and raised in India, she was determined that her first feature film would be set there. The more she researched the impact of the sport in rural communities in India, the more convinced she became that she had to tell a story about it.
"We interacted with several skate communities in Delhi, Mumbai, and Bangalore and were amazed at how skateboarding was thriving. I was just fascinated by how something like skateboarding could break through social and class barriers and give kids an outlet for self expression."
And the seed of what would become "Skater Girl" was planted.
Now streaming on Netflix globally, "Skater Girl" is a coming-of-age story about confidence, courage, and the profound impact of blazing your own trail. Set in a remote village in Rajasthan, India, the film follows Prerna (Rachel Saanchita Gupta in her debut performance), a teenage girl bending under the weight of all that is expected of her. She desperately wants to go to school but has to supplement her family's earnings by selling peanuts instead. When a British-Indian advertising executive Jessica (Amy Maghera) arrives in the village, the other local children are introduced to a whole different world – the world of skateboarding. Jessica asks the teen what she wants to be when she grows up, and Prerna is at a loss for words because no one has ever asked her that before. Determined to empower and encourage a newfound passion, Jessica sets out on an uphill battle to build the kids their own skatepark in the middle of Rajasthan and hold a national skating championship there. Prerna, already torn between duty to her parents and her heart, has a choice: conform to society's expectations of her, or dare for something more.
On the surface, "Skater Girl" is a film about skateboarding, but it touches on so much more: education, cultural stigmas around menstruation, class stratification from the caste system in India, gender roles, marriage, and a woman's place in society. Despite being a quintessentially South-Asian tale, many of the themes are instantly recognizable for people around the globe – as we all know, restrictive gender norms exist anywhere and everywhere. And as we see in "Skater Girl," they affect men as much as they do women. So much of the pain and anguish Prerna faces in the film is a result of her father's masculine pride, the pressures he feels as a provider, and the fears he has for his daughter's reputation and future if she continues to "play with things that are meant for boys."
"I feel when stories are specific, and very local, they do have that ability to transcend cultures and transcend borders," says Makijani.
However, she faced her fair share of resistance and doubt about the global appeal of the film. She recounts that one of the early distributors with whom she was in discussions worried that an audience would find it hard to watch a film that switches between Hindi and English; that it would only appeal to a niche audience.
"In my head I thought 'No, this film needs to be mainstream.' And here we are. Netflix is releasing it in 191 countries, dubbed and with subtitles in different languages."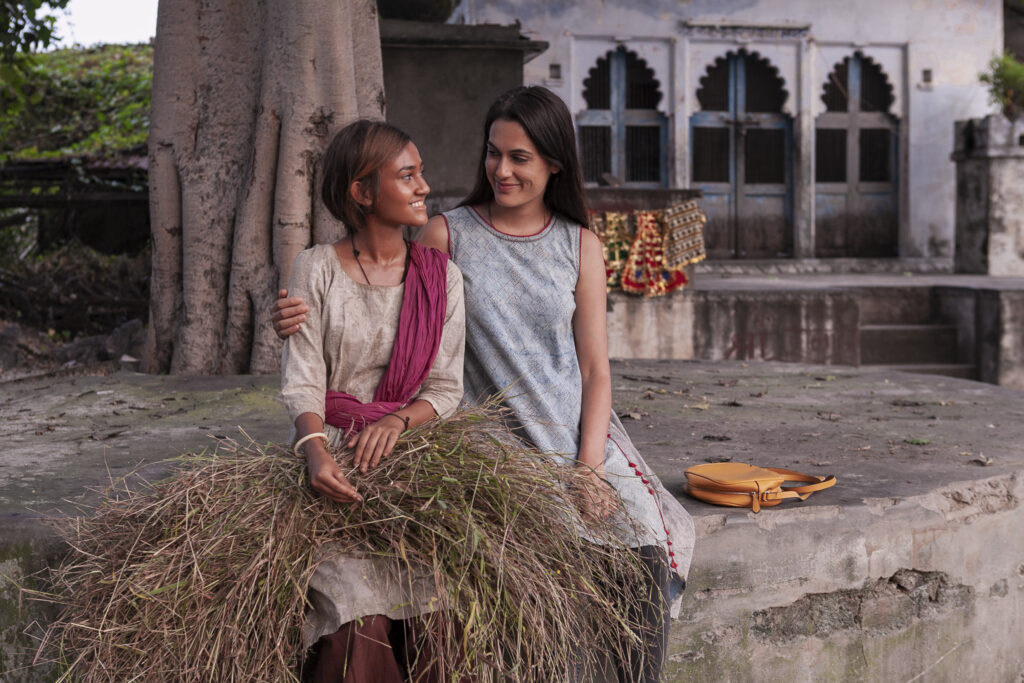 The filmmakers traveled over 600 miles across India to find the perfect location – one that had concrete roads for skateboarding and proximity to a community of kids who could enjoy the skatepark after filming. The 14,500-square-foot Desert Dolphin Skatepark seen in the film was constructed for the film from the ground-up in Khempur, and it still stands there today.
Finding the right location was hard. Finding the right cast was even harder. So the filmmakers decided to do things a bit unconventionally: they organized theater workshops instead of casting calls to find their leads, and the final cast included several children from the local village near the film's locations. After one session with aspiring actor Rachel Saanchita Gupta and her expressive eyes, it became clear to the team that she was their leader.
For Saanchita Gupta, the journey to becoming Prerna wasn't without its challenges. She didn't just have to focus on portraying the character of a rural Rajasthani girl, she had to learn how to skateboard.
"I was petrified of the board. Every time I would get up on it I'd be terrified. But it's only after you fall that you learn how to get back up. And that was the most important thing – not just for me, for Rachel, but also for Prerna. That really motivated me to understand the spirit of skateboarding."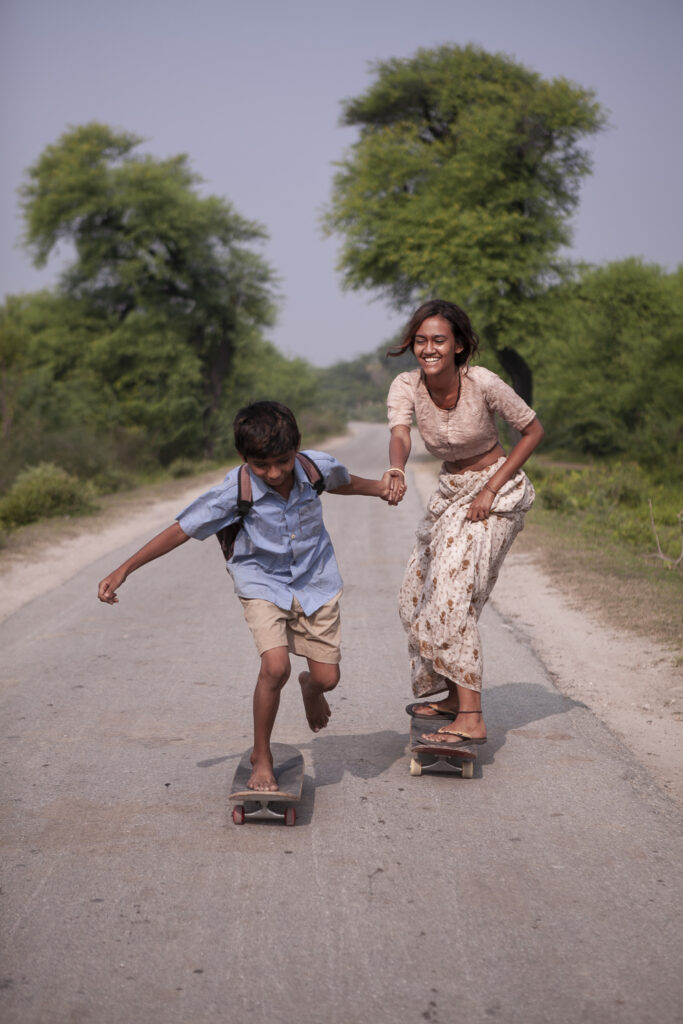 The heart of "Skater Girl" is the beautiful relationship between Prerna, and her younger brother Ankush, played by Shafin Patel. Ankush is the perfect comedic foil to Prerna's serious leading character and sees the resilience in her well before she sees it in herself. Ankush is as understanding of her indomitable spirit as her father is exasperated by it. He is her partner in crime as she navigates metaphorical and physical pains on her journey.
So, what does Saanchita Gupta think happens to her character Prerna after "Skater Girl" ends?
"I hope that she's found what she's looking for, so the next time someone asks her what it is that she wants to become, she's able to tell them."
Check out "Skater Girl" now on Netflix, and expect a heart-warming experience.