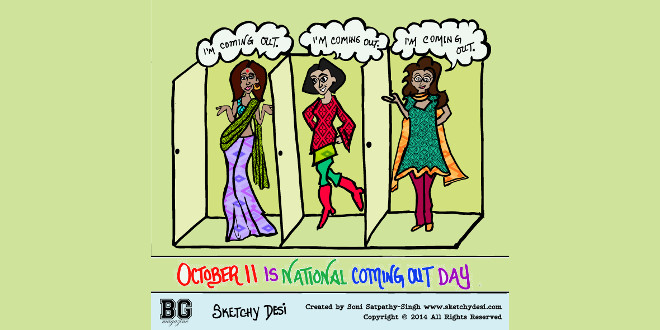 I'm no stranger to imparting a little desi flavor to things otherwise not categorically Indian. As a professional recipe writer and developer in NYC, I often punctuate non-Indian dishes with masala to give it a pop. I've served as a ghost writer and recipe developer for other cookbook authors for years, however, I'm currently (finally) writing my own cookbook with unabashedly colorful desi recipes.
My cookbook took on a bit of a personality disorder at first, not quite knowing if it was a cookbook or a comic strip with its caricatures of brown culture and food, complete with cartoons and anecdotes. So I combined the two, a "comic cookbook" if you will, and that's how and why Sketchy Desi was born. It provides a framework for my passions for cooking, storytelling, and scribbling.
Pairing brown anecdotes with images spurred a Sketchy Desi greeting card line as well. My excitement over greeting cards hinges on obsessive. I get a little too excited to wade through aisles of cards. Although, there are a bevy of cards to choose from to celebrate birthdays, anniversaries, or nuptials, mainstream cards never include brown humor or holidays in an otherwise broad line of greeting cards.
Companies don't make cards that celebrate Diwali, Holi, or Eid, nor are there rokha or birthday cards with images of moti Aunties force feeding ladoos to unsuspecting victims. You know, "scenes" that so many of us are accustomed to seeing and living.
Sure, the local Indian store sells a few holiday cards. However, they tend to appear outdated with images of garish, embellished diyas or rakhis looking like a Christmas tree vomited tinsel. And humor? Ha, forget about it. It's hard enough finding a brown card, let alone having one which has any semblance of humor.
I felt there was a void that needed to be filled in celebrating our hyphenated identities as Indian-Americans. I wanted to give people the ability to extend condolences, appreciation, or well wishes in a way that's a wee closer to home.
Though, I must provide a disclaimer: the desire is not to paint everything with one big broad brown brush, and you know, brown-wash everything. I do believe we can celebrate our similarities of 'brown-dom 'while simultaneously celebrating diversity within our community. This is exactly why I chose this image as the first to share with "Brown Girl Magazine."
Our old-school community tends not to know how to address issues that don't reinforce the Indian path of righteousness of marrying young and marrying brown. It is also typically assumed that we'll want to marry a brown member of the opposite sex so we'll beget beautiful brown Bollywood-loving, Bournvita-drinking babies! Straight or gay, I hate to tell you auntyjis, but that ain't everyone's cup of chai.
This image celebrates a day that supports a life choices, of coming out, and coming together to advocate for legal equality. Sure we're all brown, but we each have the right to choose our own livelihoods, politics, religious practices, and sexual orientation and there ain't nothin' sketchy about that.
To see more of Sketchy Desi's work, visit SketchyDesi.com or stay tuned to upcoming posts on Brown Girl Magazine.