by Karishma Sharma – Follow @kaysharmaa
Let's paint a picture, shall we? It's a cold, snowy Sunday, and you're on the couch watching reality TV with a cup of hot cocoa. All of a sudden, the real housewives are in a group workout, and you think to yourself…
"I can't even remember the last time I worked out."
Guess what? We've all been here. The cold winter is hard, but, I promise, a little bit of activity can warm up your body and make you feel fantastic. Here are 5 tips for staying active in the winter.
1) At-home workouts
This one is probably the most common sense, but it's super true! You can get a solid workout without even leaving your house, apartment, or even your home. No equipment? No problem. I highly recommend checking out Fitness Blender, as they have workouts of all different types: HIIT, Yoga, and intensive Cardio – all at home without even a mat or dumbbell. This is a great way to stay active when it's just too frosty outside to venture to the gym and, well, you can even do this while you continue watching the Kardashians!
2) Bundle up for a walk
I know that this isn't always feasible – for example, I am in Minneapolis and all winter it's in the negatives. However, if you live somewhere where 20-30 degrees is your minimum, you can certainly bundle it up and take a stroll! Make it social and walk alongside a trail with some friends and go grab a coffee. Just make sure you're wearing a thick jacket, hat, and some gloves. Walking in the winter is not as bad as it seems and, once you get moving, you don't feel as cold anymore!
3) Find a nearby gym
It can be hard to hike to the gym in freezing temperatures – but what if your gym was only a block or two away? Finding a gym in close proximity can do wonders in the winter. Also, even if it's a close drive, visualize getting yourself there in your warm car. In the dark, cold, winter months, proximity is everything!
4) Work in healthy eating, too
Since workouts during the winter sometimes slow down, a good way to combat this and combat "winter weight gain" is to eat healthily. This doesn't mean you can't drown your winter sorrows in Maggie noodles and samosas, but also keep in mind that some comfort foods can be healthy too – soups, warm stir-fry dishes, and zoodles can satisfy that craving and internally warm you as well.
https://www.instagram.com/p/BcdQwgPjTx6/?taken-by=kaysharmaa
5) Don't be too hard on yourself
Winter is tough and seasonal depression can be common. Do yourself a favor and don't be too hard on yourself. If you're sluggish, exhausted, and need a heaping bowl of pasta while binge-watching your favorite show – do it. Mental health is important, too, especially in the winter. Be proud of yourself with any steps you take to be active – whether it's a quick 10 squats in front of the TV or getting yourself to the gym on a cold day.
So let it SNOW – but also let your muscles GROW and, in turn, you'll get a happy GLOW. (I'm a poet and I didn't even know it.) Happy winter, y'all! Stay warm.
---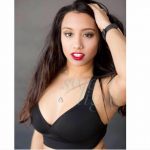 Karishma is a Bollywood and Belly Dance Fitness Instructor based in New York, New York. She strives to be a relatable fitness instructor by publicly declaring her love for Taco Bell. Karishma believes that balance is key to everything and strives to find a healthy fitness balance in everyday life! BODY GOALS are whatever you want them to be.