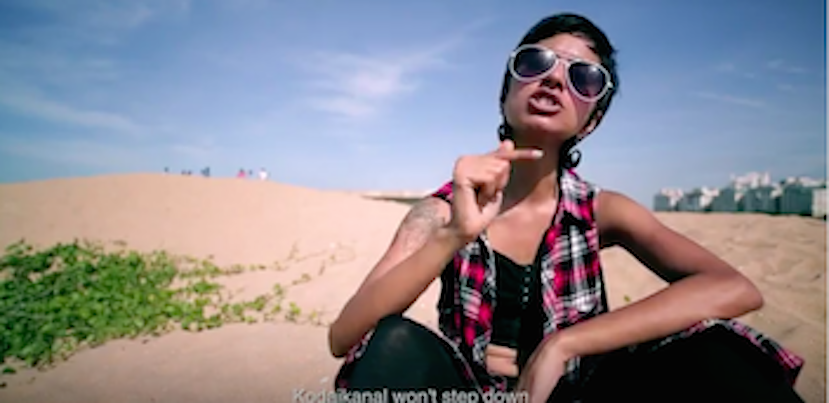 by Payal Shah
Sofia Ashraf's incredible music video of Nicki Minaj's "Anaconda" touches on a social justice issue that goes beyond the realms of human rights.
The Tamil-Indian rapper and singer exudes confidence and self-assurance while vividly depicting Unilever's spill of mercury poisoning in Kodaikanal, a small city in the Tamil Nadu district of South India.
Ashraf's rap has seen more than three million hits on YouTube, and it also prompted a response from the head of Unilever—the world's third-largest consumer goods company—Paul Polman.
Her petition has reached 86,000 signatures but needs more to reach their goal of one million. [Sign her petition here.]
Most people have heard of Minaj's "Anaconda," not only is it incredibly popular but extremely catchy as well. Ashraf was brilliant in her thinking, by using the well-known tune and remaking it with her message it would be better spread, especially since the original tune is highly listened to in Western and Eastern countries.
Ashraf's activist song speaks volumes on the issue of Kondaikanal's unfortunate toxic waste spill, but it also gives a platform to the greater conversation of protecting our planet.
"I'm not consciously trying to become a social activist rapper," Ashraf said. "But everyone has a conscience, and I knew I had to do something, especially after I met the people affected by the mercury poisoning in Kodaikanal," Ashraf said to The Guardian.
The subject of taking care of our environment, as well as the bountiful amount of resources we have on it, is the deeper meaning behind her rap. It touches on human rights and educating people on the destruction of our beautiful planet by chemicals and other such deadly and lethal materials.
Listening and watching Ashraf's clever and poignant song on the effect of Unilever's contamination of Kodaikanal is heartbreaking. It has halted many children's educations and killed many men and women. It is my sincere hope that Ashraf's petition meets its goal and that Unilever finally cleans up their mess.
---
Payal Shah is the new summer intern at Brown Girl Magazine. She is a student on her way to do big things. She is a lover of lifestyle and culture related writing and 90s sitcoms. Shah is also passionate about life.